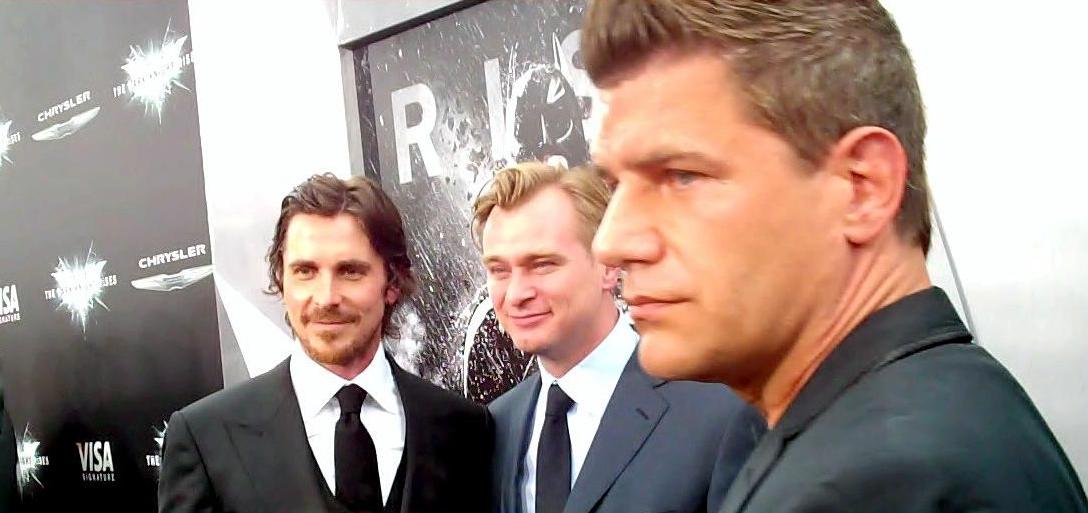 After a little begging for tickets, I was lucky enough to attend the Dark Knight Rises movie premiere at Loews Lincoln Center on July 16, in New York City, just days before the tragic Colorado shooting.
I didn't think much of it at the time, but security that night seemed to be on high alert. Sterling Security was the name of the company, I know this because I see them all the time wearing their identifying lapel pins.These guys were everywhere, way more than usual.
Also, it was strange that all guests had to walk through a metal detector that night too. I attend lots of movie premieres, and I never ever go through a detector. Now in retrospect, this leads me to believe there may have been some sort of unannounced threat that these folks were responding to that night in New York.
Who was there: Donald Trump with his golden cat, and Melania too, Russell Simmons with a beautiful woman (as always), Dennis Haysbert (better known as that Allstate guy), Ron Howard (who still looks like Opie), Pharell Williams dressed more like he was going to a rap music convention, the director of the film Christopher Nolan (who doesn't use a cell phone or email), and Cindy Adams from the NY POST who waited patiently to do her interviews at the end of the carpet.

Then the stars of the film.

Anne Hathaway, looked stunning in white on the red carpet, did the Batgirl suit some justice, and made getting your ass kicked by a girl look quite appealing.
Christian Bale (Batman) was way less scary than expected (which was good, since I wasn't wearing my running shoes). Bale was "very proud" of the film and plays a physically and mentally broken man who pulls himself together to save Gotham. Bale said he hung around in the cowl from the costume for a while after the final shoot and doesn't have the whole suit in his closet at home, but has kept the cowl from each of the movies. Bale also relieved fans when he didn't rule out the possibility of returning as Batman. "Never say never," he said.

Another superhero of the evening was the ultra nice Gary Oldman (who plays a bad guy in The Professional with Natalie Portman), who managed to rock a suit and tie while not dropping a bead of sweat in the 100 degree heat (must be years of English discipline). He also defied the evil PR people on the carpet by posing for pictures with everyone who asked.
Morgan Freeman was there as well, making sure to take time to speak to the children in the crowd of excited Batfans.
Soon after all of the elbow rubbing and camera flashes, the celebs watched the film in IMAX, while the commoners, aka ticket contest winners, wives and friends of celebrities, WB employees, celebs distant relatives, and other people who knew some people, had to watch it on a regular screen. Odd practice, but either way I'm sure it was great experience. They also had a secret VIP goodie area set up behind a black curtain in the lobby for the VIPs.
Without going into to much detail, the film itself was great! It had plenty of heart stopping action, an intricate storyline, and typical broody Batman scowling to make viewers happy.

After the screening, I bumped into Nestor Carbonell, from Lost, who was actually able to stand outside waiting for his towncar without being mauled like Christian Bale and Anne Hathaway, who had to be flanked on all sides by security while heading to their cars. Nestor brought his sister as his date.
Then everyone headed to the after party, held in the New York City Library; Warner Brothers rented seven buses that carried hundreds of VIP guests, as well as the cabs and towncars other guests used to clog up nearly 10 blocks of Fifth Avenue getting to this party, which let out around 1:30 in the morning. Holy traffic-jam, Batman!