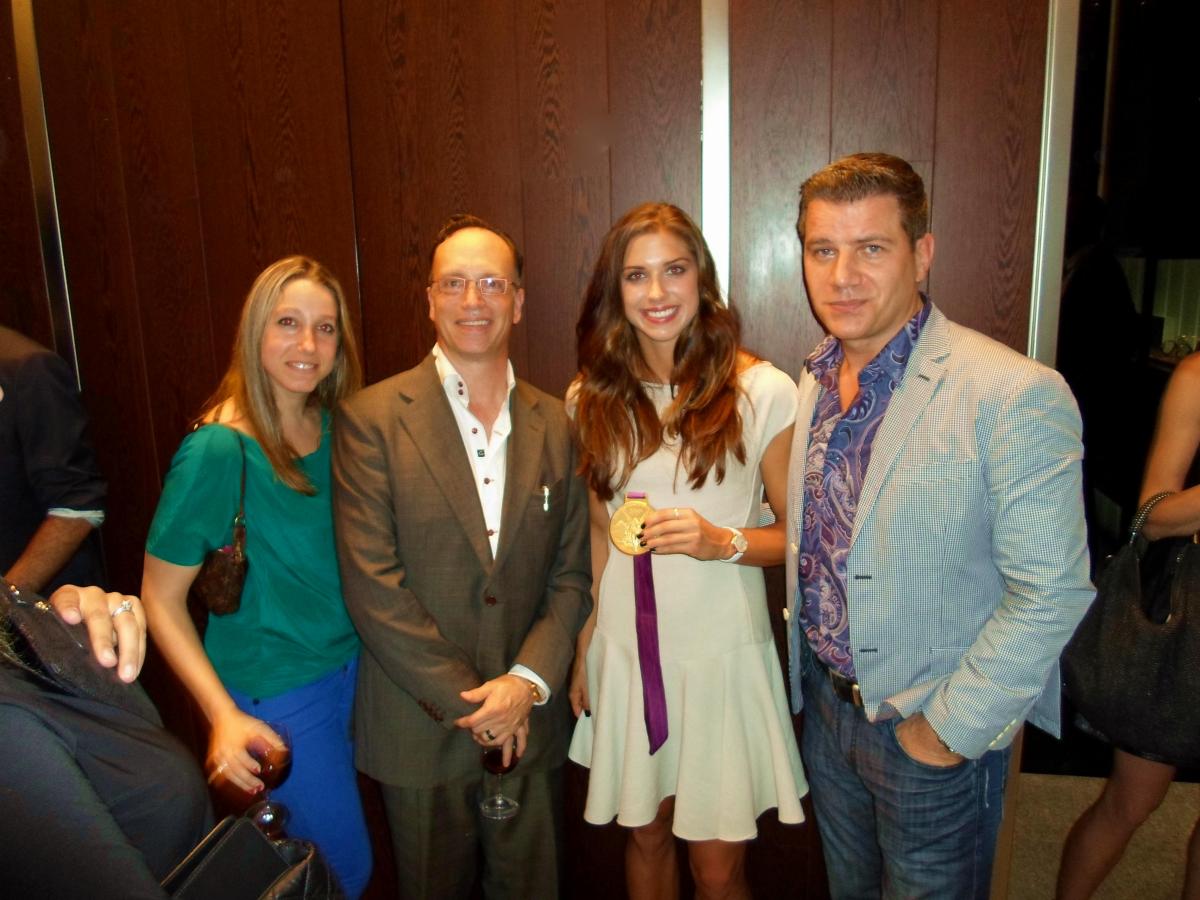 Guys have the Super Bowl and ladies have Fashion's Night Out.
Knowing the latter is where I was headed, I figured what better way to secure my masculinity than by sharing a $77 fifteen-block pedicab/rikshaw ride up Madison Avenue in NYC with my good friend, Food Network Chef Chris Nirschel. Him sporting his Nantucket pink pants and me in a Dirk Diggler-esq purple paisley shirt.
We arrived at our first stop, where we met up with NYC Power Publicist Nicole Bandklayder, Miss Piggy, and hundreds of drooling girls lined up at the DKNY store on Madison Ave. They were all there to get their hands on the 2013 FDNY Calendar of Heroes shot by famed NYC lensman Patrick McMullan. It was fun to meet the man behind, or under Miss Piggy (not sure of their relationship status) Eric Jacobsen. Miss USA Olivia Culpo and Miss Universe Leila Lopes were also there show their support (and their legs).
We lost Nirschel and headed off to the exclusive Girard-Perregaux Wristwatch store on Madison Avenue in NYC. The space was a bit tight -- about 12' x 12' of floor space (hey, rent on Madison Avenue is expensive) -- and boy was it HOT as heck in there. Thankfully they managed to cool us down with some top shelf scotch and french wine. We were thrilled to chat with 2012 Summer Olympic Woman's Soccer Gold Medalist, Alex Morgan (who was also hot as heck, but in all the right ways). I wondered how being that hot she didn't melt all that body paint off during her Sports Illustrated photo shoot.
Alex offered to let me wear her medal (but not her body paint). I politely declined saying one should only wear that hunk of metal if they've earned it. Alex said, "I love to have people enjoy it with me." When I asked if her if her medal was real gold, she explained it was plated, and and even proved it with the old bite test. I remarked that I'd never held a gold one before but I've held several silver ones, including Speed-Skater Shani Davis', to which Alex replied, "I've never held a silver one." Priceless!
We continued our way up Madison avenue, popping in and out of all the couture stores that were serving more booze than an Irish funeral. We quickly poked our heads into Schutz ( it's a fancy shoe store) where we spotted Real Housewives Of NYC Ramona Singer, again. She was buying two pairs of kickass shoes. You just can't go anywhere in NYC without running into one of these 'ladies.'
Next stop: Swarovski, one block over on 5th, where I was handed more champagne and a gaudy gold crystal watch to talk about. There, I talked about it -- too bad they want me to send it back. I think I may have left it in a cab along the way.
We had a brief moment at Barneys too, where there was a drag queen, or a rather unattractive large woman DJing on the 1st floor, and two cool dudes in bunny ears spinning records on the 2nd -- Only in N.Y!
Finally at Saks 5th Avenue's Fashion Night Out celebration, we bumped into Mob Wives star Big Ang while getting our free samples. It's kind of hard not to bump into her -- she's called BIG Ang for a reason. As always, she was super sweet (I would say that even if she didn't look like she could kick my celebrity-scooping butt), and she didn't seem bothered by the flock of young girls following her around the store for autographs and pictures.
The entire night was like trick-or-treating for fashion lovers. And just for the record, Big Ang wasn't out for the free samples.
PHOTO GALLERY
Fashions Night Out In NYC Was Like Trick-Or-Treating But With Booze