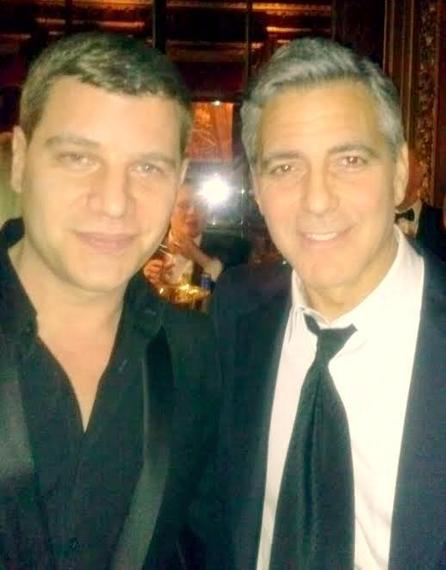 George Clooney walked the red carpet outside the Ziegfeld Theater in NYC last week with his lovely 10-year-old date for the premiere of his film, the Monuments Men.
So why did Clooney have a 10-year-old girl with him? Well, the lucky little lady was the winner of a contest to win an entire day with the megastar. The entry fee for hopeful winners was a mere $10 with all proceeds going to George's favorite charity: Satellite Sentinel Project.
The film stars Matt Damon, Bill Murray, Jean Dujardin, Cate Blanchett, Bob Balaban and John Goodman.
On the carpet George said, "I had some understanding that Hitler was stealing shit. I didn't understand he was taking all of it. They don't teach that in school. That's why I loved the story."
Cate Blanchett breezed past reporters doing interviews after posing for pictures. I overheard Murray mutter, "What just happened?"
Upstairs just before the screening, I spotted Martha Stewart who appeared quite star-struck clamoring to get a picture of George with the cast. She had a big giddy smile on on that usually stoic face of hers, announcing to me, ''George kissed my cheek!" to which I replied, "Did your toes curl?' "NO!" she sneered.
I would've offered to kiss her on the other cheek, but I didn't want something else on me to curl, or never curl again.
Just before the movie began, George showed his serious side taking a moment to remember Philip Seymour Hoffman by addressing the audience.
"I wanted to start by saying it's very odd to be here in New York, particularly a couple of days after a good friend of ours has passed away ... It makes it difficult, and I think it's the elephant in the room for a lot of us here," he said.
George Clooney directed, co-wrote and starred in the film, based on the true story of art historians, museum directors and curators rescuing art stolen and hidden during the war by the Nazis. Clooney invited his parents to watch the filming last year in Germany, where his father served in the Army in the 1950s.
Also appearing in the film is George's father Nick Clooney. Drafted for duty by his son to play the older version of his Frank Stokes character, the senior Clooney stated, "It was a very small part, and a very small check. I don't think I'm up for an award." His name appears in the credits as the role of Older Stokes.
The after-party at the Metropolitan Club on 60th and Fifth was co-sponsored by Larry Gagosian, owner of the Gagosian Gallery chain of art galleries. The party of a few hundred or so people was filled with celebrities including a surprise rock legend, Pink Floyd vocalist, Roger Waters.
At the party, George is just like you think he is -- charming, incredibly gracious, and completely accessible (especially if you're a leggy blonde under 40). Note to you single ladies: Buy a blonde wig and add lunges to your workout routine). George made his way around the party like a social butterfly chatting with guests without the assistance of an entourage or a PR Gestapo (It's WW2 movie -- I had to throw that in somewhere).
I was fortunate enough to chat briefly with the always affable Cloonster. I'd be affable too if anyone who stood next to me suddenly looked like an old mushroom. Posing for pictures with nincompoops like me accentuates why women want to be with him, gay men want to be with him, and straight men want to be gay to explain why they want to be with him, too.
After that reality check, I was able to regain what was left of my self-confidence and hopped in a few pictures with legendary funnyman Bill Murray, who's comedic Ringmaster-ish attire was begged for a lion to jump through a ring of fire.
Most importantly, you probably want to know how the movie was. Let's just say, war is hell, art is important, and while there were a lot of A-list celebrities in this movie, they were great, but not necessary.
Bottom line: George and Matt could make a movie about paint drying and people would go see it.