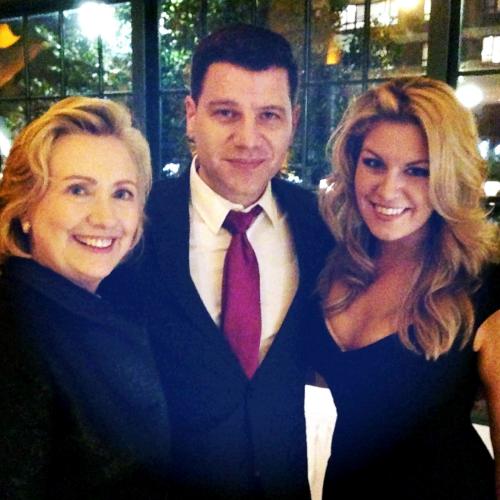 The 6th Annual Voices of September 11 "Always remember'' Gala was held at Gustavinos in NYC on October 16th.
Voices is an organization that helps families and communities heal after tragedy. The organization was founded by Mary and Frank Fetchet soon after the attacks that took place on September 11, 2001. Mary and Frank lost their 24-year-old son Brad in tower 2 that day.
My beautiful wing girl for the event was Miss America 2013 Mallory Hagan. I was a great night of cocktails, dinner, and remembrance emceed by Joan Lunden.
The always dapper NYC Police Commissioner Ray Kelly received the Building Bridges Award. Mr. Kelly's wife Veronica, along with his two sons, James and Greg, were there to support. The Building Bridges Award recognizes individuals who have made significant contributions to the 9/11 community and our nation. "With good police work and a little bit of luck we were able to stop 16 planned terrorist plots against NYC since 9/11/01," said Kelly.
Mary Fetchet introduced the keynote speaker and former Secretary of State Hillary Clinton to the stage where she gave an eloquent speech. "I'm very proud of what Voices has stood for and what it's accomplished," Clinton said. "It has been voices for all the families that lost loved ones, it's made such a difference in the lives of so many." She also thanked Commissioner Kelly for his "extraordinary leadership."
The former Secretary didn't stay for the dinner portion of the evening and was quickly whisked away by Secret Service right after her speech.
Mallory and I had brief debate on how to address Mrs. Clinton before our photo-opp, since she is no longer the Secretary of State, so we decided to ask the Secret Service. Is it Mrs. Clinton, Mrs. Secretary, future president, or just Hillary? None of the above, as we were told it should be Madam Secretary.
The night was topped off by an amazing performance of Dawning of the day by angelic singer Mary Fahl, in honor of the heroic firefighters and heroes who died on September 11.
More photos from the event can be seen here.