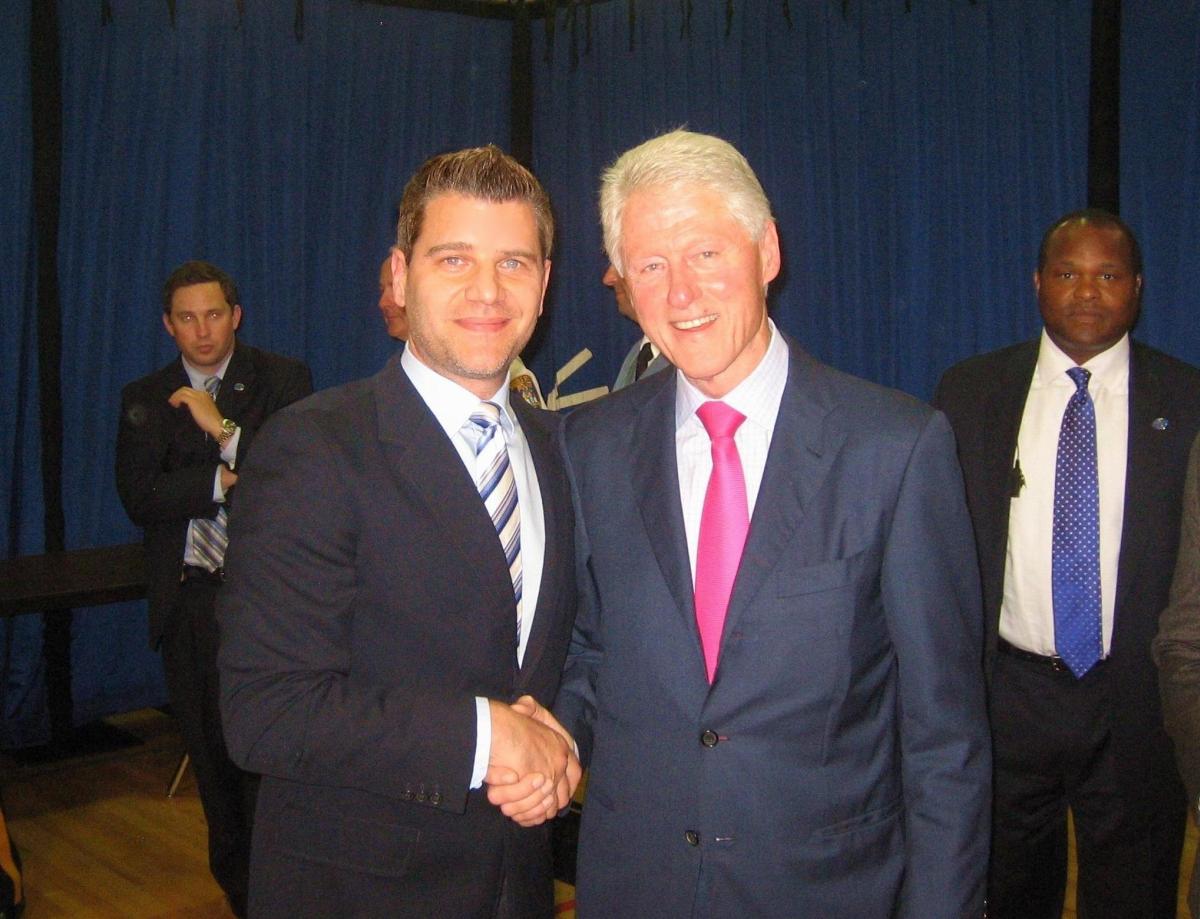 On Friday June 1, several hundred people gathered outside John F. Kennedy High School in Paterson N.J. just to get a glimpse -- and maybe with some luck, shake the hand -- of former President Bill Clinton.
Clinton was there to show his support for N.J. Congressman Bill Pascrell in his heated campaign against opponent Steve Rothman.
Once inside the gym guests gathered around the stage where the choir from St. Luke's Church kicked off the rally by performing a very upbeat gospel song, 'The Glory of the Lord.' Supporters were handed complimentary bottled water and campaign posters that read "Vote Row H -- Barack Obama/ Bob Menendez/ Bill Pascrell -- Vote June 5."
Congressman Pascrell, with his wife Elsie by his side, introduced Clinton to the stage at around 5:30 p.m., where he spent most of his time praising Bill Pascrell, President Obama and even a little to himself for having a surplus budget at the end of his term. You know, the usual political rally stuff. Clinton addressed the crowd of nearly 800 people by saying that they should not grow complacent about getting out to vote for Pascrell in Tuesday's primary. "Don't let that happen," he said. "Send Bill Pascrell back to Congress." Clinton was rocking a tan, incredibly charismatic and still really captivates an audience, as his 16 minute speech flew by in what felt like five minutes. Nice to see this charmer hasn't lost his touch.
After the rally, Clinton was escorted to a double secret blue velvet curtained area where special guests enjoyed a buffet table of hummus, assorted breads, a fruit platter, chicken and baked mac-n-cheese. Clinton didn't grab a bite to eat, he instead graciously posed for a barrage of pics, and the best way to describe the scene was, well, controlled chaos. As you can imagine, everyone ceased the once in a lifetime opportunity to jump into a photo.
Bill Clinton flashed his pearly whites with VIP guests, a few kids, politicians, even Sheriff Birdnik got in on the action before the Secret Service decided to call it a day. I had the honor of meeting President Clinton while he was in office, but that was long before people regularly carried digital cameras, so this time I was prepared.
The former president obviously knows his way around a camera, as he politely schooled Passaic County Sheriff PBA President Mike Abdinoor on his picture-taking skills, as he fumbled around my Kodak and missed our shot (he's the one who I enlisted to take my photo) -- ''He didn't get the shot? He has to hold the button down!... Hold it down... Just keep holding it!''
Entering JFK High School gym, free. Having your picture taken with a U.S. president, worth a million bucks -- taking photo lessons from that same president, priceless!