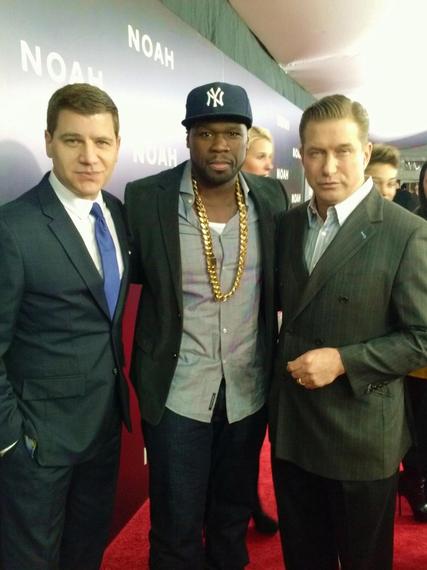 It was time again to hit the red carpet last Wednesday, March 26 at NYC's famed Ziegfeld Theater for the premiere of Noah, the biblical epic directed by Darren Oronofsky. The film starred Jennifer Connelly, Anthony Hopkins, Emma Watson and Russell Crowe. Yes, Noah had two of every animal, but only one Crowe.
Jennifer Connelly looked beautiful as she shivered on the freezing cold red carpet, not even her eyebrows could keep her warm. If you were wondering why the two caterpillars weren't on the arc, they were safe and sound on Jennifer's forehead.
Stephen Baldwin was there accompanied by his two beautiful daughters Alaia and Hailey, along with NYC power PR man Matt Rich. Stephen was as pleasant as always doing his best Blue Steel red carpet poses.
The movie was about two and half hours (actually, that's not what the movie was about, it was about a story from the bible) but I found myself much less irritated than I normally am under such circumstances. It was one of those movies that even though you know the ending -- as do most people who were beaten by nuns in the third grade -- you still wanted to see what happened.
I liked that this film showed the dark side of what Noah had to deal with, not including cleaning the poop deck, wasn't every deck on that boat a poop deck? The world was ending and everyone wanted to get on that boat, and would do whatever they had to, while Noah, along with some Transformer-like fallen angel rock creatures called Watchers had to kick ass to keep things under control.

Much like the arc, everybody wanted in on the Loeb Boathouse in Central Park -- the location of the celeb filled after-party. Paramount packed up 10 tour buses to get everyone over there. When I say packed, any tighter and it would've smelled like day five on the arc.
Russell Crowe, who isn't best known for his social graces, was surprisingly pleasant (Jesus does performed miracles!). Crowe was a social butterfly both on the carpet and at the after-party and was happily snapping pics with guests including some selfies with 50 Cent as Connelly looked on.
Emma Watson was surrounded by some friends and a formidable blonde woman who was guarding her at the party. Watson didn't chat with guests like Crowe and the rest of the cast did, she was in fact a bit rude when a couple of fans asked for pics. Perhaps Watson forgot that she only acted in a movie that took place on water, and that she doesn't walk on it. I later read that this equally unpleasant blonde woman is an ex cop from NYC's finest named Denise Marrone hired at the cost of $150,000 a year to protect Emma from stalkers.
Regardless of Emma's 'tude, I had a great time and highly recommend everyone see this action packed modernized biblical flood movie. It's way better than the book.
PHOTO GALLERY
Noah NYC Premiere