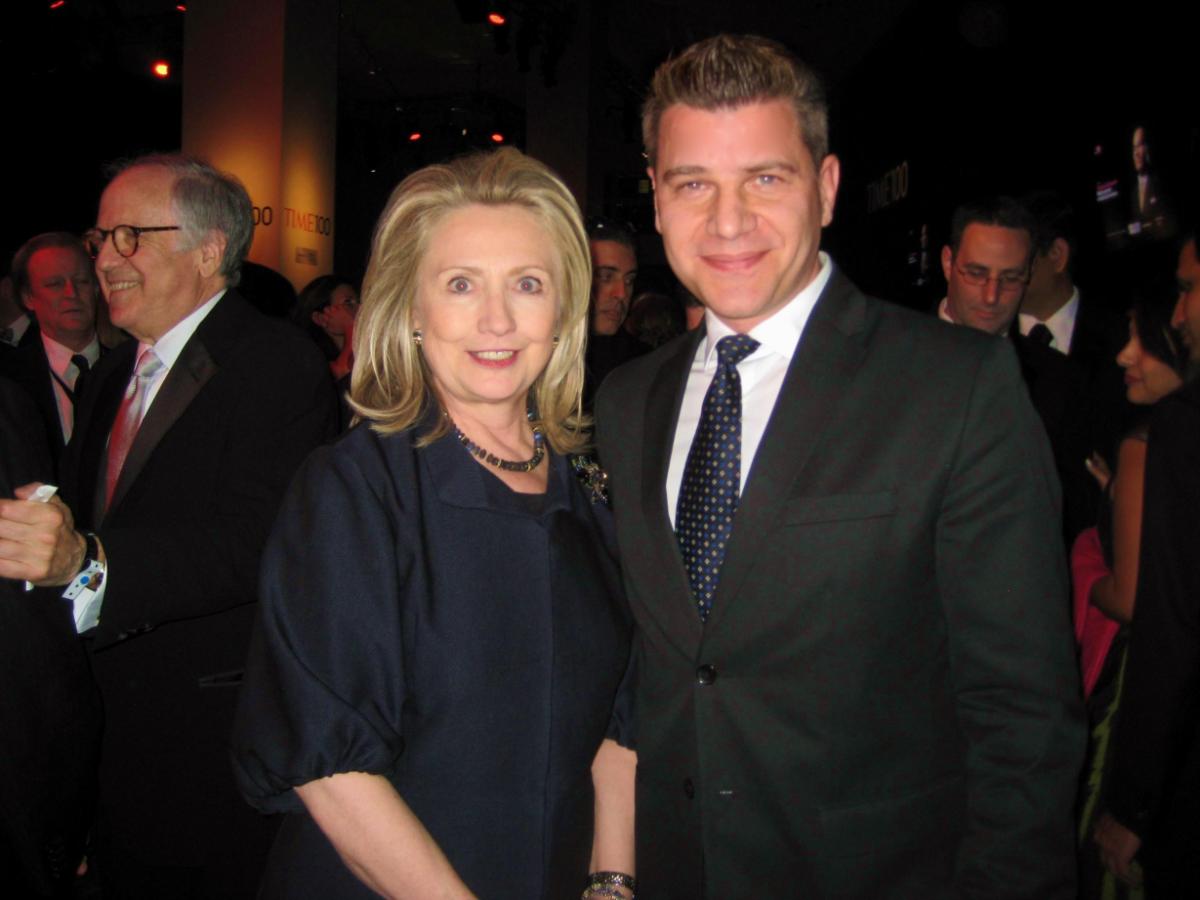 TIME Magazine's 100 Most Influential People of 2012 Gala was held at Jazz Lincoln Center last Tuesday April 24, in NYC. This gala was more than trending celebrities or whoever has the most followers on Twitter; the guest list included a range of musicians, politicians, media notables, and people around the world who have made a real impact on society. The venue was beautiful, jazzy, and garnished with its fair share of U.S. Secret Service agents and their K-9 colleagues.
I was one of the first to enter, and I was warmly greeted by the stone-faced agents. I emptied my pockets and strolled through the metal detectors with confidence. Luckily I kept my medical marijuana and nail-clipper at home, because these guys meant business.
Once I got through security, I was able to spend a few minutes chatting with Secretary of State, Hillary Clinton. The Clintons were actually our summer neighbors on Martha's Vineyard approximately 12 years ago. I bumped into Bill on the Vineyard and asked him to hold my then-one-year-old baby daughter Lauren. Naturally, my daughter kicked and screamed, he quickly handed her back (she didn't care if he was president of anything). Mrs. Clinton responded with some of her own recollections from the island. She summarized her sand-filled memory lane with, "We had great times there." When I asked if she had been there recently she said no, "I really miss it; we need to get back there soon."
Now a man I didn't expect to see at the event, New York Archbishop Timothy Dolan -- yes, the Pope's righthand man, or at least one of his fingers. I don't know how religion ties in with the media, or photo ops, or if it was just paranoia of being banished to hell, but I bee-lined it straight through the crowd for my handshake anyway. My tone gave away the ignorance to religious protocol when I asked for a photo, but he smiled and said, "It would be my honor" (with all due respect Cardinal, I think you have that flipped). The Cardinal placed me in a comfortable headlock as we cheesed it up for a few pictures.
At this point, I had no reservation about frolicking amongst the other top 100 people of the world, most I've never heard of. I soon after spotted a guy posing for photos in front of a massive face-canvas. It took a minute to register that the two faces were one in the same, Pete Cashmore, the CEO and Founder of Mashable.com. He was one of the honored 100, but still had to rely on his smoking hot girlfriend/professional photographer Lisa Bettany for his mini photo shoot. The man could crush me, metaphorically speaking, with his digital/philanthropic innovations, yet I decided to call him out on it. Was he embarrassed? Not at all, Instead, we both jumped in and struck our best poses in front of his face.
Noticeably missing party notables on the TIME 100 list were President Obama, Mitt Romney, Warren Buffett and Pippa Middleton.
Next up was a young woman on the 100 list named Manan Al Sharif, who should have been on Cosmo's Fun And Fearless list too, for defying a driving ban for woman in Saudi Arabia by cruising around in her car or something. I only know this because I Googled her name when I got home, it's not like they all walked around wearing their accomplishments on a name-tag that night. While I floundered around in conversation trying to figure out why she was on the list, she jokingly asked, ''Will you mention that you met a hot Saudi girl in your article?'' Glad I didn't disappoint.
This is about the time Hilary and T.C. Dolan bounced from the scene. The Secret Service soon followed, bringing their fancy metal detectors and furry friends with them. Guess it was every man for himself from there on.
A conservatively dressed Rihanna then performed a song to wrap up the evening, or so I thought. This is when the after party kicked into gear, hosted by Korean Air (yeah, I didn't know they sponsored stuff either). I briefly hung out with Louis C.K., Emmy and Grammy Award-winning stand-up comedian, talking about his FX series and a couple of FX family members, Russell Brand and Charlie Sheen. C.K. expressed some disappointment in missing Sheen and Brand at the FX Upfront event we attended together -- I assured him that he didn't miss much.
The party was winding down, so I decided to call it a night and hopped into the elevator with Mr. C.K and SNL's version of Hilary Clinton, Amy Poehler. Upon exiting the box, we were met with 20 or so loitering fans stalking the exit elevators. Obviously I had nothing to worry about, but I did spot Victor Cruz making a mad dash for his car.