They tried to make me go to the Winehouse Foundation Gala: and I said Yea, Yea, Yea!
Last Thursday night, March 21, the Amy Winehouse Foundation Inspiration Awards and Gala was held at the Waldorf Astoria. The night's honorees were rapper Nas and the incomparable Mr. Tony Bennett.
Amy's family launched the Amy Winehouse Foundation on September 14th 2011, on what would have been Amy's 28th birthday.
The Amy Winehouse Foundation was set up in Amy's memory to prevent the effects of drug and alcohol misuse on young people. They lend support, inform and inspire vulnerable and disadvantaged young people to help them reach their full potential.
During cocktail hour, I spotted a barely recognizable Sean Lennon before turning my eyes to a few much prettier creatures. Animal advocate Wendy Diamond, WABC news anchor Sade Baderwina, Miss Universe Olivia Culpo (aka hottest chick on the planet), and Miss USA Nana Meriwether were all in attendance. Unlike my buddy, Miss America Mallory Hagan, Olivia and Nana informed me they kept their Facebook and Twitter accounts active while wearing their crowns. It was clear they kept their hotness active as well.
Upon entering the ballroom I did a quick scan for Nas (it's hard to miss a man who actually looks cool sporting a mustache after 1986) but quickly realized he wasn't there. He was nominated for a Grammy with Winehouse this year for the jam "Cherry Wine" and was presented with The AWF Inspiration Award for a New Generation. He accepted his award by video.
Amy's dad, Mitch Winehouse, fought back tears on stage while giving his heartwarming speech about his deceased daughter. "The person I'd like to thank the most is Amy," he said. "We just formalized it by calling it the Amy Winehouse Foundation. She started this long before." During his speech, Mitch took a little jab at NYC Mayor Bloomberg, claiming the mayor failed to contribute to the charity in a meaningful way. He told the crowd: 'That's a wonderful dedication. Would've been better if you sent $10 million, but you know a nice little thing in a plaque is very much appreciated.'
He went on to thank the sponsors, "because I am contractually obligated to do so or they won't give me the money." The former cabbie told me he is also carrying on his daughter's legacy by performing at a local jazz club in New York City. I didn't get the name, but he'll be there all week folks... try the veal.
Jennifer Hudson was the guest performer of the evening. She breezed in and sang (more like screamed) three songs -- then breezed back out. Although she looked beautiful, I was a bit underwhelmed. Lets just call her Tony's opening act.
Harry Belafonte then took the stage to introduce legendary singer Tony Bennett -- the recipient of the AWF Inspiration Award for Lifetime Achievement. Before introducing Mr. Bennett, in typical Belafonte suave style, he gave the most eloquent ''f*%k you" to the Waldorf -- or to anyone -- that I've ever heard as he shared a little story of the racism he suffered in the 1950s as a performer at Waldorf, saying "it used to be one of the most racist pieces of real estate in America."
Belafonte recounted being hired by a man named Claude Philippe, who was trying to desegregate the hotel. When hotel board realized that Belafonte wasn't, the right persuasion of Frenchman ''They went ape shit."
Thankfully the show did go on, but the hotel fired Philippe and tried to cancel Belafonte's contract, he said. ''It was iron-clad. I did all I could to encourage my friends from Harlem, from Bed-Stuy Brooklyn to come stand in the lobby, it was just a sea of black folk," Belafonte continued, explaining that they placed him in the Starlight Roof to avoid "racial contamination" in the Empire Room.
Mr. Belafonte seemed as pleased as punch to be standing in that same Starlight Ballroom he performed many years earlier. He ended with how far along the Waldorf has come. "I now have the lifetime right to stay in any Hilton hotel anywhere in the world for free if I would just keep my mouth shut and not tell this story." You gotta love this guy!
I was lucky enough to pose for a quick pick with Mr. Bennett (and Dr. Alanna Sholomon) before he hit the stage. This wasn't an easy task since every other guest was hoping for the same chance. As we posed, he positioned us around saying "Always put the pretty lady in the middle." I was like a giddy school girl thinking "Oh my God, Tony Bennett just called me pretty!" (Hey, don't judge me. I was having a great hair night.) Then I realized he was talking about Alanna. He was sweet and gracious. Always humble, he gave the shortest speech of the night and then treated the crowd to "Maybe This Time" and "Watch What Happens." At 86, he still belts it out with power and class.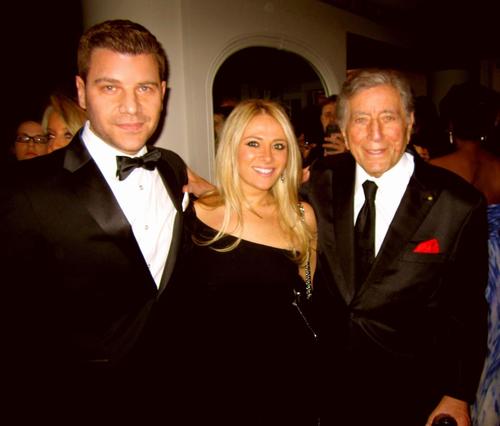 After the show I ran into my New Jersey neighbor, Danny Aiello. He told me to make sure I say "hello" next time I see him pushing his shopping cart around in the local A&P (he does all the shopping and cooking for his family). It seemed fitting to start the evening by honoring a talented and humble paesan, and end the evening bumping into another one on the way out.