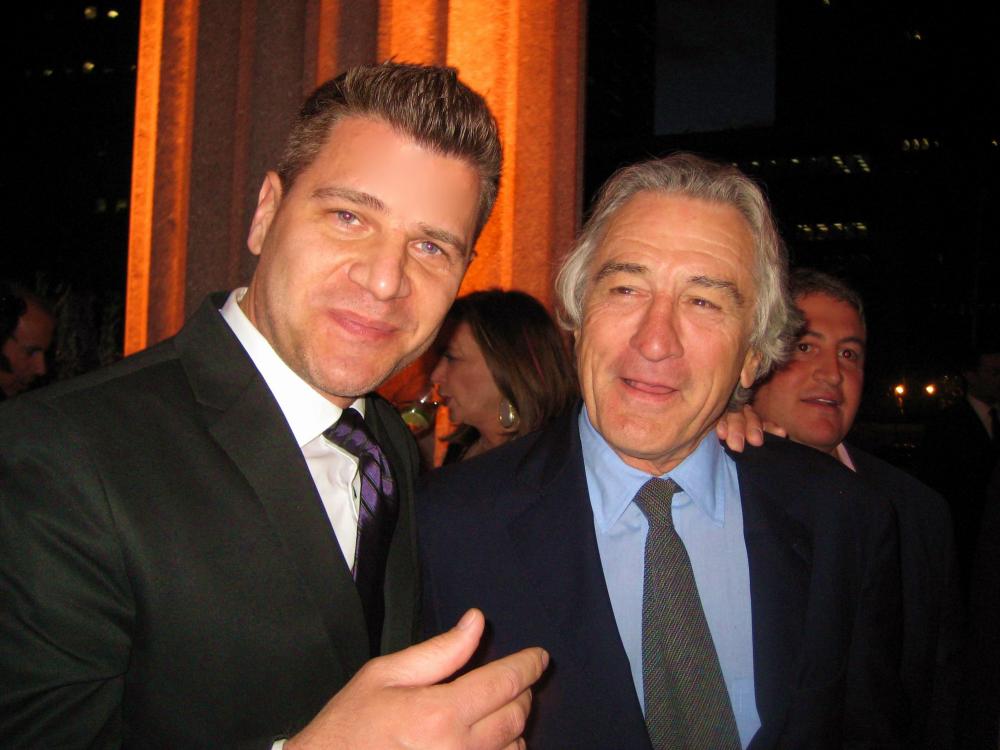 Last Tuesday, April 17, I had the privilege of attending the highly coveted and nearly impossible to get into, Deluxe Vanity Fair Tribeca party hosted by Graydon Carter, Robert De Niro, and Ronald Perelman on the rotunda of the State Courthouse on Center Street in New York City.
Vanity Fair certainly knows how to celebrate in the most cultured and sophisticated way possible. Lots of real celebrity types, beautiful weather, top shelf bar, lime meringue tarts, smoked salmon cones, passed duck, paté, crispy avocado mousse rolls, chilled mint-pea soup, something with boiled eggs and many other unusual hors d'oeuvres, all prepared by Chef Thomas Keller for a smorgasbord of high powered notables.
As I smiled my way up the massive courthouse steps that were covered in a field of neon L.E.D globes on a stick, I exchanged hellos with my female celebrity hobnobbing counterpart, Cindy Adams, there with Judith Sheindlin, aka Judge Judy, and her always pleasant husband Jerry.
Like everyone else at the party, I was blown away by the statuesque Leelee Sobieski; she worked the carpet/sidewalk in her white flowing Jil Sander dress as if it was her day job. When I entered the party, I got a mild case of star-struck-dizziness. Finding yourself standing in-between Michael Douglas (nice to see him still vertical), Catherine Zeta Jones (stunning and shimmering in her skin tight grey dress), and Billy Crystal is slightly different then... well... anything else you can ever experience.
Floating around the party helped to ease my initial sensory overload. Diving right in, I instantly spotted Donna Karen, Jane Rosenthal and Katie Couric and many others. The not-so-young-anymore Dakota Fanning was pretty in pink and wearing a gold headpiece. I'm sure it is a currently trending accessory amongst girls, but "halo" rang in my ears like the bells of church.

I bumped into Judge Jerry Sheindlin again, this time at the bar and offered the man a drink, and he politely declined, claiming he was on the 30/30 plan -- 30 on, and 30 off, currently in the latter 30. Tory Burch was also in attendance, looking stunning of course. I was careful not to step on her foot for a second year in a row (more like a frontal footwear flat tire) I know -- I know, that's like blasphemy for Burch-flat-wearers everywhere, sorry ladies. I have to say she was a good sport considering.
V.F. also provided a new source of entertainment this year -- an old school style photo booth that took six-increment photos in either color or black and white. My new party buddy, Aida Turturro, (Tony's sister on The Sopranos) and I took full advantage of the photo booth, stirring up trouble and laughing with everyone as their photos popped out of the machine. It was clear that these photos were an instant hit. I even convinced the toughest and coolest guy in the room, Police Commissioner Ray Kelly who was there with his lovely wife Veronica to hop in on the fun, I was a bit excited and relieved when he obliged.
Other Sightings:
-- The always gracious NYC Mayor Mike Bloomberg, accompanied by some of his security peeps, breezed in, high-fived Bobby D. and Mr. Douglas (at least that's how I saw it in my head), and breezed right out, he's obviously a man on a very tight schedule.
-- Julia Louis-Dreyfus there with her husband Brad Hall, looked incredible, tan, fit, and apparently doesn't have any specific diet or workout advice, as she said simply "If it tastes good, I eat it!"
-- Famed NYC lensman Patrick McMullan making his way around the room, impressed us all with his stealthy picture-taking skills, as well as his unexpected use of the Chinese language (although I'm not sure what dialect).
-- Diane von Furstenberg looking good from the neck down in a metallic dress, and a jacket I'm guessing was designed by her.
-- Donna Karan rocked a black leg brace and single silver crutch ( I don't think this legwear will become a fashion trend).
-- Mr. De Niro seemed to be having a ball, he was also super accessible this year, possibly because his personal bodyguard/wife Grace Hightower was busy chatting it up with guests in her python patterned dress. Unfortunately, I may have given Mr. D the drunken wet ear slobber talk as we posed for our pics which included a photo bomb from Tommy Matolla (hey, at least I made an impression).
-- Michael K. Williams from Boardwalk Empire was a pleasant surprise. Last time we were at the same event, someone in our area set the club on fire (literally), no need to worry, it was extinguished immediately and the partying continued.
#StarRambling -- As the party began to thin and we began to head out, I couldn't help but overhear one of the celebrity PR representatives tell their client to avoid being the last person still there. I suppose it's part of their secret protocol? Remember, make sure you're never the first one in or the last one out!
When I finally got home, I was still under the anesthesia of all the fun and interesting people I had just met. From politicians, to designers, to award-winning actors, the night could not have been any better. Unfortunately, I had yet to meet one more well-known heavyweight (figuratively speaking), my wife Kelly, awaited my arrival with a buzz kill smile on her face and two smelly trash cans for me to take out to the curb. Talk about keeping your man humble.