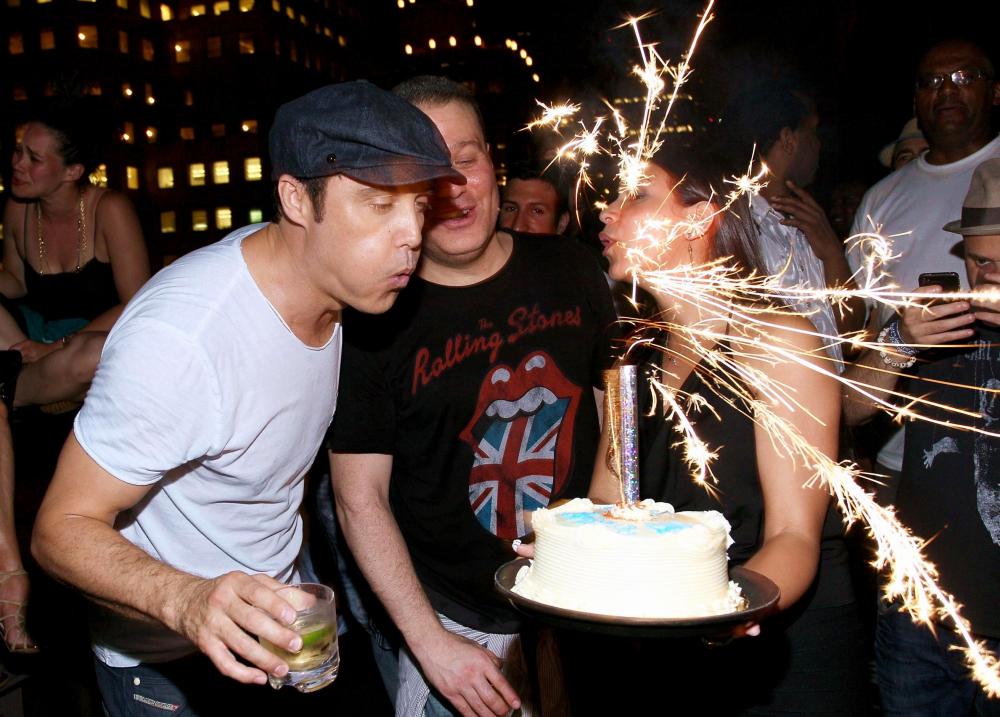 On Thursday June 21, I convinced my wife Kelly to join me at Xvi Rooftop in NYC for a joint birthday party thrown for nightclub hot shot Noel Ashman, and 90210 actor Vincent Young.
Once we arrived at the club, the voyage to the roof was trickier than expected as my wife and I were initially blocked by a large goon, I mean security, until Ashman sent his assistant Nicole down to pass off two golden tickets that lead us through a maze of dark black hallways, then up the elevator to our final destination, the rooftop.
Making our way through the sea of people, we found Vince Young, a cool guy, not just because he was throwing it to Tori Spelling in the original 90210 series, but because he's always making himself available for various charity events. Vince has also kept himself busy with various acting projects, and recently scored a hilarious roll in the film Eagles on the Chicken Coop.
Then a familiar face in the crowd, one we've all seen in like 100 TV movies and films, nice guy, Tony Plana. We spoke briefly and I commented, "You're like Bruce Willis." He joked back with "Yeah, but he gets paid a lot more money.'' Tony still has plenty more on his silver screen plate. The Ugly Betty star has joined the cast of Pain And Gain, Michael Bay's new film project that is based on a true story. Tony landed the role of Captain Al Lopez of the Miami Police Department, also starring Dwayne (The Rock) Johnson, who Tony said is a giant pussycat (out of all animals?). If you don't recognize the name, Google him, you will recognize the face.
We then moved to a spot that should have been marked "Welcome to Vodkaland." The unlimited bottle service was pouring all night long, and Mr. Big himself was enjoying the perks of it. We plopped down on a ledge next to actor Chris Noth, more commonly known as Carrie Bradshaw's love interest on Sex in the City. We learned Chris is a man's man, doesn't like paparazzi, has strong opinions about Fox news, and not a fan of guests outside of the fame circle snapping candid shots of him enjoying time with friends. We witnessed women flocking to Noth left and right, he remained unimpressed, as he recently tied the knot with long-time partner Tara Lynn Wilson. Noth later loosened up in some fun photos for famed NYC photographers, Steve Mack and Andrew Toth from Patrickmcmullan.com
Throughout the night, notables slowly trickled in. Damon Dash, Freedom Williams from C+C Music Factory, and what would a party be complete without the rang dang diggedy dang di-dang--Melle Mel (Sans Grandmaster Flash). Mel rolled in hi5'in everyone, rockin' a bright red suit, top hat and his signature dreads. Melle performed his hit song "White Lines" (let's be less conspicuous) and Freedom performed "Everybody Dance Now'' mildly impressive, no? During the performances, I overheard some snot-nosed guest call one of them a has-been, really? I can't even get Milli Vanilli (to not sing) for my next birthday party.
Next, out came two round birthday cakes, one black, one white, with full on torches atop -- we all sang "Happy Birthday," including Noth. Guests waited patiently for the flames to die out, and avoided sulfur burns before grabbing a small slice.
#FunBirthdayFact: Last year Michael Strahan ate most of the cake, guess people at parties just forget minor details such as birthday cake consumption limits.
Between the 95 degree heat, the inability to move from one spot, an entire carafe of cranberry juice seeping into my sock through my Chuck Taylor high tops, the final straw was the drink that spilled on my wife's Prada wedges (I may be a man, but I know any problem with Prada is ultimately the final straw) that's when we decided to call it a night and head back to Boringville, N.J. 07417