Director/writer Ben Lewin may be surprised to discover that his heartwarming new film The Sessions is being submitted by Fox Searchlight as a drama at the Golden Globes.
After The Sessions unspooled at the Toronto film festival last month, Lewin took to the stage with his cast for a Q&A. He revealed that he had told Helen Hunt, who arrived midway through filming, that the scenes he had shot between John Hawkes and William H. Macy made him realize that he was making a comedy. The Oscar-winning actress recalibrated her character accordingly.
Confusion is understandable. While The Sessions has a lot of comedic elements, it focuses on a very dramatic subject: a paralyzed polio survivor (played by Hawkes) who hires a sexual surrogate (Hunt) to help him lose his virginity. Macy portrays a local parish priest who counsels Hawkes en route.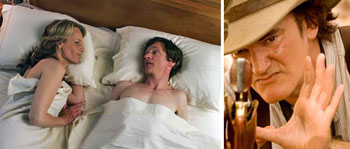 Studios may merely suggest that a film be entered into Golden Globes competition as a drama or comedy/musical. The eligibility committee of the Hollywood Foreign Press Association makes the final decision, but it usually defers to studio preference even in dubious cases such as My Week with Marilyn and Charlie Wilson's War, which competed as comedies.
Among other films straddling both classifications this year is Hyde Park on Hudson -- starring Bill Murray as FDR -- which will compete in the comedy/musical categories.
A rep for the Weinstein Company reveals that Silver Linings Playbook and Quartet will be entered in the comedy/musical races and Django Unchained will go drama. Quentin Tarantino's films can be quite whimsical, of course, but most of them were entered as dramas at past derbies: Inglourious Basterds (2009), Kill Bill 1 & 2 (2003, 2004) and Pulp Fiction (1994).
Jackie Brown (1997) was a notable exception and both Pam Grier and Samuel L. Jackson reaped Golden Globe bids in the lead comedy/musical races.
In the Golden Globes' TV races, Smash and Nashville will be entered as dramas even though they have lots of musical (and even comedic) elements. Also competing in drama at the Emmys, Downton Abbey will do the same at the Globes and American Horror Story is expected to move over to movies/minis after being nominated for Best Drama Series last year.
Photos: Helen Hunt and John Hawkes in The Sessions (Fox Searchlight) and Quentin Tarantino lensing Django Unchained (Weinstein Co.)