Comedian Tom Shillue just finished releasing 12 comedy albums in 12 months. They are available as digital downloads at iTunes and places like this. In this series of articles Tom will write about the process and workflow of the project from beginning to end.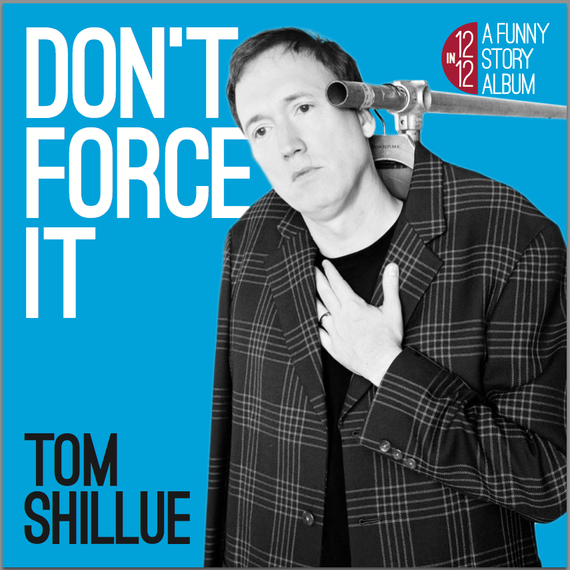 "Okay," I thought to myself this morning, "I'm done! I finished this enormous project which has consumed me for the past year, now what should I do with myself? My relief is beginning to turn to melancholy... how about writing 12 articles about the process of making these 12 albums? Excellent idea!" I don't know if it is an excellent idea, but I'll do it anyway, as I need to do something.
Throughout this project, people have been asking me questions, and this series of articles will be a good way to answer some of them.
Questions like, "How did you get the idea to do 12 comedy albums? Is this a stunt?"
Last part first -- of course it's a stunt. But I love stunts! Remember Evel Knievel? That guy was unbelievably entertaining, and I'm pretty sure that while he had an innate love of jumping his motorbike over long rows of things, a good part of his appeal was stunt-related. Part of this 12 album project was an artistic challenge and part of it was me trying to get some attention for my comedy. There are two things about the project that I thought could bring in new fans: 1. consistent release of material, and 2. low prices. From my own experience, I will try out new music because it it's just .99 cents a download-if I hear a song I like, I'll open up my iPhone and click "buy". But I'm not going to spend $10, or even $6.99 on someone I don't know. I thought if I priced my albums under $2, I might get some takers. Once they bought one, maybe I could get them on board for more.
So, how I came up with the idea: Last year, I wanted to release a comedy album, and do something a little different. It was going to be an album of funny stories, because my style is a hybrid of standup and storytelling. My initial thought was to pick a bunch of stories and kind of "distill them down" to short standup sets. As a comedian, if you tell stories, you are always "distilling". If you're looking to get booked on a late night show, you're probably going to have to edit down your stories a bit to get them to fit into a standard TV set.
Like I did in this appearance on Late Night with Jimmy Fallon.
This routine is from a 12-15 minute story that I did as part of a solo show. It's got enough laughs in it so that if you pare it down to it's essential elements, it can yield you a good 5-minute set. It's good. I really like this set, but in my ideal world I would get to do the whole story. As a comedy fan, I've always liked being taken on a long journey, so my own comedy reflects that- I like to stretch it out and let it breathe. In the edited-down TV set, the result is more laughs-per-minute, but there is something missing for me.
So I thought I'd go long-form with the stories, but then my album was going to be quite long. So, why not do a few albums? I thought I could probably come up with four or five.
I told my friend "I'm thinking of doing five comedy albums." and he said "Wow. That seems like a lot -- maybe you should just do three."
I said "I could do ten."
This was really just to defy his naysaying, but the thought got me excited. What if I pick a number way more than I think I could handle? Then I'd have to really dig deep. Then I decided on 12 because there are 12 months in the year, and one-a-month for a whole year sounds pretty impressive doesn't it? I thought, if I get to number 10 and fail, at least people will credit me for trying, and I'll have made 10, which won't be bad at all.
So then I just wrote a press release and sent it out-and all of a sudden I was committed. I told everyone I was going to do it, so now I had to do it. I broke out in a sweat! Good. Being nervous and unsure is the sweet spot for the artist.
Next article: Recording and Editing
My approach to this series of articles was similar to my album project -- I decided to do it before I figured out what I was going to write. So if you have any questions about the process of recording and releasing 12 albums in a year, email me or send me a message on twitter