"It is not enough to have talent," photographer Robert Capa once said, turning an old saying on its head. "You also have to be Hungarian." By which he meant Hungarian-Jewish. This point is reinforced in an exhibition of post-World War II Paris photographs by Ervin Marton at the Stephen Cohen Gallery on Beverly Boulevard.
The contributions of Hungarian Jews to photography is mind-boggling: Legendary war photographer Robert Capa (born Endre Friedmann) co-founded Magnum; younger brother Cornell Capa, in addition to shooting for Life magazine, became a photo curator and founded New York's International Center for Photography (ICP). Martin Munkacsi (born Martin Mermelstein) pioneered fashion photography (including taking the first fashion photograph for Harper's Bazaar in 1933), and the elegant abstract compositions of Laszlo Moholy-Nagy (born Weiss) established photography as an art form. The list also includes icons Andre Kertesz (born Andor Kohn) and Brassai (Gyula Halasz).
Marton, who is less known, was well regarded in his time by Brassai and Kertesz, older artists whom he befriended. The show provides a sampling of Marton's versatility. "We wanted to show the different traditions that surface in Ervin Marton's work," Gallery associate Ian McPherson explained. Marton "was a very skilled portraitist, a skilled street photographer, and he was drawn to experimental techniques." The images include portraits of Pablo Picasso, as well as French writers Jean Cocteau, Jean Genet and Jacques Prévert. Marton's portrait of Picasso in profile has been used by the Picasso Museum in Paris as well as for other Picasso exhibitions, Gallery owner Stephen Cohen said.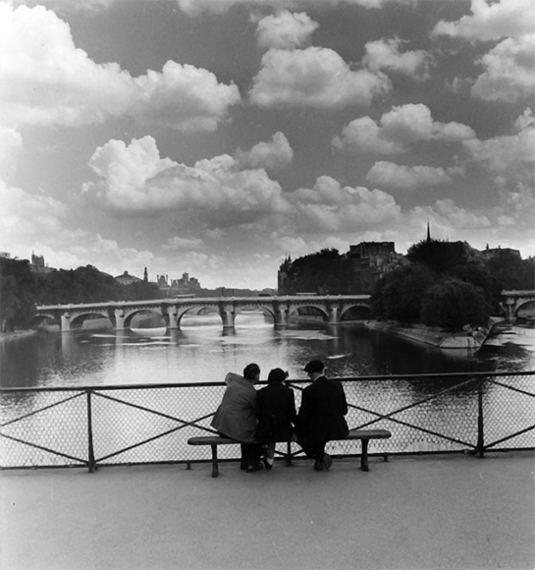 Ervin Marton's "Pont des Arts," circa 1945, is part of a show of Marton's post-World War II Paris photos, at the Stephen Cohen Gallery.
Marton was born in Budapest in 1912. His cousin, painter Lajos Tihanyi, was among a group of Hungarian-Jewish artists who moved to Paris in 1924 that included Brassai and Kertesz (Kertesz went on to New York but often returned to visit Paris). In 1937, as Hungarian fascists began to promulgate anti-Semitic laws, Marton also moved to Paris, where he would live for the rest of his life.
Through his cousin, he became friendly with a group of older artists in Paris, whose circle included Picasso. When the Nazis overran France, Marton joined the French resistance and worked with other Hungarians and foreigners, making false identity cards for people wanted by the Nazis, as well as producing and distributing numerous underground fliers. For these efforts, Marton was later awarded France's Medaille de la Liberation.
After the war, Marton received commissions from the French government, including from Culture Minister Andre Malraux, to take portraits of France's greatest artists, including Renoir, Chagall, Brassai and even Pierre Cardin (several of these images are at the Cohen Gallery exhibition).
The exhibition also includes several of Marton's photographs of Paris street life, including strolling lovers, playing children and a fire-breathing performer. "I always think of Brassai and Marton as two sides of a coin: darkness and light. Brassai worked mostly at night; Marton's pictures are sweeter," Cohen said. Marton died in 1968; the Stephen Cohen Gallery has represented the estate since the 1990s.
As to why Jews from such a small country have had such a large impact on photography, there are several theories: It turns out that in the 1920s and 1930s in Budapest, a camera was a popular bar mitzvah gift. Plus, if you have to move to another country, photography requires no translation. Perhaps being a small but irrepressible minority in an isolated country gave these artists the best possible perspective to use behind the lens.
Whatever the reason, the nimbleness of mind and explosion of talent of Hungarian Jews of that generation was best expressed by physicist Enrico Fermi in his much-quoted answer about the existence of extraterrestrials: "Of course, they are already here among us; they just call themselves Hungarians."
"Ervin Marton: Paris, the Post-War Years" is on view through July 3 at the Stephen Cohen Gallery, 7354 Beverly Blvd., Los Angeles. For more information visit www.stephencohengallery.com ."
This article originally appeared in print in The Jewish Journal of Los Angeles