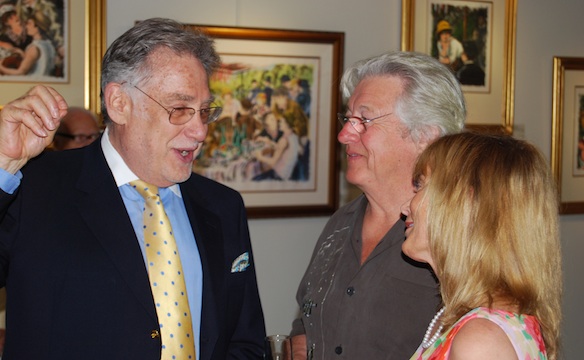 Michael Schwartz with Clients. Photo courtesy of Galerie Michael.
For 30 years, Michael Schwartz has owned and operated Galerie Michael, an art gallery on Rodeo Drive in Beverly Hills, building, in his own words, "museum-quality collections, one work at a time." Works by Picasso, Dali, Goya and Miró adorn the walls for the current exhibition on Spanish masters.
With a staff of 24, many of whom hold fine-arts degrees and are called curators, Schwartz would be happy to sell you a work of art. But he would prefer to tell you a story first because what Schwartz really wants to do is enchant you.
I've known a few art dealers in my time, and much the way poker players have a tell, dealers have a "sell." Some dealers sell status and exclusivity -- as if you are joining a club; others make a more mercenary pitch, appealing to one's sense of value, investment savvy and greed; for others, the sell is more aesthetic, with a focus on the artist's technique, or on occasion how the painting matches the client's home. Schwartz's sell is different: He wants to educate you.
Which is funny because until he became an art dealer, Schwartz didn't know all that much about art. He grew up in Chicago. His mother, who had been trained as a concert pianist but took on more commercial gigs once she had children, was always taking her children to museums and stressing the importance and beauty of art.
By his 30s, Schwartz was in charge of circulation for Look magazine in several Midwestern states, when his boss started taking him to Europe. At the same time, some friends approached him with the idea of opening a gallery in Chicago that would appeal to recent college graduates and other young people starting out in life who wanted to buy good art but could only afford prints. They asked Schwartz to buy them a Picasso the next time he was in Paris.
Schwartz wandered into a gallery and explained that he was in search of a Picasso for a gallery in Chicago. The owner asked what he knew about prints and paintings. "Not much," Schwartz said. The gallery owner took an interest in Schwartz and started to teach him that every painting has a story that makes it come alive. The gallery owner told Schwartz that this time he would select the best work for him to buy, but that he needed to study the artists and their work; the next time, Schwartz would have to choose. Thus began his art education.
Back in Chicago, Schwartz's wife was becoming impatient with his investment. Her ultimatum: Have them pay you back or take the painting. It was right around then that Schwartz had an epiphany: He loved art and would open his own gallery. Although he had four young children, his wife gave him a year to establish himself -- which he did. However, during the winter of 1978, Chicago was beset by a blizzard so severe that Schwartz was barely able to see the road as he drove home. He pulled over at a diner and called his wife: "I've had it. I'm leaving." His wife told him he was having a midlife crisis and that they should try to work out their problems. Schwartz explained that he didn't want to leave her -- he wanted to leave Chicago and move the family to California.
After a few months of due diligence, Schwartz found a gallery in South Coast Plaza that was foundering and made an offer to acquire its inventory and take it over. He bought a home for his family here and enrolled his kids in school for the coming year. A few days before closing, the gallery owner informed Schwartz that he had sold to a higher bidder. "But we had a deal!" Schwartz protested. "I moved my family to California!" The gallery owner said he was sorry but their deal was not finalized. Schwartz sued.
The following week, Schwartz found himself wandering in Beverly Hills, on Rodeo Drive. There he found a beautiful building next to the Hermès store that was a showroom for the Beverly Park development, then in its early stage. Schwartz loved the space. He called his wife and told her that he felt their future was in Beverly Hills, on Rodeo Drive. Even more, he felt as if that space was meant for them. "The energy there was fantastic," he said. Schwartz, who describes himself as a BuJew (Jewish Buddhist), threw the I Ching as well -- it, too, confirmed that his future was in Beverly Hills.
Nine months later, having spent a tidy sum on litigation to no result, Schwartz got a call from a real estate broker. There was a space available on Rodeo Drive, but the owner insisted on meeting directly with all prospective tenants. Schwartz soon found himself in the space he had coveted -- the real estate development had sold out in record time. The owner had many demands; Schwartz had a few of his own. What Schwartz suggested was that they each write down on separate legal pads what they needed in order to make the sale -- then they switched pads. In 10 minutes, they had a deal. "It was bashert," Schwartz now says.
For the next 28 years, Schwartz operated his gallery there to great success. He continued to travel to Europe, establishing long-standing relationships with important dealers, including members of the Pissaro, Renoir and Cezanne families. In keeping with the European gallery tradition, Schwartz sought to distinguish himself by organizing exhibitions and publishing catalogs, making his gallery a place to learn about and buy affordable art. Although Schwartz estimates that 60 percent of his work sells for between $10,000 and $50,000, he still offers works by Picasso for as little as $3,000 (even though he knows that is, in itself, a lot of money).
Two years ago, when Schwartz could not come to terms with his landlord (Schwartz wanted a 10-year lease; his landlord wanted to give him four), he moved to the former José Eber hair salon space on Via Rodeo -- a larger space for less money with a long lease. He feels that the space brings its own excitement.
On Rodeo Drive, over the decades, he has watched the ebb and flow of commerce, from the Drexel Burnham traders of the 1980s to the current wave of Internet entrepreneurs. He has seen waves of buyers come and go, from the Middle East, Japan, Russia and China. Schwartz estimates that 60 percent of his business is based on repeat customers.
"Being here [on Rodeo] is a multinational experience," Schwartz said.
Schwartz has come to believe that although Los Angeles in general, and Beverly Hills in particular, are not art destinations like New York, many of its visitors are art collectors. And, he said, if they visit Rodeo Drive, as they inevitably do, they are often surprised to find a gallery like his there, with the quality works he exhibits.
Over the years, Schwartz's areas of interest have been 19th century plein air painting (landscapes); old master drawings, with a particular interest in Rembrandt; and works by such 20th century masters as Picasso, Miró and Dali. Schwartz curated the Kaplan collection of Rembrandt artworks exhibited in England and Germany. He also has an expertise in the graphic works of Toulouse-Lautrec and was instrumental in bringing the Wagner collection of French poster art to LACMA's permanent collection.
Schwartz's fundamental belief is that knowledge surrounds a work, deepening the viewer's connection to it. To demonstrate this, he showed me a small Renoir work, a scrap the painter had used to sketch a face -- Schwartz told me about the girl it was based on, how Renoir used these scraps and how rare they are. As he did, I looked at the work anew, finding delight in details I might otherwise have missed. Yet, to be completely honest, I would say that Schwartz's charm in telling those stories is as great a factor as the knowledge he imparts.
Schwartz also recounted how once, when he went to visit Dali at his home in Spain, he was ushered into a garden where the aged Surrealist was sitting on a throne, dressed like a pope, wearing a large ring that Dali's assistant told Schwartz he should kiss. Schwartz refused, but instead opened a briefcase full of cash and asked if that might serve as his acknowledgement of Dali's genius. Dali consented, and Schwartz proposed that Dali do an edition of works based on the many inventions that Dali had conceived, including a reclining massage chair that replicated the feeling of being a baby in the womb. Dali told Schwartz that the idea was not Schwartz's but Dali's, because he had inspired him to have this idea. The edition was very successful. Schwartz still has a set and promised to show them to me. I thanked him but said no. I had to go.
I was afraid this might turn out to be a very expensive column.

This column originally appeared in print in The Jewish Journal of Los Angeles.