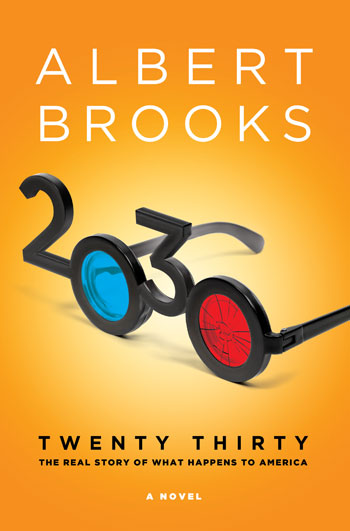 2030: The Real Story of What Happens to America (St. Martin's Press) is Albert Brooks' novel (in all senses of the word) take on our not-so-distant future. Anyone familiar with Brooks' films, such as Defending Your Life or Modern Romance, will not be surprised that his debut novel is clever and entertaining. But it is also thoughtful, insightful and inventive about issues as diverse as health care, transportation, aging and politics. And funny -- let's not forget funny.
2030 is a mixture of the utopian and the dystopian -- great advances and great consequences -- a future that, even when beyond belief, remains possible.
In 2030, Brooks takes liberties one imagines he never could have in film to opine on topics large and small (i.e. everyone is tracked everywhere and every birthday party now features an insufferable montage video; the novel ends with a presidential inaugural address).
Brooks also seems to relish the freedom to create a story with no true main character, but, rather, a wide array of figures. They include: Dr. Sam Mueller, who came up with the cure for cancer and reaped the financial benefits of doing so; Matthew Bernstein, the first U.S. president of Jewish descent (his mother is a Roman Catholic, but, as Brooks notes: "If you're running for president, even living on the same street as a Jew makes you one"); Susanna Colbert, a former investment banker Bernstein recruits to be Treasury secretary and whom he falls for; Brad Miller, an 80-year-old who ends up buying an apartment on a cruise ship to live out his final years; Max Leonard, a trust-fund-financed revolutionary who wants to harness the anger of young people against the "olds"; and Shen Li, a Chinese health care entrepreneur eager to import his vision of caring neighborhood clinics and surgery performed by robots to the American market.
To Brooks' credit, as each of these characters travels to his or her own date with destiny, the narrative never feels disjointed. We feel we know these characters, and we wonder what's going to happen to them.
Shortly after the novel begins, a 9.1 earthquake occurs on the Pacific Rim (which is scary-prescient on Brooks' part), but rather than devastating Asia, it levels Los Angeles. Miller is taken to a tent village in Pasadena to wait for the insurance money that is promised him, but never seems to appear. In the meantime, the country can't afford the trillions of dollars it will take to rebuild Los Angeles. Bernstein sends Colbert to beg the Chinese for a loan. They refuse, but instead propose an equity stake -- they will rebuild the city in return for 50 percent of the city's revenues, and the pledge that Chinese workers who participate in the rebuilding can become U.S. citizens within two years. In no time, Brooks tells us, Los Angeles smells "better."
Brooks empathizes with his characters and does not judge their foibles too harshly, as if to say, "Nobody's perfect." The novel has no truly evil characters, and in 2030, as Jean Renoir once famously remarked, "Everyone has their reasons." Brooks' characters remain entertaining even in their darkest moments -- as when Leonard has lunch with Walter Masters, a Jack Kevorkian-type euthanasia advocate, who tells him, "Go change the world. I'll pay for the sandwich."
On the other hand, Brooks is clear that there is always a price to pay for our actions. When the Nobel Prize-winning billionaire Mueller disses Leonard, the latter conceives a plot that will have tragic implications for others, including Miller; Bernstein's reelection will hinge on whether Colbert pays back a favor to a large contributor, as well as on Bernstein's wife's reaction to his feelings for Colbert. In Brooks' world of tomorrow, much like our present, human self-interest still clouds our judgment and chance meetings can still lead to outcomes we can never foresee.
That Brooks enjoyed writing this book is evident on every page, and that, too, is infectious. Although as a filmmaker, his comedies have always taken a close look at relationships and at society, at times played out to surreal extremes, in his first novel, Brooks has found a medium particularly well suited to his polymath interests and prolific inventiveness.
Although living in 2030 may be more difficult than now in many respects, reading about it is very enjoyable. Or as Brooks recently tweeted: "Medical Breakthrough: Pre-Ordering '2030' increases lifespan! (of author, but still)."