The exhibition "Hans Richter: Encounters" at the Los Angeles County Museum of Art is a curator's dream: retrospective of a somewhat obscure, multiplatform artist, who is equally adept (and revolutionary) in painting and film; whose life and career intersects with the major artists and artistic movements of the 20th century; and whose work, when organized didactically, continues to appear very of the moment, ready for reappraisal and for greater attention.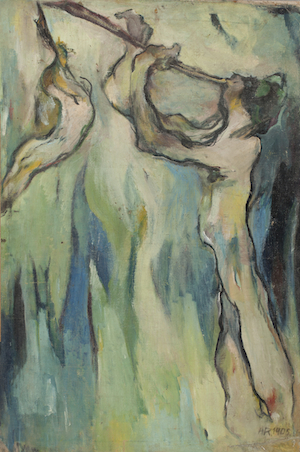 Although the show's curator, Timothy O. Benson, had written about Richter in the 1990s, he was surprised when contacted about eight years ago by the curator of Richter's estate, Erik de Bourbon-Parme, to work on a possible exhibition in cooperation with curators at the Centre Georges Pompidou in Paris. During Richter's lifetime (1888-1976), as described in his memoir "Encounters From Dada Till Today," which LACMA has republished as an e-book, Richter managed in Zelig-like fashion to befriend a wide range of artists and filmmakers, including Hans Arp, Jean Cocteau, George Méliès, Joseph Cornell, Piet Mondrian, Sergei Eisenstein, Marcel Duchamp, Man Ray, Federico Fellini, Fernand Léger, Alexander Calder, Kazimir Malevich and Fritz Lang, among many others whom he influenced and who influenced him. Benson wanted to honor Richter's talents as an artist but also, in Benson's words, as "innovator-director-collaborator-organizer-instigator-facilitator-transmitter-curator and chronicler." This approach makes particular sense at LACMA, whose director, Michael Govan, has championed exhibitions that highlight the artistic dimension of filmmakers (Tim Burton and Stanley Kubrick, among them) as well as artists who have made films (Dali, and now Richter).
At LACMA, "Hans Richter: Encounters," whose installation has been designed by the architectural firm Frederick Fisher and Partners, the central core of Richter's film work, projected on exhibit room walls, becomes the spine of the exhibition, from which emanate nine rooms of art and objects by Richter and other artists that give context to Richter's work and influence.
Johannes Siegfried (Hans) Richter was born to a well-off German-Jewish family in 1888 (his mother was a Rothschild). He studied at the Academy of Art in Berlin and the Academy of Art in Weimar. As a teenager, he began drawing portraits of family members. Early exposure to the Blue Rider group of painters led by Franz Marc and the German Expressionists can be seen in these early works, some of which appeared in the Berlin avant-garde intellectual publications such as Die Aktion and Der Sturm. With the advent of Cubism, Richter saw how abstract forms could express an artistic, or even utopian, vision.
In 1914, shortly after the outbreak of World War I, Richter was drafted and seriously wounded outside Vilnius, Lithuania. A younger brother died in the war, and another was wounded. Richter returned to Berlin with a greater commitment to political change, envisioning the power of art to be a force for radicalism. If the world war was meant to be "the war to end all wars," Richter increasingly believed that a better world was possible, one without militarism where radical art could be a transformative force in society. For the rest of his life, Richter sought out the radical in his art.
As luck would have it, Richter was not alone in his views. At a café in Zurich, Switzerland, he was introduced by a friend to Tristan Tzara (Samy Rosenstock), with whom he would become involved in the Dada movement, through which Richter would make lifelong friends with Duchamp and Ray (Emmanuel Radnitzky). Richter formed the Radical Artists Group after the Russian Revolution in 1917. Tzara introduced Richter to the Swedish artist Viking Eggeling, with whom Richter began to collaborate, creating visual scrolls that were "contrapuntal" and resembled musical scores, exploring notions of duality, of the power of opposites such as black and white, positive and negative, not only in drawings and painting but also particularly in experimental film. In 1921, Richter made what is considered one of the first abstract films, "Rhythmus 21."
Rhythmus 21


Richter knew many of the early film innovators, including Méliès and Eisenstein. But it was Richter's status as an artist that set him apart as a filmmaker. When Kazimir Malevich, the Russian Suprematist painter, wanted to collaborate on a film, he chose Richter over Eisenstein because he felt Richter would be able to move the art of film forward. Richter very much saw his role as being part of the avant-garde, "Not to just roll up his sleeves and just make something, but to listen for the future. He felt like the future was something in formation that the artist could hear," Benson said.
It may be hard to appreciate today, but abstract art and film were once revolutionary. To Richter, however, abstraction represented both the intellectual and the human side of art -- a purity of form and design that transcended borders and could be accepted as a universal language. "I see him as an instigator and leader," Benson said.
In the 1920s, Richter launched the art journal Periodical G, whose full title was G: Materials for Elemental Form Creation. Inspired by Theo van Doesburg's De Stijl, G gathered such diverse talents as artist El Lissitzky and designer Ludwig Mies van der Rohe, on architecture, industrial design, city planning, typography, painting and film. "I see him as the Miles Davis of the art world," Benson said, "because he listens and he knows which people to put together to make something happen at a particular time."
In 1929, Richter was called upon to use his gregarious social talents to organize the "Film und Foto" exhibition that traveled throughout Europe, including to Stuttgart, Berlin, Zurich and Vienna, featuring the work of his friends and contemporaries, among them Laszlo Moholy-Nagy, Hannah Höch, Léger, Ray and Duchamp. Nonetheless, during the 1930s it became increasingly clear that while Richter did not consider himself particularly Jewish, the Nazis did. Richter's work was included in the infamous Nazi exhibition "Degenerate Art," and the artist was forced to leave Germany in 1933 for the more hospitable environs of Southern France and Switzerland. As the 1930s came to end, he sought refuge in the United States but could not get a visa despite his friendships and contacts. According to Benson, it was only through the intervention of the Hebrew Immigrant Aid Society that Richter was allowed into the United States, where he joined the faculty of the City University of New York to chair its film department.
New York was awash in European émigré artists, and Richter found himself renewing old friendships with Duchamp and Ray, and making new ones with Jonas Mekas, Maya Deren, Joseph Cornell and John Cage. He returned to painting, making large scrolls that revisited old work and made the imagery new, adding elements of amorphous shapes as counterpoints and introducing elements of collage. He also made films, including the feature "Dreams That Money Can Buy." In the 1960s, he adopted the format of working in series, using a variety of abstract forms and materials to explore his ideas.
Richter died in 1976. However, as an art figure, his use of so many different media, his way of collaborative working, his publications such as G, make him seem very of the moment. As Benson explained, "Like many artists today, he moves from one medium to the next, almost effortlessly. ... He often did things that are very short, 10-minute or a three-minute film sequence, and young people work that way now. He's also a social-media person. He had his own social networks. Those aspects really make him of our time."
For Richter, an artist who always set himself at the cutting edge of his time, his sought-for future is now.
"Hans Richter: Encounters" continues at the Los Angeles County Museum of Art through Sept. 2.
A version of this article appeared in print in The Jewish Journal of Los Angeles