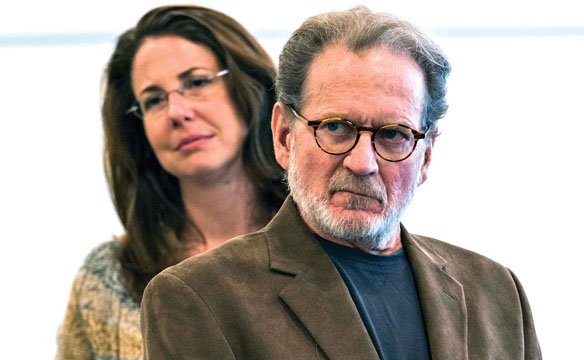 Cast members Robin Weigert and Robert Foxworth in rehearsal for "Other Desert Cities." Photo by Craig Schwartz
In Hollywood, the logline for this story would be: A playwright who has outwitted his demons to find balance in his life, has, after a devastating TV experience, returned to the stage with a play whose plot twist is as transformative to its actors and to the audience's assumptions about the characters, as writing it was for the playwright. The play is a success Off Broadway, and then a bigger success on Broadway. As validation and final vindication, he brings it to Los Angeles.
The thing is, this is not fiction, it is true.
The playwright: Jon Robin Baitz.
The play: Other Desert Cities, which opens at the Mark Taper Forum on Nov. 28.
The TV show on whose ruins the play was built: Brothers & Sisters.
But the story, like the play itself, is so much better, and deeper, in its details.
Like Baitz's early work, The Substance of Fire, in which a historical inflection point (the Holocaust) tears at the fabric of a family, in Other Desert Cities, a family's longstanding conflicts over the Vietnam War and its aftermath threaten to rip them asunder. Other Desert Cities is set during a dysfunctional family reunion in Palm Springs at Christmas. The participants include a prominent patrician politician as paterfamilias; his steely, assimilated matriarch wife; the matriarch's sister, whose embrace of her Jewish ethnicity stands in stark contrast to the matriarch; and their grown children -- a son who works in reality TV; and his sister, the prodigal daughter, a novelist about to publish a memoir laying bare the family secrets.
It turns out, as I remarked to Baitz when we met recently for lunch in Culver City, that every character in the play is living a lie -- just not the one they thought they were living. It is this layering of the personal and political with questions of identity and obligation -- and a yearning to, in E.M. Forster's dictum, "only connect" -- that distinguishes and elevates Baitz's work.
A native of Los Angeles, Baitz spent most of his childhood and teenage years abroad. His father, Edward, was an executive for the Carnation Co., posted to Brazil and then South Africa. Living in Brazil under a military dictatorship, and in South Africa during apartheid, sensitized Baitz to the way politics can convulse both society and family."I knew very early that whatever this norm was, it couldn't hold," he said of South Africa. "At a certain point, I simply became afraid that it would turn into a cataclysm."
At the same time, given Baitz's father's position as an American businessman working in countries with great domestic disturbances and the characterization of the father in Other Desert Cities as the keeper of secrets, I wondered whether Baitz's father had worked for the CIA. It turns out that Baitz's father had, as a young man, worked for the National Security Agency, and although Baitz does not know whether his father remained involved, he says, "I felt there was a lot going on that I was not privy to, that there was an interesting subtextual awareness and political savvy." His father, Baitz said, "had a certain expertise in how people work all over the Third World." He tangled with the Afrikaner government, and Baitz recalls his father, later in life, "being debriefed by someone from the noncovert section of the CIA."
Although the future-writer returned to the United States in time to graduate from Beverly Hills High School, he has remained "slightly an outsider," keenly attuned to political disturbance. "I live in a state where I am aware that, whatever the social contract is, it's quite fragile -- here, too. The play comes out of that," he said.
"As we reach a point where a dialogue is no longer possible in terms of the left and the right in this country, the play actually tries to address that gridlock," he added.
Baitz's writing is not moralistic, nor does he seek to badger us into his political point of view. Rather, he is searching for a greater emotional truth.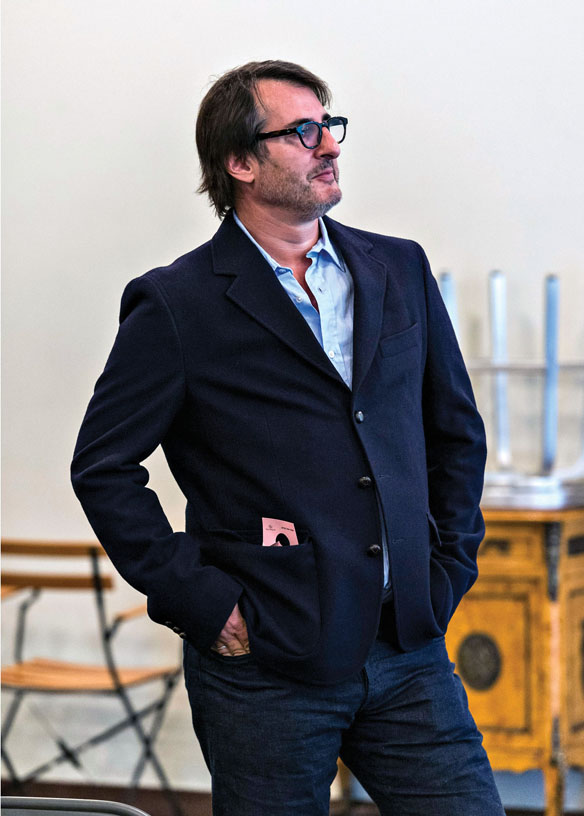 Jon Robin Baitz
Both Brothers & Sisters and Other Desert Cities describe a family that in no way reads Jewish, with the exception of Uncle Saul (played by Ron Rifkin) in the former, and Aunt Silda (Judith Light on Broadway; Jeannie Berlin in Los Angeles) in the latter. I recalled to him, with pleasure, that moment in Brothers & Sisters when it finally dawned on me that Sally Fields' character must be Jewish, and how strange their Chanukah-Christmas was, with Saul intoning Hebrew words that indeed seemed foreign to the rest of the family.
That was not the case in his own family, Baitz explained. "My family was deeply traditional. On my father's side, they started a fund for the Jewish Home for the Aged in Washington, D.C., for which they sponsored concerts; my grandmother sang Yiddish songs, performed. I went to temple, I went to a Jewish school; I laid tefillin -- everything."
The WASP-y Jew he writes about is autobiographical insofar as it reflects Baitz's own Anglophilia. "I'm always slightly removed," he said, explaining that he's no longer observant, because "I can't surrender my curiosity over to an orthodoxy of any sort... To me, my iteration of Jewishness is simply 'do unto others' -- that is the cornerstone for me, the be-all and end-all, and I don't even think that even depends on an Old Testament God."
I mentioned to him that Other Desert Cities brings to mind Philip Roth's American Pastorale, which is also a story of American Jews at the apotheosis of assimilation brought low by their daughter's radical antiwar action. However, Roth's vision in Pastorale is profoundly pessimistic, while Baitz's is far more hopeful. Baitz acknowledged the similarities, but said, "I think my experience and Roth's are very different. I can't afford the level of skepticism, whether sexual skepticism or cultural skepticism. I can't afford to... I'm much more outward-directed... I think I am slightly sentimental about what is great in this country, which is that there is ultimately a desire to connect -- a real need to connect."
Which brings us to the crux of this story: Baitz created Brothers & Sisters with the idea of telling a certain kind of story, about a matriarch, about her children, about political dialogue in this country -- "all of the things that I believed would have made a great television show." The network's ambitions were baser. When their vision and Baitz's conflicted, they found their own opinions more compelling. The writers' strike occurred allowing the abrogation of writers' contracts. Baitz vented -- in public, in blog posts. The network went ahead without him, producing four more years of episodes.
Baitz took all of this hard. He withdrew to eastern Long Island to write a play. It was as if, he said, he had to teach himself to write again. "I worked hard, and I got it again...You have to really dedicate yourself to doing this work."
Other Desert Cities was born from that abyss. "I couldn't have written this play without the Brothers & Sisters experience, and the rants and the rage," Baitz said. He explains: "I guess [I've come] to really understand balance, the nature of balance. and also I've really come to understand the danger of a writer's presuppositions and the lack of humility about a subject."
Although Baitz grew up in a Beverly Hills house once owned by the manager of Grauman's Chinese, "steeped in the ethnographic understanding of what L.A. means and show business," he now feels grateful for the experience of Brothers & Sisters, "while incredibly painful and incredibly expensive in both the literal sense and the emotional sense, it saved me. It was the right thing to do. I still have a relationship to Hollywood. It's just that I don't need to have a relationship to Hollywood." (He has, however, recently sold another TV project to Hollywood).
Baitz now finds himself back in Los Angeles with this play, imbued with greater self-knowledge and a clearer mission in his work. "The first part of my life was spent in great confusion. By the time I reached age 40, 10 years ago, that confusion had turned into misery; and since then I've tried very, very hard to find reason, pride and connectivity in art, in literature, in love, in nature, and so connect."
Just as the play's title refers to a highway exit sign, offering alternatives beyond Palm Springs. Baitz's play seeks an alternative way out of the seeming impasses of our times -- our political deadlocks, our family dramas, even our most heartfelt and ego-driven certitudes -- by making us experience a greater emotional truth. In Other Desert Cities, we may not find that which unites us, but instead be gobsmacked by the realization that our most deeply held beliefs about the people we know best are, like a proverbial desert mirage, not exactly as they seem.
Baitz's affirmation may be as simple as believing, to quote The X-Files, that "the truth is out there."
Other Desert Cities by Jon Robin Baitz, Nov. 28, 2012, through Jan. 6, 2013, Mark Taper Forum at the Music Center. For tickets and other information, visit centertheatregroup.org or telephone (213) 628-2772.
This article originally appeared in print in The Jewish Journal of Los Angeles