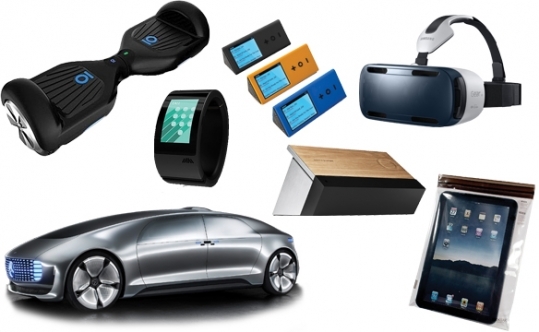 The International Consumer Electronics Show ( CES ) in Las Vegas is like the white whale in Moby Dick: Every time you hear about it, it's getting bigger; you have to travel through oceans of information to grasp it, and if you don't pay close attention it will upend everything before you even know what happened.
This year's convention, which took place Jan. 6-9, hosted some 170,000 attendees and about 3,600 exhibitors, with themed areas (i.e. fitness, wearables, privacy, home security) and branded aisles showcasing French, Israeli, Korean and Chinese tech with more exhibition space than ever. My iPhone6 health app registered an average of 18,000 steps a day at CES (by contrast on the Sunday after I returned home, I tracked a much more modest 2,000). But enough about my aching feet, let me tell you about CES 2015:
Some broad strokes: Don't buy a 4K (ultra high-def) TV yet; prices are coming down and will continue to do so (and actual 4K content is still limited). The laptop is back stronger than ever; Lenovo continues to dominate quality windows laptops at reasonable prices (for 2015 there is a gorgeous Lenovo X1 Carbon Ultrabook (3rd Gen), new T models Thinkpads with redesigned keyboards and a Thinkpad Yoga line with an ingenious retractable keyboard). 3-D Printing may prove its mettle in a surprising area: Food. 3-D printed deserts and chocolates were awesome! On the technology front, wireless power and charging seems to be on the horizon, although it is not clear which standard (Qi or other inductive systems) will predominate.
Finally, high-definition or high-resolution sound is a growing phenomenon (apparently, it took until now to realize that compressed mp3s music files played on a phone or streamed sound awful). Several new music players capable of handling large music files (up to 24bit/192kHz) debuted at CES, promising improved sound, such as HIFIMan's HM-700 player ($179); Sony's Walkman-like NWZ-A17SLV player ($299); and Neil Young's category-defining Pono music player ($399), whose sound is clear and, actually, really good. At the higher end, Bang & Olufsen introduced their version of Sonos: BeoSound Moment, a $4,000 intelligent music-streaming device that features the first-ever wooden touch screen as well as a programming "Moodwheel." Listening to these devices, you may never want to leave the "Hotel California."

As for price-is-no-object high-end home audiophile systems, although I spent some very pleasurable moments with McIntosh and Wadia, my serotonin receptors were most ablaze listening to systems from Metronome Technologie, a French company that makes even a mundane CD sound deeply personal and SOtM, a South Korean company, that made me feel I could hear each guitar or violin string being plucked.

Although Apple does not show at CES, they have spawned whole industries of peripherals and accessories, such as smartphone and tablet cases, device-friendly backpacks, wireless speakers, headphones, and chargers. Among the standouts: The new Typo2 smartphone keyboard from Ryan Seacrest's Typo.com; Trident cases (bio degradable, eco-friendly and extremely rugged); Loksak has a range of baggie-like devices to waterproof or shield your digital devices. Thule (of carrack fame) offers well-designed backpacks and camera bags; Monster showcased "The backfloat" ($169), a waterproof wireless speaker that - wait for it--floats! House of Marley (yeah mon, dat Marley) makes really well-thought-out and designed eco-friendly speakers. Vivitek makes the impressively compact Qumi Q5 HD wireless projector; Innergie continues to innovate in portable and car chargers; while Dart that makes a 4X smaller laptop charger.

Bottom line: Here are my 5 takeaways from CES:
1. It's not about the TV, it's about the OS (operating system).
At CES there were miles of TVs, many of them 4K, some of them even 8K, all flat-screen, some curved, almost none 3-D. Among manufacturers, LG has doubled down on TVs, but the real battle is over TV software not hardware. Samsung is betting on its own OS, Tizen, which, as demonstrated, seems quite good, if not great. Great is Roku, which has now added Haier and Insignia to TLC and Hi-Sense as the list of TVs with Roku baked inside. For the cord-cutters Sling TV and Dish Network are launching a $20 a month, no commitment, no contract app that features ESPN, ESPN2, TNT, TBS, the Food Network, the Cartoon Network and the Disney Channel. There's even a new TV specifically designed for AKs (alter-kakers) called Independa, that has embedded homecare services as well as video calls, emails and photo sharing, all enabled through a virtual personal assistant called "Angela."
2. VR (Virtual Reality) is for real.


Samsung already has their version of a Virtual Reality headset, and other companies are launching low-cost versions, but Oculus Rift VR remains the gold standard as evidenced by their new demo, Crescent Bay, unveiled at CES. I was blown away by the potential for creativity in a medium that is immersive, 3-D, high definition and 360. I walked with dinosaurs, fought great battles, and traveled in great cities of the future - and no psychedelics were involved. Great tech needs great content, but there is no doubt, VR is coming
.
3. Cars become your dog.


Once upon a time, cars were mechanical beasts you tamed or vessels that you piloted to your destination. Now cars are being marketed for their tech. VW, for example, will soon offer iPad-size digital dashboards on certain models. Mercedes showed off the F015 concept car, which includes windows that disappear and seating configurations that can change, including for when the car is in driverless operation. Toyota has a fuel cell car. BMW showcased an electric car that can park itself in a garage and return when beeped for. All of which means one thing: increasingly you control the car, even as it can control itself. You order it; you command it. The car is your (think word for female dog that rhymes with "itch" that can't appear in a family-friendly publication).
And if self-parking cars aren't "Blade Runner" enough for you, there are some new personal transportation options, from cool-looking electric bikes like ProdecoTech's Phantom ($1,200-$2,200, depending on the motor and battery size), and Acton's Rocket motorized skates, to the IO Hawk (under $2,000), which looks like a cross between a skateboard and the base of a Segway, but is intuitively easy to move in any direction.


4. It's about being connected, not about the Internet of Things.
Two years ago, everyone at CES was talking about harnessing big data from devices and the Internet of Things. This year was all about connecting: adding sensors, tracking features, Bluetooth and a USB charger, all with Smartphone interaction - often to items that you never imagined needed it, such as a Bluetooth toothbrush (Oral B); An e-cigarette from Smokio that calibrates your nicotine reduction; Breeze, a $99 breathometer; iPin ($50) an in-phone laser pointer; Deeper the wireless fish finder that attaches to your casting line; Tao, a sleek mouse-sized isometric exercise device; Blossom and Skydrop, smart sprinklers (a good idea in drought-ridden California); Lilypad, a smart wifi pool thermometer and UV sensor; The Anova Precision Sous Vide cooker ($179); Prizm, a pyramid shaped streaming music player ($169) that learns what music you like; Jamstik, a $99 wireless guitar and K-board, a smart keyboard, each of which can teach you to play.
Phonotonic is a French brand that has created a baseball-sized polygon that creates music as you move with it or throw it around. iSketchnote is a pad and pen that allows you to draw on it, or paper, to capture your doodles digitally; Smartboards is a smart white board that allows digital capture as well as collaboration with users in remote locations. There was a sleep monitor from Beddit; Pansonic demoed a smart mirror that can help you choose your lipstick shade; Muse, a headband to calibrate your meditation; Belty, a smart belt from Emiota that not only has a tracker, but automatically loosens when you need it (dangerous for me!); Petnet, an intelligent pet feeder; ReSound, an app controlled hearing device; Ring (formerly Doorbot) a video doorbell; Wocket the smart wallet that turns its one card securely into any of credit, debit or loyalty cards; Trek-Connect, connected weatherproof and heating hiking books, and Digisoles, connected insoles.
Even the stolid lightbulb has become a hub of innovation with LCD lights that can dim and or change color from companies such as (ColorSpree) and a smartphone mood lighting creation from LumiFi. Sony exhibited their Symphonic light bulb that contains a controllable music speaker. Or consider that toolmaker Ryobi has a set of add-ons that can turn your phone into a laser level, a pointer, a stud-finder, moisture level, infrared thermometer and a inspection scope. Intel even showcased a 3-D printed Anouk Wipprecht smart "Spider" dress that has extensions that can deploy (disclosure: I have done corporate work for Intel on other products).
Speaking of wearables, of which there were football fields-worth at CES (if you can do it, there's a band to measure it), Epson has teamed with Los Angeles celebrity trainer Gunnar Peterson for Pulsense, their tracker trainer. Skulpt is a $199 indiegogo-funded device that measures body fat and muscle quality on a spot basis.

On the plus side, although the computer on a wrist category has never held much interest for me, I was pleasantly wowed by Puls (i.am+), from Entertainer/Entrpreneur Will.i.am (full disclosure: I have worked for Will.i.am on content-related projects). More cuff than watch, the $399 device is its own phone, and features a clock, calendar, maps, mail, text, pics, music, health info and a Siri-like personal digital assistant called Aneeda. Available by invitation only (and I hear that a second version based on user feedback could be out as early as next summer). #i.am.impressed.



5. Your Youtube and podcast career awaits.
When the Kinks sang: "Everybody's a dreamer, everybody's a star/and everybody's in movies, doesn't matter who you are," little did they foresee of today's YouTube, Vine and Snapchat stars and all the new tech aimed at simpler video creation, such as the HTC Re, a 16 megapixel Digital Camera that looks somewhat like a periscope, Polaroid's Cube, a low-cost choice, and Giroptic, billed as "the world's first full HD 360 Camera,"($499); smartphone controlled LED light LumeCube; as well as the IRigMic Field, a HD stereo recording device for iPad and iPhone; and Cerevo's LiveWedge, which allows you to broadcast live video on the internet without a computer. Expect this category to expand as podcasting, livecasting, and video creation proliferate in 2015.
At the end of my journey of many steps, I can say with certainty that if we, as humans, don't seem to be getting any smarter, there is some comfort in the fact that at least our devices are.