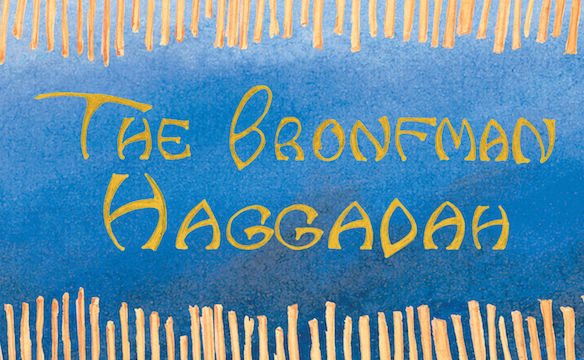 Cover of the newly released "Bronfman Haggadah."
For Passover this year, Rizzoli has just released The Bronfman Haggadah, written by the businessman, philanthropist and Jewish community leader Edgar Bronfman Sr., illustrated by artist Jan Aronson, who is also Bronfman's wife. Unlike other haggadot, this version includes the role of Moses in the story of the Exodus (read Bronfman Exodus Story on page 19). In his introduction, Bronfman suggests that the omission from the traditional telling may be because the rabbis who wrote the early haggadot "viewed Moses as a dangerous hero -- one who could easily upset the religious hierarchy." On the occasion of the book's release, Bronfman and Aronson talked about why and how they created the book, rethinking the role of the haggadah to tell, in their own way, the tale of Jewish Exodus and liberation. The following is an edited version of that conversation:
Tom Teicholz: Why a new haggadah?
Edgar Bronfman: What I think should be done in the 21st century [is] to have a haggadah that teaches young children what Judaism is all about. And I think it's all there in the Passover story -- if you know how to tell it properly. What I've done is written a haggadah that I think children today can relate to -- and not just on Passover.
TT: How is this haggadah different from all other haggadot?
EB: It's different in a number of ways. First, and this was my wife's idea: Why do you want to feed Elijah after you've finished your meal? If Elijah represents the poor of the world, then surely you should let him in to share the meal with you. Young people will learn that feeding the poor -- that's very Jewish. The second thing that's different, very much different, is I don't talk about the four children; I talk about the four different kinds of Jews there are in this world and how we have to have open arms to all of them to bring them back into our fold. The third thing that's different, I don't stop at the Red Sea and I don't call it the Red Sea. I call it the Sea of Reeds -- a shallow part of the Red Sea that the Jews crossed without thinking, but that when the Egyptians with their chariots and their armor came, they sunk. That put the Jews on the other side of the Red Sea. No one's chasing them now. And they're free. Free to do anything and everything, and that becomes chaos. So Moses leads them to Mount Sinai and gives them the Ten Commandments, and this the Jews accept because they can't stand the chaos either. And that's where I end [the narrative], rather than at the Red Sea.
TT: You mention the four types of Jews (the wise, rebellious, simple and indifferent). Who do you see as the audience for this haggadah?
EB: I see the audience for this haggadah as the young people who have not left Judaism but are not affiliated. ... Hopefully this revives some interest -- just like a Birthright trip to Israel revives interest in Judaism.
TT: Throughout your life, you've set yourself the task of very large projects, whether it's running Seagram's or leading the World Jewish Congress or addressing the third phase of life. Why did you, at this point in your life, decide to tackle one holiday, one night, one meal?
EB: I think Passover is the most important of the Jewish holidays. ... [It's] the night we became a people. ... I think all the elements of Judaism are encapsulated in this story. ... [Also], when children come to the table at Passover, they are happy ... that's a good time to teach them a little Judaism.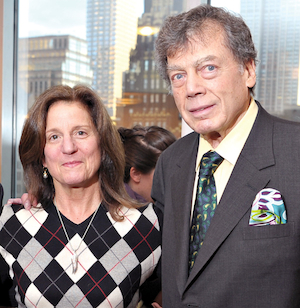 Jan Aronson and husband Edgar Bronfman in 2011. Photo by Michael Loccisano/Getty Images for HBO
TT: Ms. Aronson, tell me a little about your artistic journey with this project.
Jan Aronson: With this particular project a couple of things happened that were unique in my career. Number one, I was able to do a lot of research into how I wanted the imagery to cohere with the history of certain aspects of the haggadah. [For example,] I thought it would be interesting to put in a biblical map, which is not something I've ever seen in a haggadah. ... I added the map [to] put some interesting context and historical references that we are talking about in a visual form. ...
My work is very painterly. ... This gave me an opportunity to branch out and do other things with my work that I'd never had the opportunity to do. I was also able to draw on some of the skills that I had but hadn't used in a long time. It was a chance to play and have a good time with patterns and imagery and go outside the box with certain illustrations.
TT: Did working on these illustrations give you any deeper insight into the haggadah?
JA: I thought a lot about which concepts I wanted to illustrate. The ones that were very important to me [from] a spiritual, metaphysical and also ethical standpoint were the ones I was drawn to. [For example,] the burning bush in my concept ... [occurs at] sunrise while [Moses] is meditating on his life. ... The sun is rising and the color is coming through the shrubbery of the desert. He decides to go back and deal with what he left in Egypt as well as meet his brother, whom he had never met. ...
TT: On a lighter note, this haggadah does not make the seder shorter.
EB: My idea was not to make it short. My idea was to make it so that when you were finished with it, you had really done the seder and you had squeezed out a lot of knowledge of Judaism from it.
TT: You left songs for the end rather than integrate them in the seder. Any reason for that?
EB: I think singing is fun, but the [songs] don't have much to say much Jewishly. ... Well, at the end you've had your fourth glass of wine, you're kind of relaxed. It's fun to sing. If the children have gone to bed by then, we don't care. What I care about is what we can teach them up until the time of the dinner.
TT: You introduce quotes from Frederick Douglass, [Ralph Waldo] Emerson and Marge Piercy as part of your seder.
EB: My rabbis.
TT: Your rabbis. To that point, this struck me as a secularist haggadah. The magic of faith doesn't seem to play as great a role.
EB: The magic tricks and all that are good storytelling. I'm not sure it all happened, and I don't think it teaches very much.
TT: As I read it, there is one omission in your haggadah, and please correct me if I missed it. We are commanded at the seder to feel as if we were slaves in Egypt. For me, the great contribution of Judaism to the world is first, monotheism and the notion of a living God that is not embodied in literal idols and is an abstract concept; and second, this commandment at the seder that speaks to empathy, one of the greatest features of the Jewish faith. But you don't mention this commandment.
EB: [As to the contributions of Judaism to the world] I say a little more [about this] at the end, where the [Israelites] are all fighting and killing each other. It's chaotic. Then Moses gives them the Ten Commandments. By accepting the Ten Commandments, they become God's people. I want to leave it at that ... because it's impossible for most people to really imagine themselves as "this is the night we were freed from Egypt." That's a stretch. Nice words, but it doesn't mean very much.
TT: Each of you has worked for many years in your separate spheres. Can you talk about working together?
EB: For me, that was a joy. What I did was I asked my wife if she would illustrate the haggadah. She said, "But I'm not an illustrator." I said, "I want someone who's fresh, and not encumbered." I know my wife is bright and smart, and I know what a great artist she is [and that with her participation], I'm going to go from what I know is a good haggadah to a great one, by having it become beautiful.
JA: I had the opportunity of a lifetime. Number one, to collaborate with my husband, whom I adore and I respect, on a project that he already had worked five years to perfect ... and he said, "Here, just take it and fly with it" -- it was a tremendous opportunity and a lot, a lot of fun. I had total freedom, and when I would go into Edgar's office and show him one of the paintings I had done. ... He was always really happy with it. So it was a wonderful collaboration in a very special way.
TT: On that note, let me say: Hag Sameach.
EB & JA: Hag Sameach to you, too.
Tracker Pixel for Entry
A version of this article appeared in print.