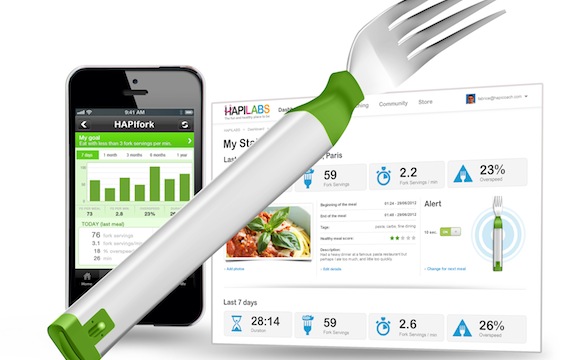 HAPIfork has warning lights that flash when you are eating too fast (or too much).
When I was a young kid, my dad used to take me to the auto show at the old New York Coliseum, where together we looked, agog, at the cars of the future - experimental vehicles that would never see the light of day. I remember feeling bone-tired after walking the floor and being overwhelmed by all there was to see. I would clutch my dad's hand ever tighter, afraid of getting lost in the disorienting vortex of people pitching products. These memories came flooding back in early January, as I stood amid the chaos of the Consumer Electronics Show (CES) in Las Vegas.
CES, which got its start in New York City in 1967 with 250 exhibitors and 17,500 attendees, is today a four-day extravaganza with 3,000 exhibitors attracting an audience of 150,000 (as a point of comparison, that's about the entire population of Pomona) from more than 150 countries. Over the years, it's become the place where new technology is introduced, including, for example, the VCR (1970), the CD player (1981), high-definition TV (1981), 3-D TV (2009) and Ultrabooks (2012).
This was my first time at CES, held in January, and I can confirm that it is crazy-making, exhausting and frustrating. There is no way to see everything, and it's easy to miss an entire corner or row of exhibitors amid the many halls. There are also keynote speeches and panels going on throughout each day, and it would be easy to waste all of your time waiting to get in to the most popular of these. The food at the convention is pretty much what you would expect, and although you would think the organizers, after all these years, would use some of that new technology to be better prepared, the lines for buses, taxis and the monorail are reminiscent of the bread lines in the former Soviet Union. The limo drivers price-gouge, and traffic in Vegas pretty much comes to a standstill for all four days.
Yet I completely understand why so many people insist on going each year to CES: There is no better way to get a sense of the imminent future - of how we will live. I don't mean some dreamed-of George Jetson-style fantasy of jetpacks, moving sidewalks and sky-borne cars, but rather actual business trends - at CES you can see products that will be available in a matter of months on Amazon, among other places, if they are not already.
It is easy to be distracted by the hundreds (if not thousands) of businesses that didn't even exist only a few years ago, whole industries that have sprouted in response to the iPhone, iPad and other smart phones that offer every conceivable variation on cases - such as water-repellent protection coatings - or add-on devices, such as professional, HD microphones from IXY (ixymic.com), and very cool snap-on lenses from Olloolloclip.com), and portable chargers from Mophie (mophie.com), as well as some very powerful new chargers from Innergie (myinnergie.com) and in-wall adapters for speedy recharging from a reborn RCA.
There were also rows and rows of headphone companies inspired by the success of Beats, and wireless portable speakers of all shapes, sizes and brands, from the new and unknown to Marshall (marshallheadphones.com) and Monster (monstercable.com).
What got the most attention this year (and the most floor space) were the all the new "4K UltraHD TVs" (the industry name for the new TVs that pack two to four times as much information and pixels as standard 1,080P-high-definition TVs) from Samsung and Panasonic, as well as from some newcomers to the U.S. market - HiSense and TCL - in sizes up to 84 inches. There was even one 110-inch HD screen. However, although these screens pack twice the info per pixel and give a remarkable level of detail, they are expensive - 55-inch sets are expected to retail at around $10,000 - and there is currently hardly enough 4K material available to make them must-haves.
For me, however, TVs are no longer the story.
CES made clear how much our whole notion of what a computer does is changing. Only a few short years ago, we used computers only at our desks. Now there are laptops, netbooks, the Mac Air, Ultrabooks and tablets of all sizes. Today our iPhones or Android smart phones allow us complete portability for messaging and Internet access, and serve as media players and car navigation systems. We no longer call them computers, but "smart" devices instead.
Consumer electronics now enhance every area of human activity. Ford, Chrysler, Audi and Toyota market cars for their technology, with dashboards that look like the bridge on the starship Enterprise, including Internet-enabled sound systems. At CES, Audi unveiled its prototype for a driverless car that can be guided by a series of radar-like sensors combined with information from the road itself (Google's prototype for such auto-piloted cars has already driven 200,000 miles across Nevada and California).
Another big theme at CES was the smart home. New ideas include being able to monitor our front-door peepholes through images relayed to our smart phones; and refrigerators, washers and dryers all becoming touch enabled, network and remote controlled (the appliances can decide at what time a cycle will run most efficiently and cost-effectively). It will soon be hard to say what isn't computerized in our home. At CES, there was even an electronic fork - an Israeli product called HAPIfork (hapilabs.com) - with warning lights that flash when you are eating too fast (or too much). Laugh if you want, but with obesity-related illnesses a major cause of death in the United States, I say: Whatever works.
Similarly, there was a whole generation of biometric devices to measure your vital signals (heart rate, pulse, blood pressure, body temperature) via wristbands, headbands and shirts, as well as activity trackers and fitness monitors from Nike (fuelband) and others such as Fitbug (fitbug.com), the latter a well-priced device (less than $50) that I was particularly impressed by. Beyond the old-fashioned pedometers, these devices help you accomplish your tasks by setting diet and exercise goals for you, suggesting ways to exceed them and rewarding you for doing so (some with firework displays, others with points redeemable for as-yet-unstated rewards).
The proliferation of such devices owes much to the newly popular psychological theory of positive feed loops. Consider, for example, those traffic signs that tell you both the speed limit and show you how fast you are going. There is no camera to catch the speeding, nor a police officer to enforce it, so no logical reason why, if you are speeding, you need to slow down. Yet the overwhelming majority of people do. In the same way, activity trackers and fitness bands suggest goals, and the brain naturally attempts to meet them. Many of these devices also provide online diary logs as well as community and support for achieving wellness goals.
For 2013, the future is not just about devices to help us be healthier, or about the devices themselves becoming smarter. They are about communication - enabling us, as much as our devices and appliances, to be in touch with one another, sharing and pushing information. Enabling us to order our food in a restaurant from a touch screen; letting our fridge send us a shopping list reminding us when we're in our car to have the car take us to a store or to a restaurant that already has our payment information on file so we just swing by and can pick up our order on our way home - a home where the security system knows us, the dishwasher and washing machine have already run at off-peak hours, and where our forks tell us to savor every bite.
It is that vision of a very real, and very near, future that makes CES so worth attending.
On the day that the simplest items in our homes become as sophisticated as the smartest device in our hands, when instead of downloading our info into our devices, technology trains us to take better care of ourselves, when our cars act as chauffeurs, we will truly have arrived at a future we cannot yet imagine. But that is already, as I write this, inevitable.
A version of this article appeared in print.