On the eve of the inauguration of Barack Obama to be the 44th President of the United States, a group of citizens met in a theater in Uptown, Chicago to demand accountability from their government.
The city that gave the United States a leader who called for change is seething with citizen anger over a laundry list of corruption, cronyism and crooked deals. They are wondering if the change that is hopefully coming to Washington can ever take place at their doorstep.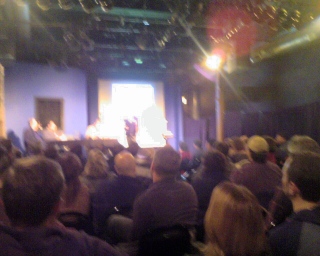 Some 90 Uptown residents met at the Annoyance Theater just doors away from the legendary Green Mill jazz bar and the shuttered Uptown Theater to organize around the massive construction project taking place on the site known as Wilson Yards.
The site, the location of a massive Chicago Transit Authority repair facility, and located next to Truman College, one of the City Colleges of Chicago, is being developed for a range of new uses. The plans for this site have, over the past seven years, included high-end market rate housing, affordable housing, senior housing, retail, a Target department store and a movie theater. The residents are complaining that city money, in the form of some $52 million in Tax Increment Finance subsidies are going to a private developer, Peter Holstein, to build a project on prime real estate one-half mile from the Lake Front and one mile from Wrigley Field.
The
developer"s web site
describes the project as promising
"to become the ideal mix of retail, housing and eating establishments for the area. The project includes a two story, 180,000 square foot Target store, 178 apartments for both families and seniors, 700 parking spaces, and over 30,000 square feet of other retail and office space. Funding includes TIF, developer and retail owners' equity, private loans, LIHTCs, and HOME, among other sources. Excellent access to public transit, a campus park, and a major rehabilitation of the CTA rail station planned in 2010 are just some of the amenities now emerging for this promising development. Convenient shopping at the new Aldi and Target stores are just some of the amenities planned for this exciting new development."
What the citizens and a new group they have organized, call Fix Wilson Yard, want to know is - why are the tax payers of Chicago subsidizing this project?
The meeting was also a fundraiser for this organization's law suit against the City of Chicago and the several companies doing the development work. This law suit was filed in Cook County Circuit Court on December 3 and seeks to block the construction, already under way, and the reimbursement to the city of any tax subsidies paid to the developer.
Tax Increment Finance Districts are a widely used finance mechanism in the City of Chicago. They were intended to aid the development of so called "blighted areas" - areas that could not attract private investment - areas that "but for" the infusion of public dollars, the needed development would not take place.
When an area of a region or city is "TIF'ed" the value of all property inside that district is frozen for 23 years. The taxing bodies that are fed from property taxes continue to collect their allocation of property taxes from the properties inside that district at the rate of the date that they were frozen. As the new development and other new construction in the TIF district generates new property taxes and as the other properties increase in value and generate higher taxes - all the new revenue - the incremental revenue (hence Tax increment Finance) flows NOT to the city's general operating budget or into the city agencies who rely on the property tax for operation - but into the coffers of the TIF program. The taxing bodies which rely on property taxes include the Board of Education, the Public Library, the Chicago Park District, the City Colleges, the Forest Preserve and the Cook County Health Facility. Of course, the City of Chicago and the County of Cook also receive large chucks of your property taxes.
Here's a diagram of how the revenue form a TIF district is apportioned out over the life of the district: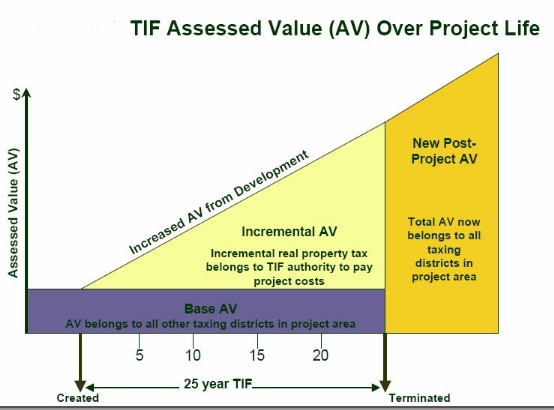 So - what's the big deal?
The TIF program has spread like a virus through out the city and now there are 155 TIF covering something like 40% of the city's total footprint.
In 2007, according to Cook County Clerk David Orr, the city's TIF districts threw off $555,310,568.
That was an 11% increase over the previous year's revenue. The additional 247 districts in suburban Cook County generated $336,310,568 in property tax revenues.
That means that all TIF districts inside Cook County generated a staggering total of $892 million in 2007. THAT'S a really big deal. TIFs have siphoned off $3.061 billion in property taxes from the city budget since 1986. Citizens feel they have a right to know the who, what and why of where that money has went.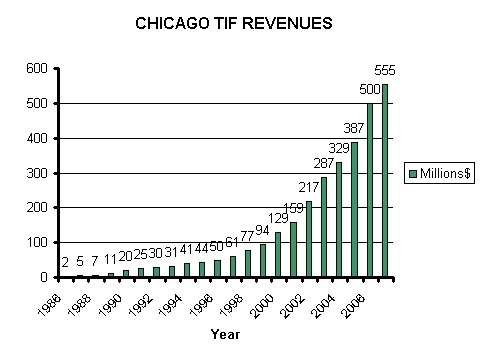 Lead attorney for the Fix Wilson Yard law suit, Thomas Ramsdell, spoke at the community meeting. His team has filed some 90 requests for documents trying to "pierce the veil of secrecy and to determine where the money is going" and to re-construct the decisions which created the project in the first place. Calling the eligibility study done to justify the TIF and the public subsidy " a sham," Ramsdell asserts that the transfer of such a valuable property for the reported price of $6 million amounts to a fire sale and makes no sense given the unique size and location of the parcel.
Fix Wilson Yard's web site lists its objections to the project:
Failed Housing Model: The misguided housing model of the past, all low-income housing in high and mid-rise buildings, is being torn down everywhere else, so why is it being built here? Uptown currently has 6,000 units of subsidized housing (25% of all rental units). Similar projects have been recognized as magnets for crime and safety problems.
Criminal Activity: Uptown has an ongoing problem with drug traffickers and gang recruiters/members easily accessing our neighborhood from Lake Shore Drive. The placement of this proposed development will act as a beacon for drug traffickers and gang members, increasing criminal activity in Uptown and endangering all residents.
Lost Economic Development & Community Retail: This plan which should have been the gateway for Uptown's commercial district fails to continue the organic flow of Broadway retail development we see just north of Leland in the 48th ward. Instead it brings dead, negative space with high empty walls and narrow sidewalks that discourage pedestrian traffic.
Poor Urban Planning: The project is dramatically out of scale with the neighborhood. Planning elevations show the housing will be ten stories of sheer brick walls that overpower Montrose from Broadway to the Red-line tracks, and Broadway from Montrose to Sunnyside. Design standards typically used to create safe welcoming spaces were ignored.
Traffic Congestion: The City's traffic study was conducted in September, not during the peak summer months.
Mismanagement of TIF Funds:
The Wilson Yard TIF is funding almost 35% of the project, well above the mandated guidelines for a TIF. These are your tax dollars. You are paying for this grossly mismanaged project to the tune of:

-Low-income Building 1--$458,076 construction cost per unit
-Low-income Building 2--$330,610 construction cost per unit

Higher Property Taxes:
In addition to paying over $50 million into the Wilson Yard TIF fund, local property owners will shoulder an even greater tax burden in the future when they are forced to take up the slack of tax breaks given to the housing development. This project will also cause additional strain on the infrastructure and city services without it financially contributing to the community."
Cook County Commissioner Mike Quigley is no fan of TIFs. Writing for the online news site Progress Illinois in July of 2008 he said:
"Imagine, if you will, traveling through another dimension, a dimension not only of sight and sound, but of imprudence. A wondrous land where more than $500 million a year is spent off-budget; a land where $500 million does not appear on a single tax bill; a land where $500 million is spent to spackle the cracks of waste, bloat, patronage, and corruption. Welcome to the land of Tax Increment Finance districts (TIFs). Although that $500 million figure is merely the amount of revenue collected through TIFs in Chicago in 2006, the TIF twilight zone extends throughout Illinois, scooping up hundreds of millions more in taxpayer dollars every year."
It's hard to argue with his assessment when you discover that even the Central Loop has been TIFed and in 2007 threw off $157 million in revenue. LaSalle Street - the home of Chicago's Federal Reserve branch and all the major banks - even has its own TIF district, which generated $18.9 million in 2007. How can you call the Central Loop and LaSalle Street blighted? Where did all that money go to?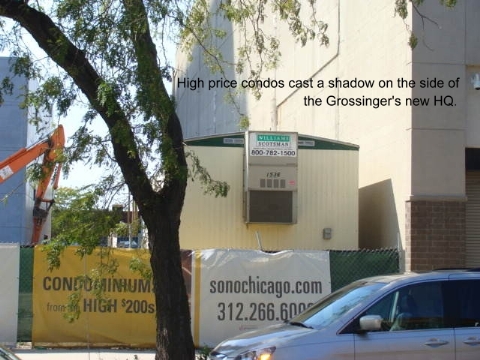 Perhaps some of it found its way into the coffers of the Grossinger Auto owners. They were awarded $8.5 million in TIF funds by the city in January of 2008 in order to renovate an old warehouse in the heart of the hottest shopping district in Chicago at the corner of North and Halsted. Grossinger sold its old facility on Wells just north of Division to JDL Development. JDL plans to build townhomes and condos on the site. Presumably, Grossinger received a substantial sum for their old location. Why do they need almost $9 million in public money to move a few blocks north where they will be in the shadow of brand new mid-rise condo tower, SoNo Chicago, where the units start at the "high $200s"? If that's blight - let me have some. Alderman Vi Daley testified for the subsidy saying "Grossinger wanted to expand and the neighbors did not want them to do an expansion there [on their old site]. Therefore, they needed to find another spot. And so this is an ideal spot as far as I'm concerned...It will increase sales tax revenue, and provide jobs. So I'm in full support of this TIF."

Since Fix Wilson Yard got off the ground in June of 2008 several thousand people have signed their petition on its web site and over 300 people have donated some $50,000 to its legal fund. I spoke at this meeting and praised the group for its fight and told of my experience as a co-founder of Protect Our Parks, a grass roots group formed to stop the privatization of Lincoln Park. We organized when a secret sweetheart deal between the Park District and the Latin School threatened to peel off several acres of priceless lake front park land and lease it to the exclusive and extremely wealth private school to build an artificial turf soccer facility that the school would almost exclusive use of for 20 years. I told the crowd that fighting the city is a daunting, but doable and definitely necessary task. If the city continues to make closed door deals away from public scrutiny that result in the transfer of public property and public funds to private concerns or businesses with no accountability - then the people must organize. I said I was frightened to go to court against the city and the well endowed Latin School and discover that they had assembled a team of 13 lawyers - including a senior partner from the politically connected Jenner and Block law firm. I said such legal fights cost money and they should be prepared to match their passion for truth with deep pockets. [Read an earlier post about this effort]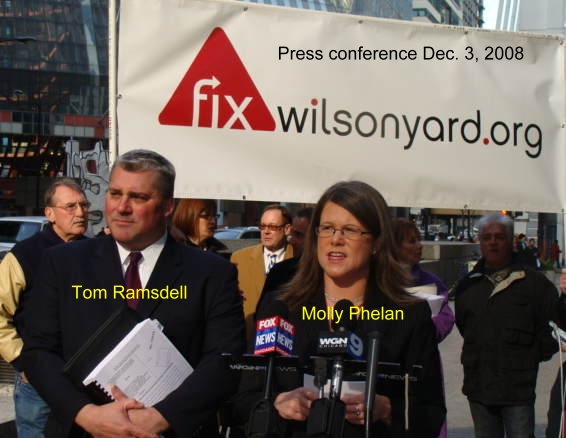 Indeed, one of the organizer's leaders, Judy Glazebrook, announced that they would probably need to raise at least $200,000 to see the legal fight through. Fix Wilson Yard President, Molly Phelan, moved to the area in 2005 and woks as a property tax attorney. She is angered over the breakdown in the public process. "The property tax revenues are supposed to go to schools and other city agencies. The law is supposed to work of people, not against them." She objects to "the abuse of the TIF program and the public process of using tax payers dollars."
Another volunteer, Mark Nielsen, who lives at Wilson and Buena, recently moved here from Omaha. He was astonished at how local government works here and "the lack of accountability" is how public funds are being used. Welcome to Chicago.
Are these angry citizens organizing to prevent more low-income housing from being developed in Uptown. The ward's Alderman, Helen Shiller, has been a long-time champion of the poor and affordable housing. Her web site proudly announces:
"It is with great excitement that we announce that the development at Wilson Yard has actually begun. This project will have a dramatic impact on the 46th Ward, as well as on the city's North Lakefront area, bringing needed retail space, new jobs, senior and rental housing. And I am confident this development will spur future commercial and retail development in the Uptown area of the ward. Wilson Yard was an extraordinarily complicated venture involving many city departments and state agencies, all of whom worked closely with one another, as well as hundreds of community residents to ensure its success." She also writes "Since the TIF District was established, new market-rate housing has been built and some rental housing has been converted into condominiums. The inclusion of affordable housing in the Wilson Yard development contributes to maintaining the area's economic diversity. Two residential buildings are part of the Wilson Yard development. Both are rental and will be affordable to households earning up to 60% of the Area Median Income. Both buildings will be owned and managed by Holsten Management Company. One is for seniors with 99 one-bedroom apartments. The other buildings is 84 units and has 1, 2 and 3 bedroom apartments."
Alderman Daley claims Grossinger Auto needed $8.5 million in public subsidies to help it re-furbish a warehouse for its new sales and service headquarters. She asserts that the new facility will generate tax revenues and jobs. But didn't the old site do those things? If Grossinger needed to move, why couldn't they buy and build using their own funds? Where is the rationale and the economic argument for giving a very successful private firm so much public money.
Could it be that there are other reasons for this gift? Ben Joravsky, writing in the January 17, 2008 Reader, "A Good Day for the Rainmakers" reports:
"Lobbyist Terry Teele, a former deputy chief of staff for Mayor Daley, was so persuasive on Grossinger's behalf that the CDC recommended making the site itself a TIF district, the Weed/Fremont TIF, with funds to be devoted exclusively to the project. No one from the city's environmental department felt compelled to explain why the city would want to subsidize a multimillion-dollar auto dealership when it can't find funds to alleviate the CTA meltdown. And no one from the planning department bothered to explain why one of the north side's hottest real estate markets, where privately financed development fills almost every lot, merits a subsidy intended to eradicate blight." [Read Ben's other great columns of TIFs]
Comments on Ben's article revealed further details. Mr. Teele was a vice president of Tony Rezko's lobbying firm from 2003 to 2006 and that on February 21, 2007 he donated $1,500 to Friends of Vi Daley.
Alderman Schiller proclaims the benefits of the Wilson Yard project. But the nature of this project has changed so much since it was first announced that neighbors are suing to unravel what, exactly, is being built there and how much public subsidy is being used and for what and why. Does this project need or deserve $52 million in public subsidy?
Who is watching the store when so much tax dollars are being offered to private businesses?
Yes, change is coming to Washington. And if the citizens of Uptown who are organizing and supporting Fix Wilson Yard have their way, change will be coming to Chicago. And soon.
To learn more about Fix Wilson Yard, email: info@fixwilsonyard.org - www.fixwilsonyard.org