(Note - This was written on the plan coming home from Geneva, June 19, 2009)
Friday, June 19, 1:20 p.m. local time, Geneva
Our plane has just taken off. The No Games Chicago delegation is safely aboard and we're on our way home. After nine hours in the air and crossing seven time zones to the west, we'll return to Chicago after a lay-over in Washington, D.C. We are in the economy class of the wide body B767-300 three cabin jet. Two classes in front of us are the senior staff of the 2016 Chicago Committee, including CEO Lori Healey. They are ensconced in pod-like capsules with reclining seats and private televisions.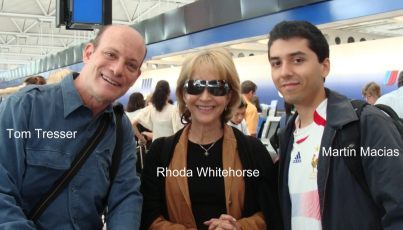 It's been a busy, eventful, and some might say, historic journey. I've gotten about eight hours of sleep since we arrived in Switzerland five days ago. Martin Macias, Jr.; Rhoda Whitehorse and myself came to Lausanne, Switzerland on Monday, June 15. We came to inform the members of the International Olympic Committee (IOC) about the reasons why No Games Chicago believes our city should NOT be awarded the 2016 Olympics.
No Games Chicago is a coalition of individuals who oppose Chicago's bid to host the 2016 Olympics. The groups includes people who have worked for decades on a wide range of social justice and good government issues. The group also includes people who have never worked on social change or civic engagement efforts before. We are all volunteers and no one is paid to do this work. No organization or political entity or established group is backing us. In fact, the members of this delegation have gone into debt to make this trip. We expect to produce a fundraiser to cover these expenses some time after we return.
No Games Chicago was launched on January 31 at a public forum at the University of Illinois Chicago's Student Union. Over 250 people attended. The speakers were Deborah Taylor of Southside Together Organizing for Power (STOP), J. R. Flemming of the Coalition to Protect Public Housing and Karen Lewis of the Caucus of Rank and File Educators (CORE). The keynote speaker was Dr. Christopher Shaw of the University of British Columbia. Dr. Shaw has been an anti-Olympics organizer in Vancouver since 2002 where he founded 2010 Watch and is the author of "Five Ring Circus, Myths and Realities of the Olympic Games." Vancouver is the site of the 2010 winter games and he came to Chicago to warn us about the disasters that have befallen his city since their Olympic bid was won. He spoke about massive cost overruns, destruction of old growth forests for venues, displacement of people from their neighborhoods and systematic civil rights abuses. He told us that the promises made o the people of Vancouver sounded exactly like the promises being made to the people of Chicago. The mayor of Vancouver lied to the people in order to get the 2010 games. He didn't tell the truth about the true costs and the disruptions that come with the games. When the mayor was asked about taxpayers being at risk for the games he repeatedly said "It won't go over budget" (watch him deny budget liability three times in a row). Dr, Shaw concluded by saying that he hoped we could learn from the misfortunes of Vancouver and not repeat them.
But would we? Two days ago, on Wednesday, Mayor Daley held a press conference he would sign the Host City Contract (see a copy of the Host City Contracts London and Vancouver signed). This announcement ignited a storm of controversy in Chicago because it amounts to signing a blank check on behalf of the 2016 Olympic Committee. The taxpayers would be responsible for all costs not met by the Committee. This is exactly what No Games has been warning Chicago about since that January 31 forum. We've built our web site, www.nogameschicago.com, and placed there documentation from other host cities as well as links to academic reports and other groups who have been fighting the games in their cities.
So that's who we are. A group of very concerned citizens who care deeply about their city and her people and who have devoted hundreds of hours of volunteer service over the past five months in order to prevent the economic, environmental and civil liberties disasters that will come with the 2016 Olympics.
The three members of the delegation seeking to meet with the International Olympic Committee are Tom Tresser, Rhoda Whitehorse and Martin Macias, Jr. Here's how we were described in the press release from June 16. Tom Tresser is an educator and activist and former actor and producer. He is a co-founder of Protect Our Parks, which fights the privatization of public space and an member of the Executive Committee of the 43rd Ward Independent Democratic Ward organization in Chicago Rhoda Whitehorse has lived in Chicago for 40 years and is a former public school teacher. She is a mother and grandmother who cares deeply about the world they will inherit. Martin Macias Jr. is a youth organizer for the Chicago Environmental Justice Coalition, and Comite 10 de Marzo, an Immigrant Rights organization. He is also a media reform activist with the community radio station Radio Arte where he serves as the the host/producer of First Voice, a radio news zine. He currently chairs the Peace Committee at the National Museum of Mexican Art.
Thursday, June 18, 1pm, Lausanne
This afternoon is a quiet day. We are packed and our luggage is stored at the Hotel Alpha-Palmiers. Earlier this morning Rhoda and Martin went down to the shore of Lake Geneva to film a video update from Martin. Rhoda used a Flip video recorder and I placed it on YouTube and then posted it to our web site. They showed us the video at breakfast. It was a beautiful and elegant statement of why we are here. Watch his video at YouTube.
Our mission today is to hang out at the Palace Hotel. Today the members of the IOC are having private meetings with various members of the four city delegations. We sat around for hours chatting up members of the press, members of the other city delegations and the occasional IOC delegate. The Palace Hotel is located at the top of a very steep hill from where we are staying. The Palace is quite grand, like the Palmer House or Drake, only posher.
We got to the Palace by a back door route from the rear of our hotel. We took an elevator up six stories and exited to an outside path that skirts a series of six-story light wells that are at the core of our hotel. We climbed up a flight of stairs to emerge in an ally behind and just below the Palace.
We split up. We want to quietly interact with the Olympic players that are assembled here. Rhoda has the idea to go online and print out an article from the Chicago press from the last two days reporting on the widespread anger that resulted from Mayor Daley's "blank check" announcement. She said it would be best to approach IOC members with fresh, current and relevant evidence to back up our concerns. She went to the business center to do this. I originally wanted to wear my No Games button and display the No Games logo on my tote bag. But after listening to Rhoda I realize that it would be wiser to nit show the insignia and be non-confrontational and more conversational.
Martin circulated and started chatting with members of the Rio and Madrid delegations. It seem that some members of the Madrid delegation find us "unelegant" but are, nevertheless, impressed with the impact we have made here.
I headed to the press room where I asked Ben Bradley of ABC News Chicago to explain how the proposed insurance policy to protect Chicago taxpayers from Olympic debt would work. I asked "Isn't it like going to Vegas with $1,000 and wanting to win $100,000 and asking for an insurance policy to pay off if you lost – would the policy cost $99,000 or more?" No, he said, because the games are more of a sure thing because of the certain revenues that always come from the production. He may understand how the financing scheme announced by 2016 Chair Pat Ryan works, but I didn't get it. If the games were such a sure thing, would Mr. Ryan put up his own fortune or home as a surety against any chance of risk to the taxpayer, I wondered. Anyway, how much would such a policy cost? Ben didn't know.
I talked to ten other members of the press – including reporters from England, Japan, Australia and Spain. I gave them all a No Games Chicago card and told them to contact us for any information or follow-up. One of the reporters was born in Vietnam and fondly recalled his first winter in Chicago in 1975 and the wonder of seeing snow for the first time and discovering Polish sausage, which he still relishes.
Next I met several senior officials from one of the other finalist cities. "We're not supposed to talk to you," said one, "But out of curiosity, briefly, why don't you want Chicago to get the games?" "Well," I said, "It would bankrupt the city, cause massive displacement and lead to a gross abuse of civil liberties. How's that for brief." "I'm impressed." "I'm not constrained by your rules," I continued."I'm a volunteer citizen here to voice my beliefs so here's my card, call us if you like." "Well," the official said, "I suppose your goals and ours are quite the same."
I went into the posh Habana Bar and said hello to a group of people and gave them all No Games Chicago cards. One of them was a consultant to the Chicago 2016 Committee. This apparently amused the group as they laughed uproariously as I left the bar.
The sunlight was streaming through the large lobby windows, I picked up pieces of Olympic literature and promotional materials from the other finalist cities. One couldn't be absolutely sure who IOC members were. Members of the press wore yellow ID badges. I approached everyone in the lobby to introduce myself. "Hi, I'm Tom from No Games Chicago, here's my card. Please call us if you have any questions or concerns." I was later told that a prominent member of the Chicago press was fuming about my presence to the IOC Communications Director and asked if I could be removed. The apparently this reporter was offended by a citizen from their home town daring to come to the heart of the Olympic industry to speak out, ask questions and stir things up.
There was a cocktail party scheduled for all the finalist cities and the IOC members. A large luxury bus pulled up in front of the hotel and staffers started ushering IOC members on board. I followed and stationed myself next to the rear door of the bus and greeted people as they boarded. I gave each person a No Games Chicago card and told them to please call us if they had any questions. One man stopped and turned and asked "You truly believe Chicago should not get the games?" "Yes sir." "Please say why." "Because they will bankrupt the city and we will bungle it and do a disservice to your program." "Really?" "Yes, sir, most definitely."
At about 3:00pm we re-grouped to compare notes. There was a lot to discuss and sort out. We claimed our bagged at our hotel. I had a shock as my wife called from Chicago to tell me that our American Express account had been charged $2,800 for printing the "Book of Evidence" and other work. This was $800 more than I had agreed to. I pulled the documentation and the notes from talking to the print shop manager. The notes confirmed that I had agreed to pay US $1,850 for 150 copies of a 160-page document bound with a vinyl cover. I noticed that the receipt was in Euros. I called the international customer service rep for Amex and explained the overcharge. The difference was due to a higher conversion rate from Euros to dollars. He took the difference off the bill for now pending an inquiry.
We now lugged our luggage down the steep hill to the railway station to return to Geneva where we would be staying overnight. We had to do this because our hotel was already sold out for tonight and there was nothing available in the entire city.
We got to our temporary digs at the Holiday Inn 20 miles outside of Geneva at about 7pm. We grabbed some dinner and collapsed. They guys shared one room and Rhoda had a room to herself. Because someone snored so loud I had to pick up a pillow and crash in the walk-in closet.
Wednesday, June 17
What a day! After two hours sleep we're up answering emails, updating the web site, composing and broadcasting Twitter alerts and doing interviews over the phone and using Skype to talk to the team in Chicago. Our room looks a college dorm after an all-nighter with plates and empty soda cans and water bottles strewn about. Clothes and bed linens are on the floor. One of my suitcases has supplies and equipment and one corner of the room looks like a cross between an office and repair shop – gaffer's tape, screwdriver, staple gun, pieces of wood frame and No Games signs are stacked up for use In addition, cameras, electronics, cables, batteries, No Games emblazoned tote bags and piles of background research materials gives an impression of a staging area for some sort of special event – which, in fact, it is.
Downstairs the copy shop had delivered six boxes of our "Book of Evidence," bringing our production to a total of 150 copies. I had them also print up letter-sized color copies of the No Games logo and they applied them to the outside of the boxes. We wheeled the boxes up the room and grabbed a quick breakfast and reviewed our plans for the day.
Today is the day that each finalist city would be making their presentation to the IOC. There would 97 of the 107 members present. The presentations are the IOC's Olympic Museum.
Download the complete agenda
We wanted to do a press conference in front of the museum entrance at about 12pm following the photo opportunity that was scheduled following the Chicago presentation. This is where I did'nt do my homework. I assumed that the Chicago press event would be on the museum grounds But it turns out that the Chicago Committee had plans to bus the press corps to another site about 15 minutes away. We reported that the 2016 Committee shifted their event in reaction to our presence to keep the press away from us. That was incorrect.
We got to the museum at about 11am. The museum is on a hill facing Lake Geneva and to enter from the front of the property you go up two exposed escalators! You can see the Alps across the lake when you reach the level of the museum's entrance. The sky was bright blue and the view was spectacular. It was also blazing hot and I had my best suit on.
We loaded our boxes and a tote bag of supplies into a cab at our hotel and we were dropped off at the rear entrance of the museum. I took a hand cart parked by the service entrance and loaded the heavy boxes. Martin and I pushed the cart into the museum, onto an elevator and got off on the plaza level. We pushed the cart out the front door onto the plaza. As soon as we showed up we were surrounded by the press, photographers and a video crew. We unloaded the boxes and constructed a sort of news shrine, laying out about 20 copies of the "Book of Evidence" at the base. The assembled members of the press took dozens if not hundreds of pictures of the newsstand. We distributed books to the press and I gave away about 40 No Games buttons [images] to the press, as well. Members of the other city delegations who were on site to prepare for their presentations eagerly took books and buttons.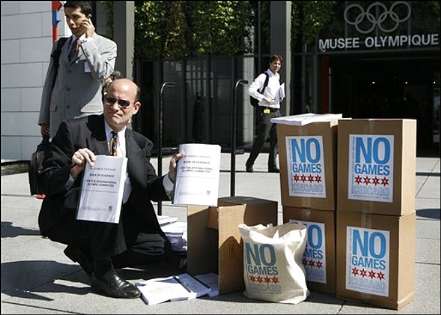 We were asked for interviews straight away and we gave out our customized business cards with our local cell phone numbers (I had used Publisher to create the templates for us before hand and added the cell phone numbers when we got to our hotel, then used perforated card stock that I brought along to print the cards out). We also distributed the press release we had prepared and copied, The release explained who were and why we were in Lausanne and commented on the activities of the previous day.
After we were set up we took 50 copies of the "Book of Evidence" into the museum and presented them to Mark Adams, the IOC's Director of Communications, who I had met the day before. He took them as well as a copy of a book about the work of Frederick Law Olmstead, with a page bookmarked that shows the original plan for the South Park, including the contemporary Washington Park and a hand written note, "Please do not destroy this historic park."
Martin and I took turns standing in the open plaza under the scorching 90 degree sun. We talked to tourists coming to see the museum (it was open for business while the IOC conducted the presentations). We continued to hand out copies of the book and engage all in conversation. We talked to a couple who were there with two kids all the way from Chicago. They were surprised to see us. The dad was for the games. But after his 10-year old son whispered in his ear he asked for a button and I gave it to the lad with instructions to "wear it with pride."
It was very hot and whoever wasn't "on station" was off in the shade. There is athletic themed sculpture all around the grounds, including a very bizarre rendition of a huge muscled torso that is rendered in multiple sections which revolve. Nearby stood a giant sand sculpture of Michael Phelps showing his upper body and head straining up out of the water. Rhoda was engaging dignitaries and other official looking people in conversations off to the side of the plaza.
Martin talked to kids as they entered the museum. A group of Italian teen boys were thrilled to get No Games buttons which they wore as they toured the museum. I talked at length with a female IOC member who was curious about us but skittish to be seen speaking with us.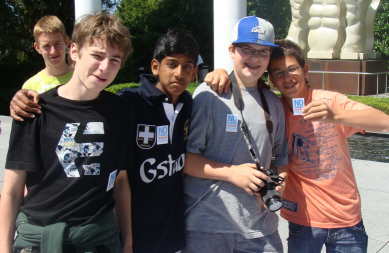 After the Tokyo delegation finished their presentation a swarm of Japanese media and officials came out of the museum, all focused on an elderly dignified man. He was the Governor of Tokyo. As he passed by I bowed and presented my card to him. "From the people of Chicago," I said. He took the card with a puzzled look and moved on.
At about 1pm we realized that there was no crowd of media to work or to summon to a press conference. So we decided to take the remaining 20 or so evidence books up to the restaurant level where the press tent had been erected. Several IOC security guards were hovering over us at this point. They were conferring on their radios so we packed up our remaining books and loaded them on to the hand truck. We went back into the museum followed by a female security guard. Would she allow us to get off at the restaurant level or would she shepherd us up one more level to the loading dock area? She got a call and then said "I'll be right back." The elevator came and Martin and I pushed the cart on and went up to the terrace level.
Coming out on the terrace we saw dinners arranged around the space with a sunken court in the middle and the press tent on the opposite side. The terrace was ringed with tables so we had to carry the cart with the boxes down the steps into the sunken level in the center of the terrace and up the other side to get to the entrance of the tent. Once in the press tent we said hello to Ben Bradley, "Good work" he said. We then worked the room giving out the rest of the books to the reporters and chatting with them. We recognized some of the reporters from earlier that day and the day before. One Chicago reporter asked me to comment on Pat Ryan's assertion that the 2016 Committee had requested to meet with us and we turned them down. "That's a lie," I said, "I get all the email and I've never seen a request. They said the same thing in April." This reporter had no other questions and his attitude was openly hostile. I wondered at the time and many times since why the major Chicago dailies have never interviewed us about who we are, what we are doing and why. (The Chicago Tribune wrote nothing of our trip to Switzerland and the Sun-Times carried one picture taken that afternoon with a caption but no article or reference to us in n article).
After about 15 minutes were done distributing the books. I took an empty box and placed it on the table with the food and water. The blue and red "No Games" logo proudly visible. We now surveyed the terrace restaurant and could see the IOC officials and the VIPS, including the Mayor and Pat Ryan in a room fronted by two plain clothes security guards. We sat down at an empty table in the public area. No one would serve us so after about ten minutes in the sweltering heat (the table was in the open), we decided to return to the hotel.
We were exhausted, exhilarated and a bit punchy from lack of sleep. Rhoda had not slept at all and I had gotten about two hours.
Back in our command center there were hundreds of emails to sort through and answer. We had purchased a second Internet access for Martin's computer so two people could be online at the same time. Martin did a live interview with WBEZ's 848 news magazine show at 3:30pm (listen using Evoca.com). I did a live interview with BBC Radio. The reporter had been with WBEZ for a number of years and he said he missed the Windy City.
I used Skype to call my wife who I was missing very much She reported that we were getting great coverage in the local non-print media. We were in touch with the Chicago team (most of whom prefer to remain anonymous). They were peppering us with links to news stories about our visit and PDFs of articles about Chicago 2016 and reactions to the Mayor's announcement. I was posting material to a special page on our wite, "Live From Switzerland" - later renamed "Switzerland Diary."
I lost count after 50. One of my favorite media hits was a screen"shot from the Japanese MSN news page showing me delivering the evidence books at the IOC headquarters.
I updated the No Games web site and composed an email newsletter to our full membership bringing folks up to date on our activities. We composed and scheduled delivery for a series of Twitter news items. We ran out of gas around midnight. I crashed like a ton of bricks and this time got five hours sleep. It was the most amazing day of my civic life. I felt that our team had done the impossible. We had come together quickly to plan this action and had travelled 5,000 miles to get our 150 copies of the "Book of Evidence" into the hands of the IOC and the press. We came to get our message heard. We had succeeded.
Tuesday, June 16
Today we are preparing to visit the IOC headquarters in a park about 15 minutes by car from our hotel. Our new best friend, Dominque from the copy shop, delivered 50 copies of the evidence book to the hotel. 162 pages with a vinyl cover and black tape binding – they look impressive! I had them make letter-sized color copies of the No Games Chicago logo and I taped them to the sides of the boxes. This turned out to be one of the smartest things I did during the entire trip!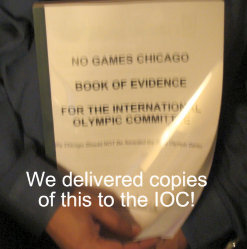 At 5:30pm Martin, Rhoda and I loaded the boxes into a taxi and drove to the IOC offices. We arrived as the IOC President, Jacques Rogge, was wrapping up a press conference. The small plaza in front of the building was full of press. Ben Bradley of ABC News Chicago had responded to our press release and had emailed the general No Games address and that message was forwarded to me by our Chicago team. I had arranged with Ben to meet us in front of the HQ as we arrived. As soon as the taxi pulled up the reporters swarmed us (watch the ABC News segment aired later that night in Chicago).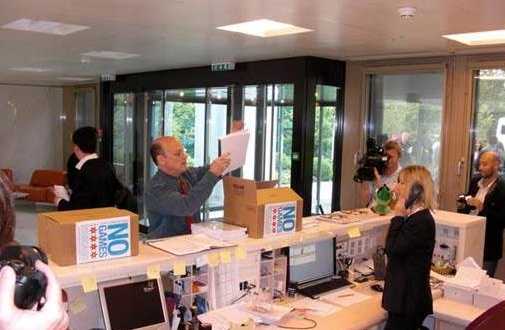 I set up the No Games boxes on a rock and took out some evidence books to show off. Bradley interviewed me and we gave an impromptu press conference as other reporters asked questions. Our message was simple and has been consistent. Chicago will not be a fit host for the 2016 Olympics because (1) We are broke, (2) Our city leadership is incompetent and corrupt, bungling major projects and causing them to go way over budget and delayed by years (and incidentally, so many present and former city officials are under federal investigation that the IOC can't be sure who among the officials they are currently dealing with will be in jail before the games begin), (3) Our city's infrastructure is dire need of repair and our mass transit is barely able to handle the needs of current residents, let alone the million or so expected Olympic guests, (4) The people of Chicago did not, and do not support the bid. When asked if they would support the games if they have to pay for them, 77% of Chicagoans say "NO!"
We started to carry the boxes into the lobby of the IOC headquarters. Apparently members of the Rio and Madrid carried boxes in with us. I didn't notice this at the time but it was noted by reporters and actually became a small news item!
We placed the boxes on the IOC reception counter. "We are citizens from Chicago here to present the members of the International Olympic Committee documents outlining our objections to the 2016 bid. Will you receive them?" A flustered greeter called for help. Shortly a tall dapper Englishman, Mark Adams, came to the lobby. He introduced himself as of Director of Communications for the IOC and he announced that he would accept the documents on behalf of the IOC and then ushered me to his office. Martin and Rhoda remained in the plaza answering questions from the remaining press corps.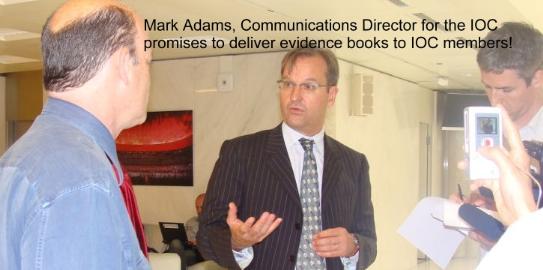 Mark told me he had been on the job just two weeks and that he had formerly been with the BBC. "We're not surprised you're here. We rather expected you after you sent the request to meet with the IOC President." I believe we quite surprised him and everyone else. He said that he recommended that President Rogge meet with us but that he was overruled. I wondered if that was true. "Why are you here?" I explained that we are citizens who believe that hosting the Olympics would be a disaster for Chicago and I went through the four reasons and gave him a copy of the "Book of Evidence" and showed him the four sections. Each section has 40 to 50 articles from the Chicago press from the past four years documenting our assertions. I told him we just delivered 50 and another 50 would be delivered to the IOC Museum on Wednesday morning. Mark assured me that the books would be delivered to the IOC members.
I repeated our request to meet with President Rogge or his senior deputy. "That is highly unlikely although I will pass on your request." I then asked if we could sit and watch the Chicago 2016 presentation, as they had two staffers sit in when we met with the IOC Evaluation Commission on April 7 in Chicago. "Those presentations are closed meetings." I then asked if we could address the IOC for ten minutes after all the presentations were concluded on Wednesday. "That is also highly unlikely, but I'll pass on the request." I then said we planned on holding a press conference on the plaza in front of the IOC Museum on Wednesday. He assured me that we would be welcome to do so as the plaza is in a public park. I would bet my last dollar that if this high-powered IOC meeting had been held in Chicago we wouldn't have gotten within shouting range of the location.
After 15 minutes we shook hands and he walked me back to the lobby. We shook hands again for the benefit of the remaining press. I joined up with Martin and Rhoda and we got into a cab that was waiting. At the entrance to the grounds we got out of the cab and posed in front of a monumental Olympic sculpture.
It had gone amazingly well. How well, we would soon find out. We spent the next eight hours answering calls, responding to emails, exchanging updates with the Chicago team and doing interviews. One reporter from Japan told me "Perhaps your actions will inspire our own protesters."We updated the No Games web site, recorded and posted a video update [embed] and transmitted Twitter updates [link]. We managed to grab some dinner at a pub up the hill from the hotel.
I got two hours sleep that night. It was an amazing start. We agreed that if we had to return home now that our mission would've been a great success!
Monday, June 15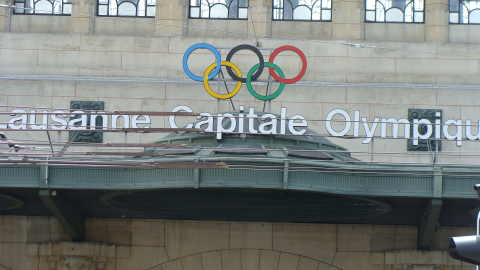 We arrived in Geneva at 8am after almost a full day in transit. We rented cell phones at the Geneva Airport and I'll add these numbers to the templates for No Games business cards that I've brought on my computer. I've brought along perforated card stock for printing once we get to the hotel.
The Swiss rail has a station in the Geneva Airport and we boarded the train and arrived in Lausanne some 45 minutes later.
The city is very hilly. Although our hotel is only a few blocks away, it is up the hill at a 45 degree angle. We lugged our bags up the hill and checked into the Alpha-Palmiers Hotel [link] where the guys got one large room and Rhoda got her own small room. We learned that the hotel has no business center so all printing must be done at a copy shop which is some ten minutes away by cab. If you continue on up this VERY steep hill you will come to the Palace Hotel where the IOC conducts meetings and where part of this week's business is to be conducted on Thursday.
We unpacked our gear and the room looks like a staging area for some Mission Impossible scenario. I brought along a pre-fabricated podium made out of the wooden slats we used to hold our protest signs from the April rally. I re-assembled it and velcroed four No Games signs to the front. The assemblage proved to rickety so I rebuilt it as a wall of signs that could be held by one person on either side. I asked the others what they thought and they all agreed it looked lame and that, anyway, the protest signs were off message for what we wanted to convay to the IOC. I would think of some other way to frame our press appearances.
Our main mission was to print up 150 copies of what we were calling "The Book of Evidence – Reasons Why Chicago Should NOT Be Awarded the 2016 Olympic Games." The book has a cover page introducing us to the IOC and a great piece from the Chicago Reader's Ben Joravsky, "An Open Letter to the IOC" which we said summed up our point of view. The book is divided into four sections with each section containing 40 to 50 articles from the local press documenting our points. Download your very own copy from the No Games Chicago web site and you can pretend you're a member of the IOC!
Our main task for Monday was to get this book copied. I travelled with the originals in my carry on luggage and didn't let it out of my site for the entire trip. I had looked into making 150 copies in Chicago (110 for all the 107 IOC members plus senior staff, remainder for the press) but I was too nervous about shipping the printed books overseas. We were directed to the Copy Shop and met Dominque, the manager. I gave her one pre-copied book I had made as a sample to show how the book was to be formatted. We discussed the price for 150 copies of 162 pages single sided bound with black cloth tape and fronted with a clear vinyl cover. She agreed to work late to get us 50 copies for Tuesday afternoon and the remaining 100 by Wednesday morning. We would be able to deliver the first 50 copies to the IOC before the Chicago 2016 team made their presentation Wednesday at 9:30am.
Once the printing job was taken care of, I calmed down. To say I was agitated, anxious, jumpy and cranky would be an understatement. I had taken a huge risk in not pre-copying the books and shipping them and now I was assured of getting our main documentation produced but at a premium. These books were the reason for our trip. The books have an impressive heft when you flip through the pages the mass of documentation is quite startling. 160 pages documenting financial crisis, graft, incompetence, nepotism, cronyism, public works project overruns and delays, service lapses, infrastructure failure and public disapproval of the current administration and the 2016 bid. We imagined IOC members flipping through the book late into the night, like being hooked on a new thriller.
We then visited the IOC Museum on the shore of Lake Geneva to scope the space where we wanted to hold a press conference on Wednesday. The museum sits atop a hill and is reached by a winding access road that accesses the service entrance, which is at the top. The plaza level where patrons enter is actually two levels down from the service entrance. There is an open air escalator that takes you up from the main entrance at ground level. The grounds of the museum are decked out with a number of large sculptures with an athletic theme. A lot of male torsos.
We were satisfied with the location and decided to place our Wednesday press event right in front of the Museum on a spacious plaza. We left the museum and walked along the shore of Lake Geneva to find a cab to return to the hotel.
Our arrangements were in place. We were in place. How would the next few days turn out? I was up most of the night fretting, wondering and reviewing the events that brought us so far from home.
Saturday, May 30

Today we had a meeting of the No Games Chicago Executive Committee at my house. I've asked the people who were there if they'd like to acknowledged and they all said no. We've been asked a few times to list our members or give the biographies of our leadership and most of the team are reluctant fearing reprisals and retaliation from the Daley administration. This is not surprising since one of the founders of No Games had to drop out of the group just before our April 2 rally because this person's employer threatened to fire this person if they continued to work on our behalf. Many of us have also heard stories of the Mayor's long memory for punishing his political rivals. The 2016 bid effort has so many stories of fear and intimidation that I hope someday a reporter will chronicle this tale of shame and abdication by so many of Chicago's civic organizations. To name just one instance, the boating community was told in no uncertain terms that if any yacht club or group of boaters were to protest the bid or its impact on the harbor system, that those boaters would never be able to berth their boats in the city again. Bob Quellos, of the co-founders of No Games, and myself have become the main spokespeople for No Games.
The No Games team was meeting to assess our progress toward defeating the bid. We were reviewing the timeline to October 2 when the IOC would meet in Copenhagen, Denmark to award the games to one of the finalist cities: Chicago, Madrid, Rio de Janero, or Tokyo. What should be our strategy going forward? How should we deploy our limited resources in the remaining run to October 2?
One of our members reminded us of the upcoming meetings in Lausanne, Switzerland, the home of the IOC. All four finalist cities will be making presentations before the full IOC, one at a time, on Wednesday, June 17. The Evaluation Commission had visited each city and the bids of all finalists were now public and these presentations were an unprecedented opportunity to "re-sell" the IOC with added details of the cities Olympic plans. The international press would be present as well as the media from each of the finalist cities. It would be a perfect storm of IOC members, delegates and civic leaders from the finalist cities and the media.
"We've got to go to Switzerland!" I blurted out. What possessed me to make that startling suggestion, I don't know. Perhaps it was a sense of urgency and need to make a dramatic impact. After all, the ultimate audience for No Games Chicago's activism is the International Olympic Committee since they are the people who hold the fate of our city in their hands. On October 2 they will vote to award the 2016 games to a city and we want to persuade them not to choose Chicago. How could a small group of social justice activists with no support from any civic organization hope to move such a large and powerful organization? How could we best make our case unless it was in person? Wouldn't going to the home, the heart of the Olympic industry, be the best way to accomplish our goal?
But how? Who would go? We got very excited by this idea and discussed the pros and cons. We quickly agreed that this was something No Games Chicago HAD to do despite the fact that we had virtually no funds. I said that I would front what was needed and that others could chip in as needed. We agreed to hold a fundraiser as soon as possible upon our return. One of our members said she would donate her frequent flyer miles to allow two people to go. Later that day I called someone who had given us a donation back in March and this person donated enough miles to allow the entire team to travel to Geneva. We then decided who would go. All the travelers had passports but two had some issues with passport processing and would have to a special expedition process in order to travel abroad so quickly. By 5pm our team had air travel locked in and rooms reserved in Lausanne.
Switzerland is seven time zones ahead of Chicago. This would be a bear of a project to coordinate but we picked a team to stay on top of the local media and to work with the Swiss team. We also decided to keep the trip a secret even from most our own members as we felt surprise would be key to our impact. We labeled the enterprise "Operation Cheese" and would use this label in all emails. No one outside of this group who were at my house on May 30 would know our plans unless the leadership team approved it.
Now there were a thousand details to arrange. Press releases to write. communications plans to pull together, equipment to assemble, plans to make. No Games Chicago is going to Switzerland in two weeks!