When I was in high school, I wrote a one-act play that won the Scholastic Writing Award, in a category that was judged by Pulitzer Prize-winning playwright (The Effect of Gamma Ray on May-in-the-Moon Marigolds) Paul Zindel. I don't know what Zindel's play is actually about -- LSD? Flowers? Early Electric Daisy Carnival? -- because I am still so dazzled by his Pulitzer. But it didn't matter -- my play apparently was good enough to warrant recognition and Zindel picked right on one count: I became a published author, and wrote a novel (hidden) about queer teens who escape from gay-to-straight bootcamps.
At the time, the Scholastic award was announced close enough to graduation that I could keep my play's content (a queer boy struggling to come to terms with his sexuality) a secret. Nobody knew what my play was about until after I graduated, when I left a copy under a classmate's front door. That summer, Eric -- armed with a bigger mouth than Azealia Banks' -- ran around town announcing, "Tomas Mournian's come out of the closet! Tomas Mournian's come out of the closet!" (a comment that provoked another friend to wryly observe, "Tomas Mournian's closet is everyone else's living room.")
So yesterday, when I happened to see a post on LAMBDA Literary about the Los Angeles LGBT Heritage Month Writing Contest, I was immediately intrigued by the idea that queer teenagers were being invited to write about their life experiences ... while they were still in school. What was even more astonishing to me was that this contest was being sponsored through a joint effort between America's first Latino Mayor (Antonio Villaraigosa), The City of Los Angeles and Toyota.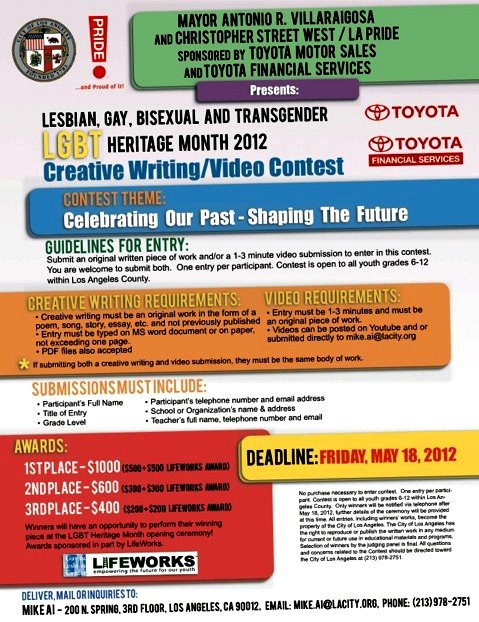 The contest encourages queer youth to make a video or write -- poem, essay, short story -- a creative work connecting to their life with a larger history. And then there's the cash and prizes. First, second and third place winners will receive $1,000, $600 and $400, plus tickets to Disneyland. There's also other stuff that promises to make the contest worth entering even if you don't place in the top three -- and, yes, just like RuPaul's Drag Race, the competition promises to be fierce.
Last year, Dustin Lance Black (who won an Oscar for Milk -- a movie I did see) presented the winner of the LGBT Heritage month creative writing contest to Eliot Sitz, a tenth grader at Downtown Magnet High school.
You can check out Eliott's blog here; it features pictures of him with Mayor Antonio Villaraigosa, Margaret Cho, among others, at a garden party. Eliot's impossible to miss: he's the one wearing a bright pink shirt and board shorts, and sporting a flawless faux hawk. Eliot was also recognized by the Mayor during a City Council meeting and received a VIP package from L.A. Gay Pride and tickets to Disneyland.  

Find out more about the contest on Facebook and check out video of Elliott's performance below:
Eliot Sitz - Creative Writing Contest Winner