I first did a road trip across the United States when I was twenty. At the time, my friends were backpacking Europe, but I felt I was too young to appreciate castles, so I filled the tank and headed south for bikinis and beer. In one summer I swam in the Atlantic, the Pacific and the Gulf of Mexico. I also nearly killed myself whilst doing 90mph at night when I discovered that the tickle on my leg was a tarantula. This summer my European wife (I did eventually get to those castles), wanted to see America. We loaded up a new SUV, buckled our pug in the back and hit the open road.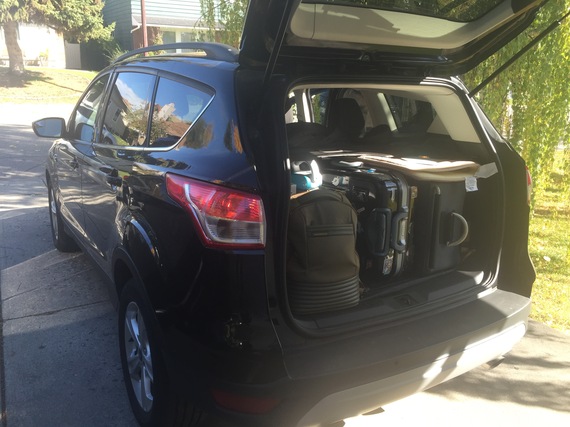 To keep things interesting we decided to book everything through Airbnb - a service we'd never even used before. We stayed in some incredible places and some terrible ones. Here are a few of the memorable stops on our trip. I hope our mistakes and successes make your next holiday a little easier.
The first host messaged me to say she'd be out, but that the door would be unlocked. What if it's a trap? What if they're killers? What if we're killers? It was bizarre just walking into someone's home, but we were immediately taken aback by the architecture. As we were looking around, a tiny dog hopped off the couch and our pug had a new pal. On the kitchen counter was a hand-written note mentioning local eateries, hiking trails and of course, that all-important WiFi code.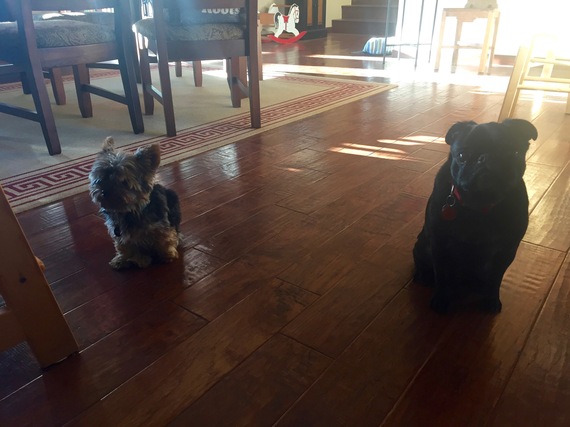 BFFs!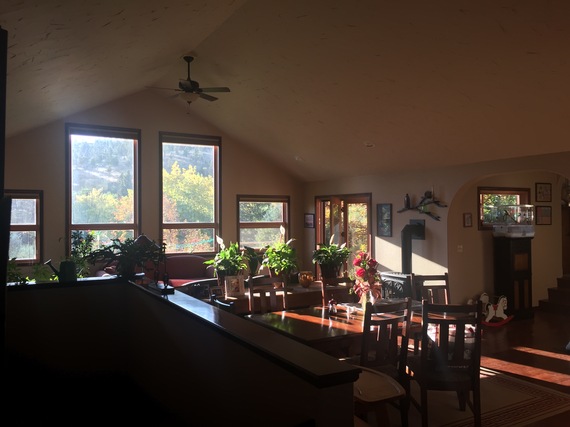 You don't get hotels this cool, especially for $65/night.
I thought Las Vegas would be more fun in a hotel, so I made a Lost In America choice to do just one night. This was a mistake.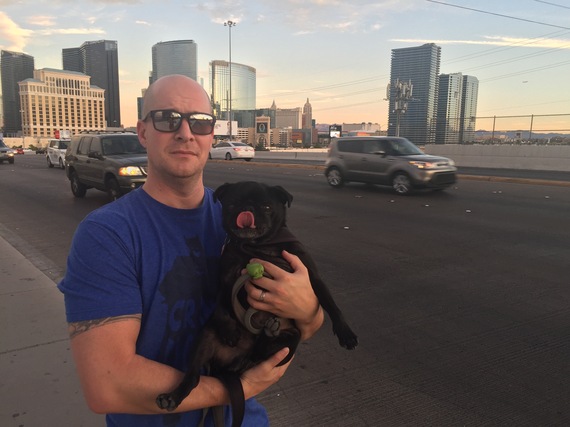 In a city of freaks, I was the one getting the weird looks for walking my pug.
I chose the Rio Suites because they allow pets. To be safe I even called ahead to confirm that dogs were okay. Oh, and the Rio was on Groupon, that may have been a factor. There was a pet fee, but other than that - all good. It wasn't. At check-in she asked, "Where's your crate?"
Crate????
Turns out you can have a dog in your room, but the pet must be caged at all times. No crate? No problem. The Rio will provide you with one for a small fortune. The fee for the dog in the room was $75, then we had a $250 damage deposit for the dog (who wasn't allowed to leave the crate). Riddle me this Rio Suites. How come I have to cage a 16lb, eight-year-old pug with three teeth for a steep extra fee and pay a huge deposit, when the entire floor's full of idiots doing beer bongs and strippers? Yeah, you may want to rethink who does more damage. Lesson learned. Las Vegas hotels accept dogs, but it's not worth the hassle or the price.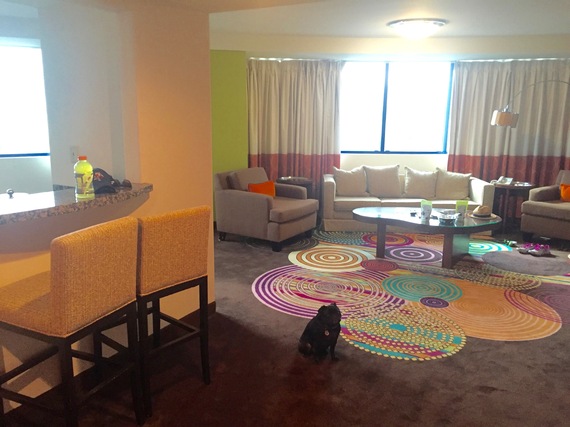 Breaking the law. Loose in the room, because we had to wait two hours for housekeeping to deliver the crate.
We have a lot of friends in California so we were sitting pretty, but there were gaps as long as a week when we needed an Airbnb. I played it safe and booked the next place for three days with the option to extend. We met the 'Host' out front, and she opened the gate to the unit's underground parking garage. She pointed to a spot and I pulled in. Then she instructed me to move forward again, explaining, "The guest in the other room will park behind you, and you guys can just figure out when to get the cars out when you go and stuff."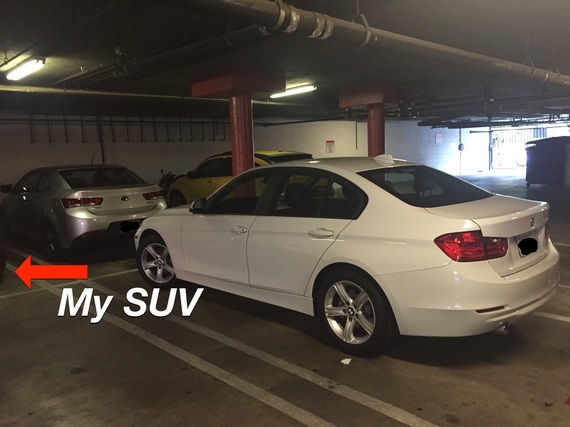 Me: "You want us to coordinate our movements with the complete stranger in the other room?"
And before she could answer, it really hit me...
Me: "Wait, you're renting two rooms?"
Host: "Yeah, I didn't put that in the listing because it puts some people off."
For those that have not yet used Airbnb, you put in a request to a book, then the host messages you and from there it's confirmed. Over chat she'd asked if our pug was properly house-trained, and most certainly didn't mention that she was also listing a second room or that the parking was tandem.
I stood there staring at my SUV about to be blocked in, and then at her - one of those persons that thinks they're laid-back and free, but is just clearly very, very stupid. I had paid and we were stuck, so I unloaded the luggage and continued up to her condo where a barking terrier raced to greet us, running through fresh puddles of piss on the way.
She showed us to our bedroom, which was her bedroom, unchanged for guests and complete with a corkboard of polaroid selfies, concert tickets, appointments, birthday cards etc... She then explained that she worships Britney Spears (WTF?), a really cool guy was staying in the other room, and that she'd be crashing on the couch. Like totally awesome, right?
Yes. If you're twenty, dumb and high on Molly.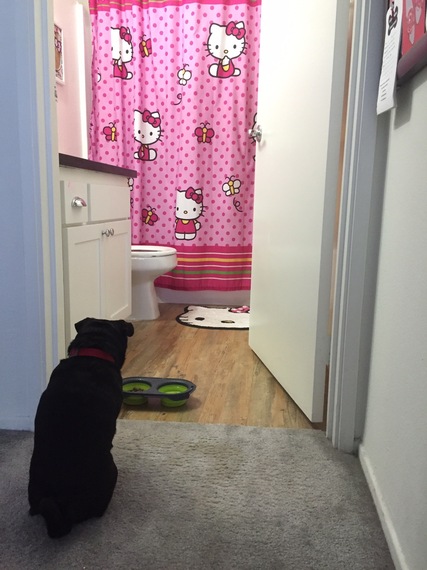 Even my pug felt I was a huge disappointment. He'd rather face a Hello Kitty shower curtain than look at me.
We dropped off our stuff (hoping we'd see it again), and set out with the pug in an Über as my vehicle was now trapped and the 'really cool guy' was really unreachable. When we got back that evening she was passed-out on the couch. There was more dog piss on the ground, and thankfully no sign of the really cool guy. We crawled into her pink princess bed, tried to laugh the whole thing off, and I promised my wife we'd leave first thing in the morning. She thought I meant we were going to cut our losses (about $350), but I had a plan. You see, while we were in bed, on holiday and not having sex (too weird for her, almost too weird for me), I noticed the smoke detector hanging open without batteries.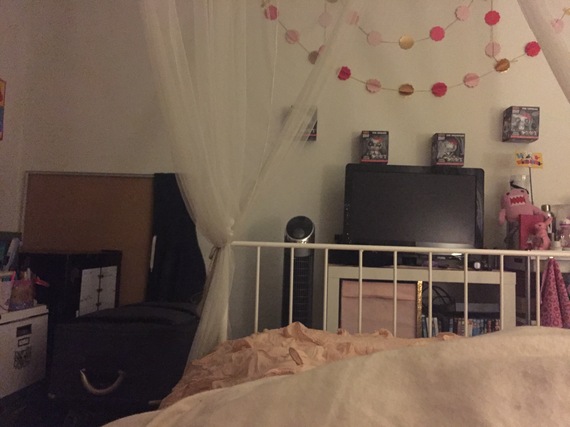 No sex in the princess bed.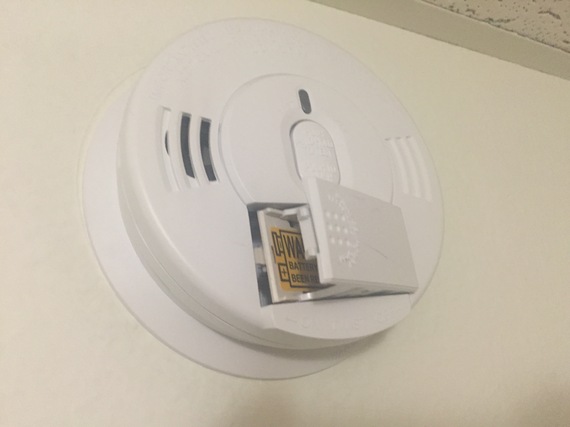 Not exactly comforting.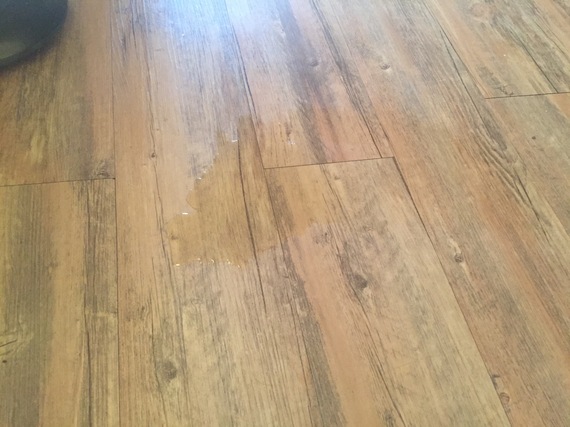 In answer to your question, my dog's house-trained. Yours isn't.
The next morning I called Airbnb. They were concerned about the inaccuracy of the listing and then mortified when I mentioned the smoke detectors. Our money was refunded and they gave us a hundred dollar credit. This place sucked, the host sucked, and I feel bad for those who may have a first experience like this, because if this was our first, it would have been our last.
As I sent out some requests to book, I began to investigate hotels, and it wasn't looking good. The ones that took dogs were either over a grand a night or wrapped in barbed wire. I guess LA figures if you travel with your dog you're either on the run, or on the way to the Oscars. Then the place we really wanted came through, and was available in a couple of hours. It was hillside in the Valley and we had our own floor complete with a private entrance, patio, kitchen, bedroom, lounge, bathroom (tub and shower), and yes, parking. The hosts freaked out when they met our dog and offered to look after him if the two of us were going out for a day trip or to dinner. We ended up staying a week here and the pictures will tell you why.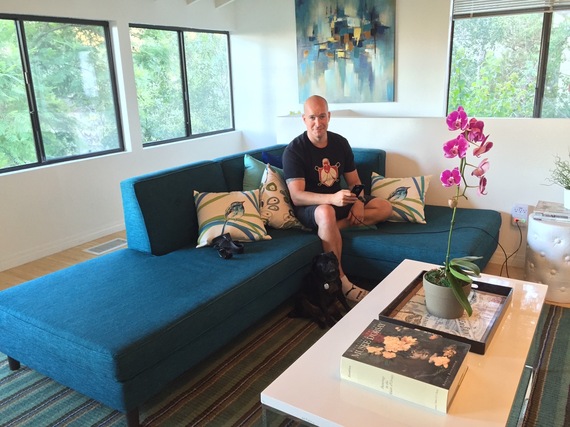 Yay, my wife doesn't hate me anymore!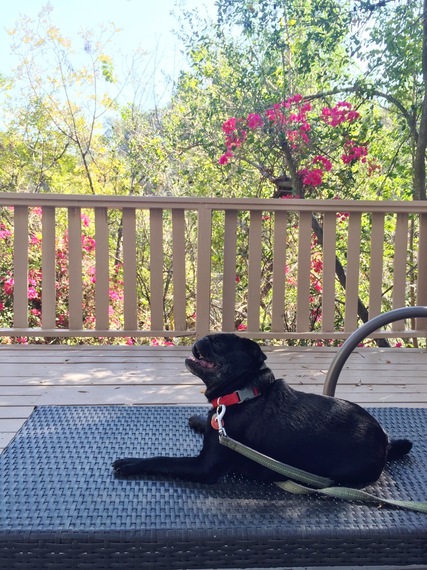 The pug was totally down with the private patio.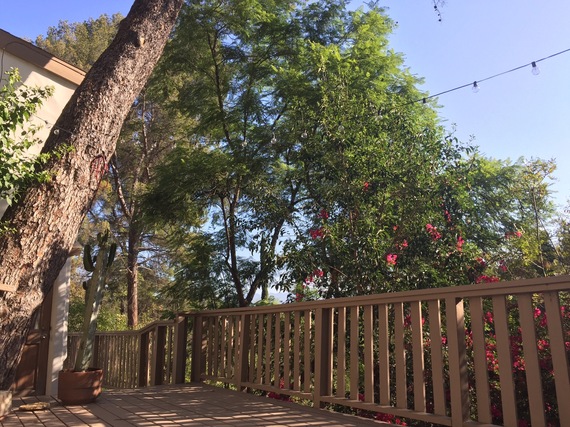 We paid an average of 85 USD a night for this property. A similar hotel suite in the Los Angeles area is thousands.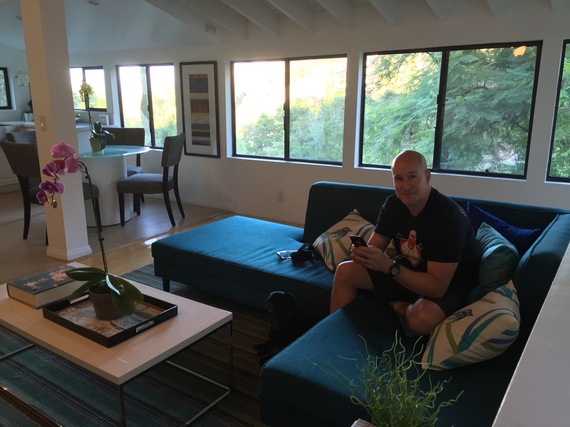 A kitchen is handy. Most hotel rooms don't even have corkscrews or decent wine glasses.
If you're willing to plan and read reviews, then Airbnb really is a no-brainer. If a place has no reviews, it could be new and great, but it's not worth the risk. Also consider the demographic that has rated the listing you have your eye on. Give yourself some time with bookings, as many of the hosts are just ordinary folks and they don't always get back to you that quickly. Our trip was fantastic and even the low-points will make us laugh for years to come.
Thanks for reading,
Tommy Campbell
facebook.com/tommycampbellcomedian
Follow @MrTommyCampbell