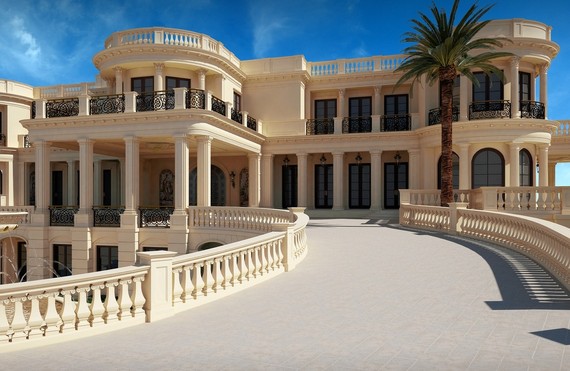 Keeping up with New York.
As developers have been building luxury condominiums throughout New York City, the rest of the country has been keeping pace, but in their own way. In areas where high-rise buildings are not abundant and individual homes flourish, increasingly buyers have been eyeing trophy homes of their own to be built.
Today these trophy homes are custom-built houses and estates designed from a unique set of plans for the individual property, known as speculative, or spec homes. Impressive in amenities and price, spec homes are becoming more common in areas of Florida and Los Angeles. For example, the rendering for a $45 million Hillsboro Beach, Florida estate boasts 30,000 square feet and an underground garage with space for 20 cars.
Right outside of New York City, in the Hamptons, buyers are looking to replace their old homes in place of those more novel and modern. Given their desire for new, "people are valuing structure over location," which is an innovation in itself. For both New Yorkers in the city and those who escape to Long Island for summer weekends, location has always been key, valuing Fifth Avenue to Tribeca and West to Bridgehampton; however, in the Hamptons, buyers want their houses to speak for themselves.
The individuality demanded in homes today evokes the past times of architectural prominence when revered architects, such as Frank Lloyd Wright and Philip Johnson were commissioned to build spec homes for America's elite.
The condominiums being built in New York City are not far off from the trends seen in the rest of the state and country--developers are just placing value on components of the home more suitable to the city lifestyle. For example, the new units in Manhattan's most luxurious buildings such as 432 Park and 56 Leonard that are monetarily comparable, if not higher in price, to the spec homes in Florida and California, boast private elevators and building-wide amenities including spas, pools, and theaters. On-site valet service for residences is the city's 20-car garage.
While the value--both qualitative and monetary--of older homes and buildings is still extraordinary, the demand for unique homes to be built to the individual customer represents the direction towards which residential development is going.