Last week, Prudential Douglas Elliman released their second quarter Manhattan Market Report in conjunction with Miller Samuel. I have to say, the news wasn't all that exciting. Now, now... I know many people who would shudder at the thought of calling a stable market report anything less than exciting. But, there was no dramatic positive change in price or volume that one could point to, as a matter of fact median and average sales prices took a slight dip from the previous year.
Days on the market actually increased by 21 percent and the average discount from list price to sale price increased to 5.1 percent from the previous year, meaning prices were more negotiable. There were 2,647 sales in the second quarter of 2012, representing a 0.1 percent decrease from the previous year, virtually unchanged. A skeptic could very well use these facts to intimate that the market is once again receding. But the truly exciting thing is actually buried in all of these facts, listing inventory has dramatically plummeted.
I've been hearing about this constantly from brokers and buyers: Where have all the good apartments gone? But numbers are the real indicator, active listings have decreased 13.5 percent over last year and almost 8 percent from last quarter. The absorption rates for Manhattan have officially fallen below 10 months, for most price points and neighborhood categories, some at five and six months, the lowest absorption rates in 10 years! Upon looking at the complete picture, it's easy to see that the increase in days on the market and discounts from list price, are actually positive indicators of older properties being sold off.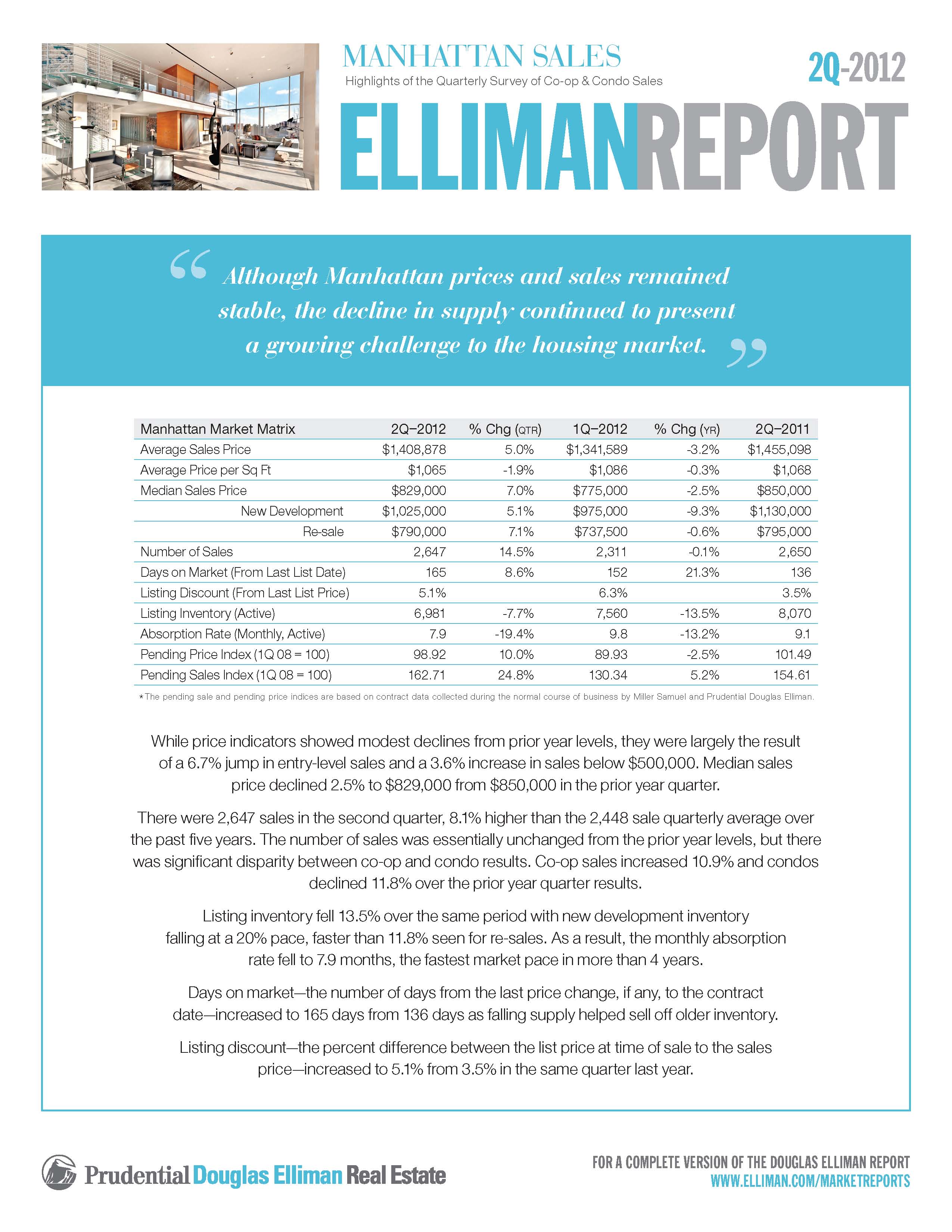 It is interesting now to see the disparity of consumer confidence in the Manhattan real estate market. The fact that the number of sales remained intact from last year while prices slightly slipped indicates the current market is being highly driven by "entry-level" sales. Surely spurred by ever-increasing, sky-high rental prices and rock bottom mortgage rates, Manhattanites who hadn't considered owning before are throwing their hats into the real estate ring. But buying a home in NYC, especially when you've never purchased before takes a certain level of confidence.
There's the mortgage, taxes, common charges, assessments and a whole other slew of financial blows to worry about. One must have security at their job, a commitment to New York City, and faith in the economy. On Wednesday, Prudential Real Estate is slated to release their second quarter consumer confidence survey. The early buzz is that Americans' confidence in home ownership and real estate continues to grow from last year and even last quarter. But, looking at these numbers, I would venture to say that those with confidence are on the buying rather than selling side. It seems the property owners of New York are not fully convinced.
Perhaps the dismal number of new listings can be explained because some sellers are unsure that they will get the price they need (perhaps they bought at the height of the market) or they're holding out to see if prices will increase.
Either way, it's plain to see that there are more buyers than sellers out there; it will be interesting to watch this market balance itself.
I'd love to know your take, if you own NYC realty, how confident are you in the market? What are your reasons for not listing? Leave your reasons in the comments or email toni@elliman.com.