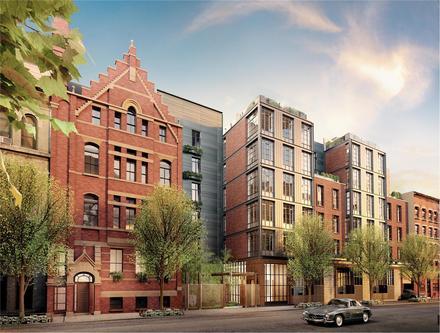 Fantasy meets reality.
The seclusion of a private residence with the amenities of a full-service building may be the most desirable living situation in the constantly active and congested New York City. This exclusive buyer's dreams are now becoming tangible with the addition of townhouses adjacent to the multi-unit service-packed building in residential new developments.
A common obstacle of townhouse living is the necessity for the owner to maintain the home's appearance in addition to the lack of conveniences suited for the city lifestyle, including a doorman to accept packages when no one is home. While the buyer of a townhouse is likely to be in a similarly priced market as those searching in full-service buildings, as the average sales price for a Manhattan townhouse was $5,888,837 at the close of 2014, they are faced with the inability to secure both the privacy and services desired.
However, developers of luxury new construction are responding to this demand with a new style of residential building.
For example, Robert A.M. Stern's building at 20 East End Avenue has 43 units and three townhouses built into its base. 10 Sullivan, a new condominium in Soho, includes four townhouses around the corner from the main tower, each containing at least four bedrooms, a basement, and two areas of private outdoor space. While townhouses offer privacy for tenants, they often provide even more square footage and bedrooms than in an individual building unit, which seems to be in high demand in today's market.
Developers building in Brooklyn are also responding to the demand for private living without the required upkeep of an entire house. Brownstones, commonly found in the highly residential neighborhoods of Park Slope, Cobble Hill and Carol Gardens in the outer borough, are being converted into condominiums, allotting only one or two floors of the larger townhouse to each buyer. Residents are granted a semi-private living situation with more solitude than found in a standard coop or condo, for a more cost-efficient price than purchasing an entire townhouse.
With high demand for a more suburban home packed with conveniences suited for a city lifestyle, it will be exciting to see the innovations developers bring to the market.