I was walking by the Fishs Eddy storefront window the other day. It was hard to miss as the entire window was covered in familiar yellow Post-it notes. They were notes to Hurricane Sandy, and people had written their comments, what they had to say, how they felt. Some were tragic, some were funny and some had curse words. And I bet each one of those Post-it writers had a hurricane story.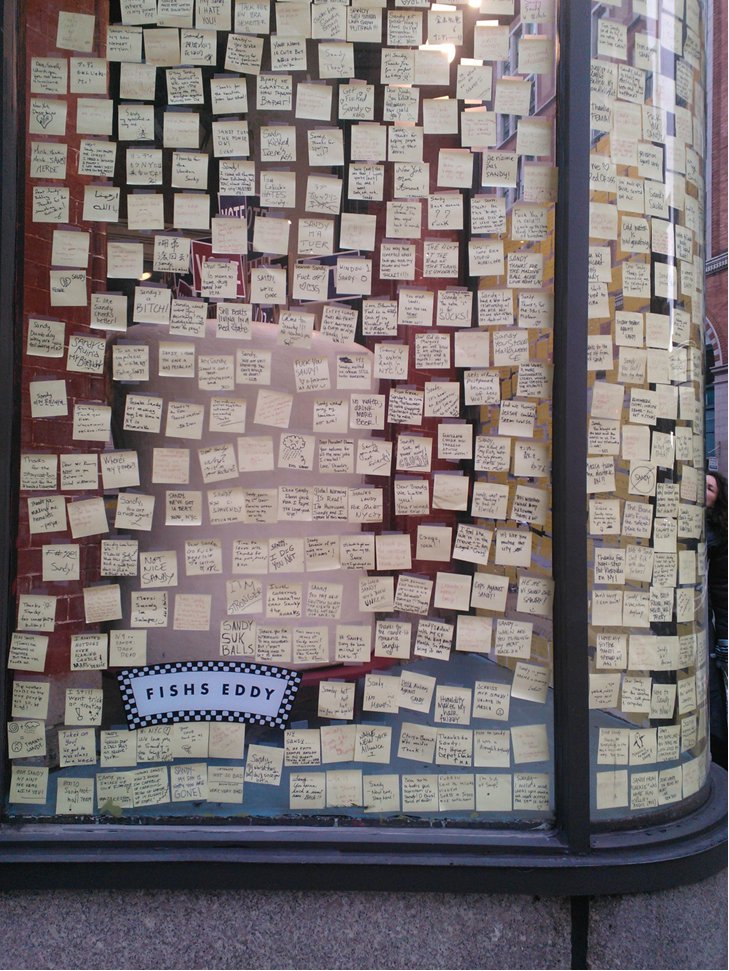 It seems as though everyone I have spoken to this week has a story. I heard about a building downtown where the garage attendant ran down to the garage to get a car and wound up getting killed by the force of the water that was coming into the garage. Another tragedy was the Richard Meier building on the west side wound up having three feet of water in the lobby. I heard that the condominium owners will not be able to return to the building for one month. But the most affected areas were Long Island, Staten Island and New Jersey. My niece and her fiancé live in Hoboken. I will call my niece J and her boyfriend M.
J was on the phone with a friend as if nothing was wrong and all of a sudden the lights went off and then they came on and then went off. She then started cooking her turkey chilly (as if nothing was wrong) and all of a sudden there was a knock on her door saying there was a gas leak. She immediately panicked called the fire department and couldn't get through. At this point there was five feet of water in her lobby, and the elevators' power was out. J and M live on the fourth floor and couldn't get out. Already totally panicked, she heard her carbon monoxide detector go off as well... Wow! What else could go wrong? She suddenly remembered something she had learned as a kid in camp -- don't leave, if it's not safe, so they opened the windows. J and M went to sleep, but in their clothes in case they had to get out.
When they woke up, the water had receded a bit. There was one door they could exit without getting totally soaked. They ventured out down the fire stairs, found a door and ran outside. The water was up to their knees (my niece is only 5 feet 2 inches). They walked around the block to see all that had happened, it was devastating but luckily, she found a friend that had power and stayed there for a night. The next morning, her dad came and picked her up to stay at her mom's in Long Island until I myself got power back on Saturday. Now J, M and their puppy Mollie are staying with me! That is, until the path train starts working again...

I love New Yorkers: We have been through a lot, yet we are resilient. We pull together when needed and sometimes with a sense of humor. At the end of the day, I don't think even Sandy will keep us down. We will come back even stronger as we always do. Today's Nor'Easter promises to be another challenge to that resilience. Mayor Bloomberg is closing all our parks from 12 p.m. today until 12 p.m. tomorrow. Make sure you have food, water, candles, and flash lights, stay safe!