When asked, "What would you want an audience to take away from this film?" Pulitzer prize winning writer, Tracy Letts, responded, "I don't know. I have no idea how to answer that question." That statement of ambiguity justifies the existence of film critics. Art exists to start conversations, and critics exist to carry on and/or further challenge the concepts and ideas expressed in those conversations. So then, what should an audience take away from August: Osage County?
The observant, poignant and scathing theatrics of a family up in arms reflects the generational chain of childhood traumas and adult scars. This comprehensive drama digs into the earth of the modern, American family dynamic and systematically mines heart-wrenching, hair-raising, breathtaking animosity. There is a unique and powerful cruelty that only somebody who truly loves you can employ. This is a story about mistakes. However, not mistakes seen through the eyes of the person making them, but mistakes seen through the eyes of the people who feel they have the absolute right to judge them. Mistakes observed by people who know better. For example, a domineering mother on the edge of mortality, looking down at death, fearing that she has sacrificed everything only to be left alone with her pain. A desperately strong matriarch abandoned by a generation of hard-edged generals and tough luck.
There are things in the world we have control over and things we cannot control. It is often human nature to resent what cannot be controlled. If there is anything to be taken away from August: Osage County, it is that we play gods over our world, when in fact we are no more powerful than a crawfish in a creek. It is paternal instinct to protect your children from themselves. Sometimes loving somebody is like watching a car crash in slow motion. So we futilely play the part of backseat drivers, but the crash is unavoidable. Life is a mess, and all we can control is ourselves, yet we are tangled with other people. It's a constant struggle between lonely solitude and inevitable vulnerability. And as the beauty of youth fades into wrinkles and illness we start to realize our own mistakes. They burn in us.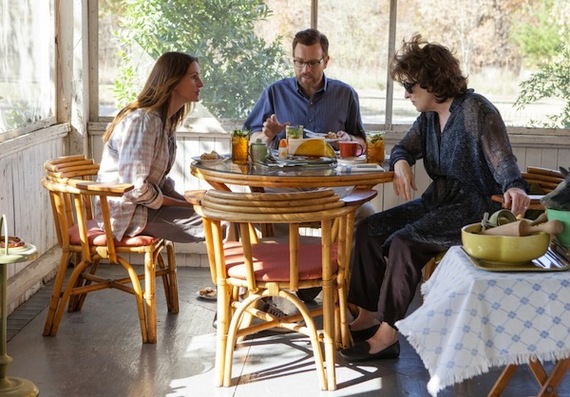 Photo Courtesy of AFI Fest & The Weinstein Company
The emotional complexities of the human condition are on full display in this compelling achievement. The depth of those emotional complexities expressed in the impressive performances of this powerhouse cast is nothing short of extraordinary. Julia Roberts turns in the best work of her career as a future matriarch matching wits with her familial superior. Finally, there is material worthy of the magnificent Meryl Streep. Obviously, Streep is one of the finest film actors working today. Obviously, she's great in everything. But to write off this acting masterwork would be a crime against cinema. Margot Martindale shines bright among the monumental cast. And Julianne Nicholson is a revelation. Basically, if you have any appreciation for the craft of acting, there is an ocean of strong characters to study in this important production.
The people that are so electric to watch up on the screen are urgent reflections of humanity. Flawed refractions of our familiar lives. If there is anything to be taken away from Osage County it is that kindness is an underrated and often absent effort. There is a scene between Chris Cooper and Margot Martindale in which Cooper plays a father defending his dimwitted son against an onslaught of assaulting criticisms from the boy's mother. The scene is wrought with kindness and cruelty. As human beings we always have a choice to be kind, but often are not. We love to believe that we are good people, yet there are so many instances of cruelty. We are resentful of things we cannot change. We are resentful of the cruelty put on us. We are resentful of our pasts and our failings. And we express those deep-seeded, hurtful traumas in random acts of malice. So in seeing the flames of bitter hostility rise in destructive glory, my take away is this: Make an effort in kindness. Recognize your resentments and do not pass them on. Turn your grief into grace. Don't allow your love to be twisted into agony and misery. It's a cold, hard world, try to inject some amount of humanity in the concrete cruelty.