Sheena McCann is an AFI alumni and a young writer/director. Her short film, Hopscotch, was part of the AFI Fest Short Film Program last year and was featured at Cannes Film Festival as well. I got a chance to talk to Sheena about her film, and her experience with the festival.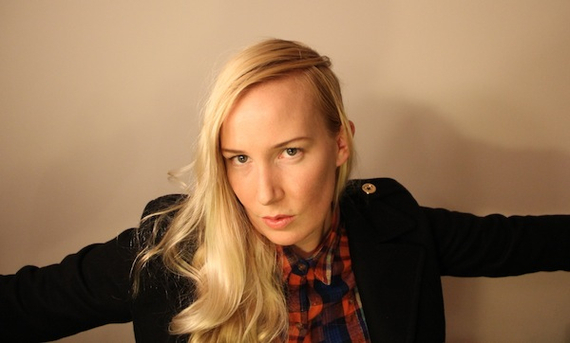 Writer/Director Sheena McCann. © Sheena McCann
Goethe said, "Every author in some way portrays himself in his works, even if it be against his will." How much of your work is about you?
I'm not bold enough to put myself up there so nakedly. So I pass all my inner stirrings through to the characters and the situations they're in: anxiety-ridden brothers hiding from death or a controlling little boy crushed by the city walls or a publicly humiliated woman fighting off the kidnapping of her son. I am none of those people. But I've handed off to them what I've been consumed by in my life. Now they have all the reason to act on what they feel, they CAN act -- they are given this opportunity to do something, right now -- so they better do it right or wrong. In film you can let the fantasies of reality unravel and pulse. I can test real life and see how far the characters can go with it. Can they solve it? How do they solve it? I guess how they solve it, is 'me' in the work. I try to make the character really come through; I want to be honest about their abilities. I don't think everyone has a backbone or is sharp as a whip. That's who I want to show because to watch them is much harder -- they have a harder road. Why would I want to celebrate someone who has it all? I think being crushed by your vulnerabilities is so much more engaging. It's human. Hopscotch showed that.
Can you give us some feel for the experience, beginning-to-end, of having your film in AFI Fest?
I wrote Hopscotch while I was finishing my thesis at the AFI Conservatory. My thesis took a year and half to make, it was 35 grand, completely made by the book, a grueling and very satisfying experience. For Hopscotch I wanted risk: we shot what you see on screen in one day, barely any crew, the actress had never acted before and we shot the entire movie in single takes over and over without much break in between. The prep with my DP was essentially "follow this couple no matter what happens." It was about discovering what was happening in the moment. No one knew what would happen.
After shooting, I put it away for months. And then one day the AFI Fest deadline was a couple days away, but the movie wasn't cut together. So I sent one of the single takes -- it was raw but I felt that was the movie. Then I get a call, and they want to see the cut version. So, we edited it together, and they ended up inviting me to the fest. That was the most exciting part for me.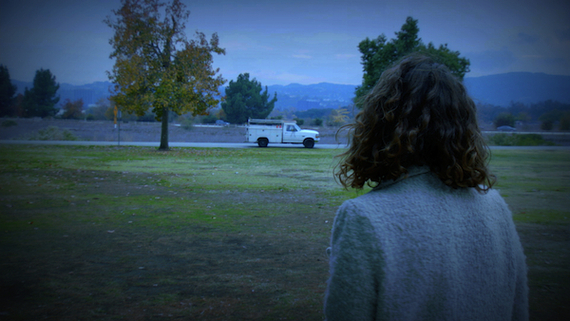 Still from the short film, Hopscotch. Photo Credit: Petr Cikhart
Who are your favorite artists outside of cinema?
The first thing I thought of is Chloe, Viktor & Rolf, Valentino, Prada, Giambattista Valli, Dior Homme, Paul & Joe, Rodarte, LV. I love clothes, but I don't own any of these.` My mom was a seamstress my whole life -- that is her craft. I was always around people making clothes, draperies, furnishings, chairs, tables, architecture. I admire designers, but I envy the woman and men that get to put Valentino's dresses together or tailor Dior Homme. My family is makers of one thing or another so I think I thrive on those sorts of conversations. This goes back to my mom's grandfather building their home in Beverly Hills -- that house is now The Ivy Restaurant on Robertson. But the fashion industry is so abundantly creative and constant. It's the most satisfying thing to me. It's probably the one thing I am not competitive at -- I don't want to do it for a living, it's pure indulgence.
What are your future plans in film?
I am writing two features. The one that's going to be made first is Possum. I've been hooked on the concept of Adam and Eve, but the script didn't start there. After working on it for a while, I was looking at where Eve appears in the bible. It fascinated me how small a space she takes up and it's basically about her messing it up for Adam. I just wonder what was going on with this girl and the couple for that matter, when in their brief existence (in pages), all they have is this huge mistake. Adam must have been really pissed or super confused. I am looking at it literally for the purpose of the script, that sense of this huge force watching you and being totally unforgiving -- is something I am testing in Possum. In my undergrad, I saw Dreyer's Joan of Arc for the first time (...on the big screen, which makes a difference) and the way he shot close ups of faces against white backgrounds -- that imposing, bare feeling impressed me. The movie is so absolute with its pace and control. I mean seeing the texture of the spit on her face makes me shiver. I don't think I have experienced any movie like that since.
What did you want to be when you were a child?
When people asked me that when I was little, I never knew how to answer. I didn't know the concept of "future" or being larger than I was. Like when you ask a kid who they are going to marry and they say their mom. They don't know what you're talking about, but if they were gonna do anything it's with the best thing they got at that moment -- Mom.
I did always want to run away, but I liked my house. So I just went to the backyard making up plans to run, even scanning the street to see where I'd go, then after a while I'd go eat a sandwich.
AFI Fest 2013 is Thursday, November 7 through Thursday, November 14