What is a comedian?
Is it somebody who is able to bravely approach the deeply complicated questions that always haunt a society? A poet who incredibly shares some sacred, exultant gift that is the only true freedom found in the overwhelming reality that is our sad, stifled existence? The truest artist who can spin words into pictures? Who can conjure noises from within other human beings and transform their faces into volcanoes erupting with inescapable joy? Who can actually change the chemical contents of people's minds in a feat of pure, undeniable magic?
-OR-
Is a comedian a person that arrogantly believes he or she deserves the undivided attention of paying strangers? Somebody so self-absorbed they cannot help but indulge the delusion that it is commonplace for a group of civilians to concede to sit in silence? An egotistical asshole who has the conceit to think it should be an acceptable occupation to make silly observations that don't even really matter? Somebody so needy that the only way they can communicate to any affect is to talk at a dark room filled with faceless adults? Somebody who is so self-important they think they have created art by being a self-certified class clown? An accredited idiot? A licensed loon? A professional fool?
Well, Matt Knudsen seems to seamlessly marry the two perspectives into one solid piece of work. His latest labor, American, blends analytical logic and amusing absurdity for a uniquely Knudsen experience. Recorded at the Hollywood Improv, it has the feel of a great stand up album like Bill Hicks Dangerous, a feel exclusive to a comedy club. You can practically see waitresses delivering the obligatory two drinks to every guest in the house.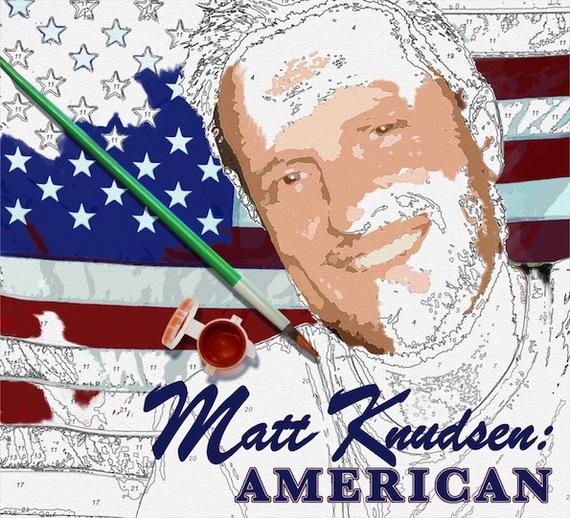 Matt Knudsen: American is available now!
Rooftop Comedy Album Art: Marta Knudsen
Matt Knudsen is an avuncular orator whose calm whisper delivers his jokes like little secrets he's sharing in confidence. And with his confidence, he takes the audience under his wing as if to say, "I got this. I'll take care of everything. You just sit back, relax and enjoy yourself." The steady, deliberate pacing comes as a refreshing comfort in a world where so many are screeching for attention. As Mr. Knudsen expertly navigates through his sharp observations, it is clear that the guy genuinely has a good time. There is no substitute for that authentic delight in performance. It's something that's much more obvious in more boisterous performers. In this case, it is a soft, slightly muted enthusiasm, which is added assurance his magic touch is not artificial or perfunctory.
The material on American ranges from personal experiences to a wide array of minutiae we've all waded through in our day-to-day lives. The remarkable thing is that it all appears to be of the same subject matter. The personal feels universal, and the universal feels personal. The only explanation for this phenomenon is that it's all finely crafted comedy from a strong central voice. The through line here is everything is relatable. The acrobatic writing exploits the empathetic and makes palatable the idiosyncrasies. Ultimately, we are taken on a highly enjoyable, sure-footed journey of fantastic fun.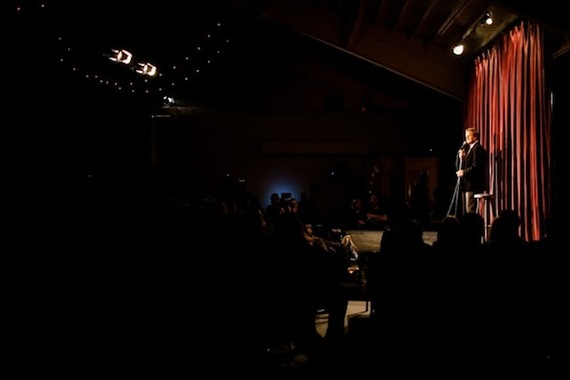 Photo by Rebecca Adler Photography
When you buy the album, make sure you buy the whole album because the "Album Only" track alone is worth the price. The performance is punctuated by a jazzy-joke-jam with Knudsen tickling the ivory. If you're a sucker for a dazzling vaudevillian act, then know your onions, this sockdollager is berries!