Mike Lawrence may be the most wonderful surprise in comedy this year (not really a surprise to those paying attention). He's been endorsed by Marc Maron and featured on multiple episodes of WTF. He did a recent set on Conan. And his first album, Sadamantium, just hit stores, quickly followed by his Comedy Central Half Hour. Suffice it to say, he has momentum.
The compelling thing about this comic is the perfect storm of elements he uses to build a powerhouse of relatable material. His comedy is a combination of a dark, painful, personal history and nerdcentric pop-culture references wrapped up in a giant ginger-beard and glasses. He is not what you would call "mainstream," but there's no reason he couldn't break into the mainstream. We are witnessing, ladies and gentleman, the breakdown of the corporate entertainment structure. We are living in a brave new world. Between the innovative Internet and the advent of Louis CK, this is the time for an "eccentric" talent like Mike Lawrence. His face, it seems, is one they would not even allow on television. It makes one shutter to think of the reaction of network executives. "He's just too nerdy. He's just too ugly. Is he homeless?" However, he has become a hero to everyone who has ever felt isolated or ugly (which is everybody to some extent).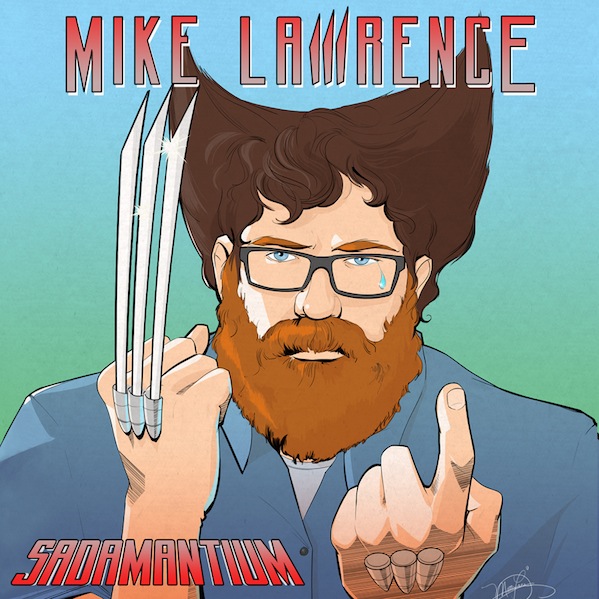 Mike Lawrence's Sadamantium is on sale now. ℗ 2013 Comedy Central Records
Mike Lawrence is not just an immensely funny, hardworking, comedy revelation; he's a symbol of the changes we are going through in our modern society. In fact, the first season of Comedy Central's The Half Hour proves that the world (at least the comedy world) is waking up and seeing the potential in modern media mutations. Lines are being blurred. The independent is slowly breaking through the barriers. All that matters in the entertainment industry is money. And it's being established that talented, interesting, individuals can be monetized, which is a great sign of faith for the artists of comedy.
The album's name, Sadamantium, is the combination of the word sad and a comic book reference. That is the perfect description of Mike Lawrence. The sadness of an isolated childhood and the sanctuary of a fantastic, alternate reality. There are certain people who are just a little weird or depressed or physically uncomfortable with themselves. They are misfits. The freaks and geeks of any and every high school. These are the people who go off and do something wonderful with their lives. And it's refreshing to see more and more successful comedians who represent an independent comedy revolution.