During my week in San Francisco, there were so many tantalizing events it was hard to decide what to see. The 12th Annual Sf Sketchfest was an ambitious undertaking, featuring 166 shows, lasting three and a half weeks and showcasing some of the best talent performing today. Here is my sample-platter of this year's SF Sketchfest.
Todd Barry: The Crowd Work Tour w/ Alex Koll at the Eureka Theatre
Todd Barry is one of today's most reliable stand up comics. His most recent tour is exactly what it sounds like: Todd Barry: The Crowd Work Tour. Crowd work generally refers to unplanned, off-the-cuff comedy that comes from talking to the audience. It is usually employed by emcees at comedy clubs to break down the barrier between the public and performer and warm up the crowd. However, in this recent tour de force, Todd Barry succeeded in doing over an hour of pure, unrehearsed crowd work. What makes this even more impressive is that Todd Barry has a much slower, more methodical energy than most comics (especially crowd work comics). Simply experiencing his steadily paced stamina was quite incredible. It was impressive to see a rhythm emerge and sustained under unpredictable circumstances. Todd Barry is truly a master of the art of stand up comedy, enjoyable to aficionados and casual observers alike. And Alex Koll had a fantastically funny opening set, setting the tone for the rest of the show and my entire week at SF Sketchfest.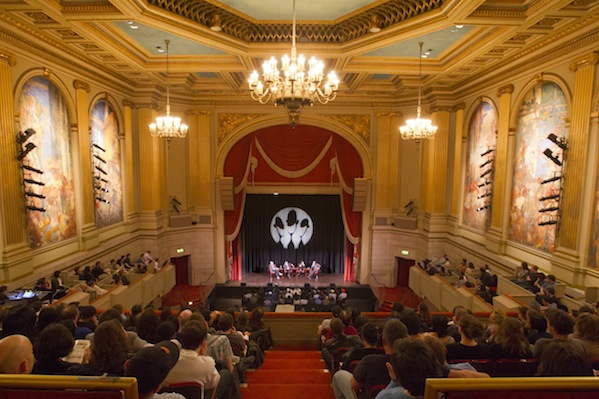 © 2013 Photo by Jakub Mosur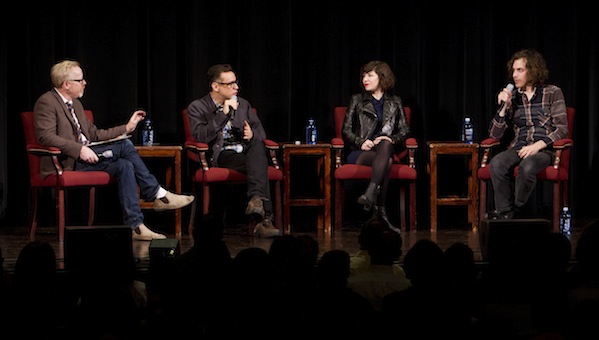 Portlandia creators Fred Armisen, Carrie Brownstein and Jonathan Krisel have a conversation with Adam Savage at the SF Sketchfest's Tribute to Portlandia during the 12th Annual SF Sketchfest at the Herbst Theatre in San Francisco on January 30, 2013. The 12th annual SF Sketchfest is held in 26 venues in San Francisco from January 24 - February 10, 2013. © 2013 Photo by Jakub Mosur
SF Sketchfest Tribute to Portlandia: A Conversation with Fred Armisen, Carrie Brownstein and Jonathan Krisel at Herbst Theatre
Of all the great shows on television, Portlandia is one that seems to be singularly and invigoratingly unique. When director and co-creator, Jonathon Krisel, was asked if the show could even exist on TV 10 years ago, it was clear he did not think it could. Portlandia is a comedy on the fringe of creativity. It is a character driven, concept sketch comedy show. The concept being that every sketch takes place in Portland, Oregon. It's incredible how complex the sketches are sometimes considering the dialogue is largely improvised. When looking at the history of television, there two types of shows that stick out. First there are the ones that are all around well made. Then there are those that take risks to do something different and interesting. And the absolute best shows are those who fall into both of the aforementioned categories. Portlandia represents a new day in comedic television. There's something Matt Groening said about watching Pee-Wee's Playhouse when it first came out. He said, "If this can work, there's hope for us all." And that is the kind of hope for our future a genre-bending, convention-shattering, groundbreaking series like this can galvanize.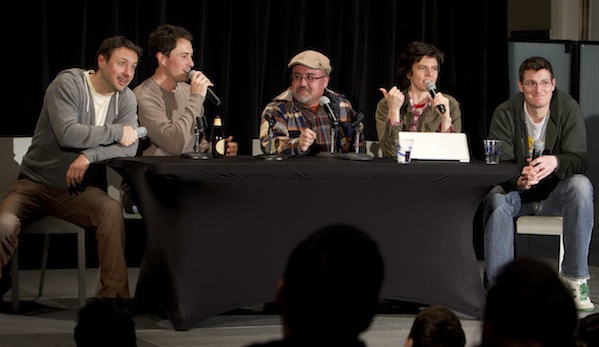 Professor Blastoff Podcast crew Kyle Dunnigan, David Hunsberger, Tig Notaro, and Aaron Burrell interview Pablo Hidalgo at the Comedy NightLife. SF Sketchfest celebrates it's third Comedy NightLife at the the California Academy of Sciences featuring Chris Hardwick, Tig Notaro, Greg Proops, Brent Weinbach, Will Franken and more in San Francisco on January 31, 2013. The 12th annual SF Sketchfest is held in 26 venues in San Francisco from January 24 - February 10, 2013. © 2013 Photo by Jakub Mosur

SF Sketchfest Comedy NightLife at the California Academy of Sciences: Professor Blastoff Podcast with Tig Notaro, Kyle Dunnigan, David Huntsberger and Aaron Burrel, The Legacy Music Dance Party with Brent Weinbach and Rob F. at the California Academy of Sciences
There have been comedy shows in all kinds of crazy environments, but on the top of the list of interesting venues has to be The California Academy of Sciences. Nerd-centric shows were weaved within the live rainforest, aquarium and working research labs in one of the largest natural history museums in the world. Every Thursday San Francisco hosts an event called, NightLife, and this particular Thursday Sketchfest hijacked the extravaganza and jammed packed it with comedy. The choices were many, but time was limited. I sat in on the live Professor Blastoff Podcast with special guest, Star Wars expert, Pablo Hidalgo. The tone of the show was casual and inviting toward the mix of fanatics and first time listeners. Next it was under the sea to hear Brent Weinbach drop a DJ set of video game music in the elaborate, exotic aquarium. The stimulating evening was topped off with some stand up in the centerpiece of the CAS. A mystical mosaic of stars, bars and laughter.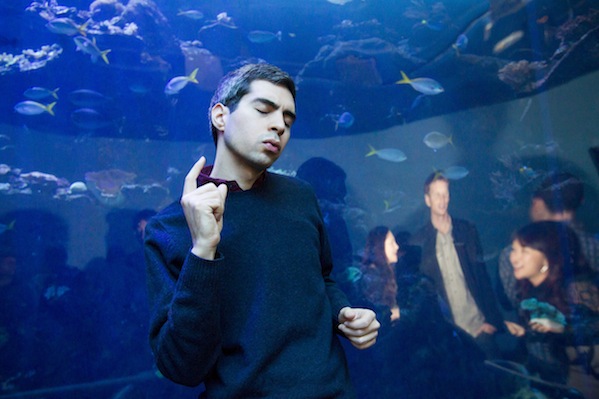 Brent Weinbach dances during the Legacy Music Dance Party at the Comedy NightLife. SF Sketchfest celebrates its third Comedy NightLife at the the California Academy of Sciences featuring Chris Hardwick, Tig Notaro, Greg Proops, Brent Weinbach, Will Franken and more in San Francisco on January 31, 2013. The 12th annual SF Sketchfest is held in 26 venues in San Francisco from January 24 - February 10, 2013. © 2013 Photo by Jakub Mosur
For more on SF Sketchfest, Check out 'A Week at San Francisco Sketchfest: Part II