The Set List: Comedy Without a Net with Jon Dore, Bobcat Goldthwait, Pete Holmes, Eddie Pepitone, Greg Proops and host Rick Overton at Cobb's Comedy Club
Set List is one of the most refreshing shows being performed today. It is completely urgent and pertinent that any comedy geek see this wonderful cluster-fuck of comedy brilliance. The basic idea is that you take some of the best comics and give them a never-before-seen set list ("set list" meaning the list of subjects, or trigger-words, that comedians write in shorthand to memorize their act) and watch them pretend like its their own while they actually improvise the entire show. It is possibly the biggest guarantee that you will see something unique and memorable at a standup show. During this one specifically, a desperate Jon Dore ignited genuine awe when he gargled a bottle of ketchup. Set List plays all over LA, if you're ever in the area, the recommendation could not be higher.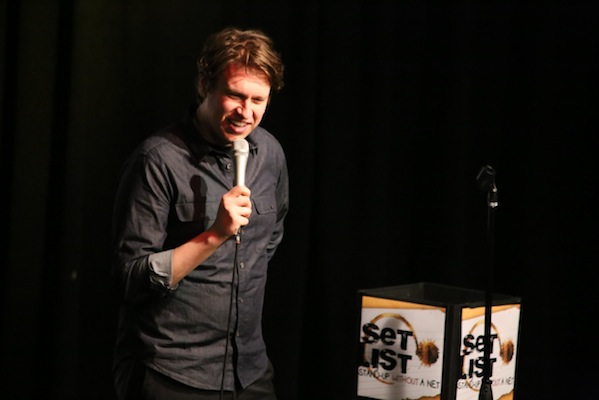 Pete Holmes improvises his never-before-seen Set List at Cobb's Comedy Club on Feb. 1, 2013. The 12th annual SF Sketchfest is held in 26 venues in San Francisco from Jan. 24 - Feb. 10, 2013. Photo by Troy Conrad.
Meltdown with Kumail Nanjiani and Jonah Ray with Jon Dore, Bobcat Goldthwait, Pete Holmes, and Brent Weinbach at Cobb's Comedy Club
Arguably the best Comedy Show in Los Angeles, Meltdown is a weekly show run out of the back of a comic book store. Meltdown Comics has become the hot spot on Wednesday nights because of its fun atmosphere, cohesive co-hosts, solid line-ups and noteworthy drop-ins from such stand up stars as Drew Carey, Louis CK and Robin Williams. The energy was incendiary. Every comic killed. There was a gut-busting good drop in from Doug Benson. And there are no better hosts in the world than Jonah Ray and Kumail Nanjiani. Also featured on the show was Pete Holmes. Host of the popular Podcast, You Made It Weird, nobody makes me laugh harder and faster than this comic on the rise. Meltdown is a staple of the LA comedy scene and perhaps the most exhilarating show to see the greatest comics in town.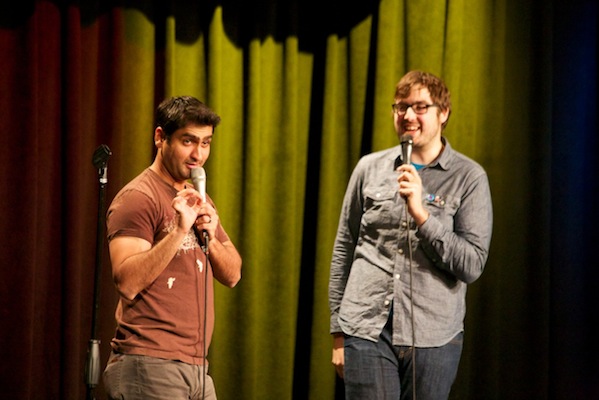 Kumail Nanjiani and Jonah Ray host Meltdown at Cobb's Comedy Club on Feb. 1, 2013. Photo by Troy Conrad.
The Bitter Buddha with Eddie Pepitone at the Roxie Theater
Though comparisons are drawn, there is absolutely nobody quite like Eddie Pepitone. One of the true hidden gems of Sketchfest was this simple, insightful documentary about the aging comedian who's poetic screaming and sociopolitical commentary is painfully hilarious. There are many great comics in the world, but Eddie Pepitone is an artist. He attempts to extract explanations for the horrible disease known as the human condition. He is a shaman of the disenfranchised. A crazed preacher for agnosticism. And he's the closest thing in today's world to Carlin or Kinison. He destroys the audience with a full assault of passionate, poignant pontification. And Steven Feinartz captures Eddie as a brilliant performer, prolific philosopher and gentle human being. The Bitter Buddha has the means to entertain and surprise a mainstream audience as well as emotionally affect hardened cynics.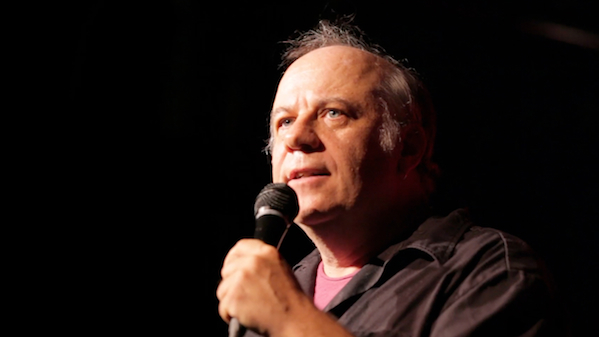 Photo by Bitter Buddha Movie LLC
The Benson Movie Interruption: The Notebook with Doug Benson and Surprise Guests at the Roxie Theater
Comedy is a versatile, flexible form of entertainment. The only true rule is it has to be funny. And I remember one of the funniest things from my adolescents was Mystery Science Theater. For those who don't know, the format is simple: Watch a bad movie and make fun of it (similar to a DVD commentary track, except everybody is sarcastic and silly). Doug Benson has since adopted that format and applied to more contemporary movies with The Benson Movie Interruption. During the course of the festival he and a few of his comedy buddies interrupted Catwoman, Anaconda, The Notebook and Twilight. For The Notebook interruption he welcomed Jonah Ray, Matt Mira and Matt Besser. The jokes were fast and furious against the backdrop of a chick flick that, as Benson put it, "Dudes seem to enjoy." This show is a refreshing alternative to traditional stand up.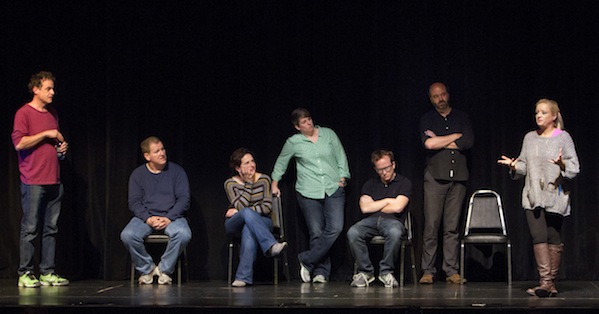 Upright Citizens Brigade's long-form improv show A.S.S.S.S.C.A.T. features creators Matt Besser and Ian Roberts and guest improvisers Scott Adsit, Chris Gethard, Shannon O'Neill, and Tami Sagher and special guest monologist Lucy Davis at Marines' Memorial Theatre in San Francisco on Feb. 2, 2013. Photo by Jakub Mosur.
Upright Citizens Brigade: A.S.S.S.S.C.A.T. with Matt Besser, Ian Roberts, Scott Adsit, Chris Gethard, Tami Sagher, Shannon O'Neill and Guest Monologist, Lucy Davis at Marines' Memorial Theatre
A.S.S.S.S.C.A.T. is UCB's signature improv form. Adapted from the iO's Armando, in which somebody tells a story and in turn improvisers do a run of scenes inspired by the speakers monolog. The team has a remarkable ability to take pieces of the monolog that were instantly recognizable to the audience, but not just a reenactment of the story already told. When done right, improv feels like magic. Obviously it is not magic. Clearly these are highly skilled performers with many learned tools at their disposal. However, if you're enjoying the ride, it's hard to deconstruct it analytically. In other words, don't be the person who ruins the magic act by pointing out how all the tricks are done. Just sit back and enjoy the comedy wonder. And that is exactly what I did. UCB has made quite the name for themselves, and after watching one A.S.S.S.S.C.A.T. it's not hard to see why.
All in all, SF Sketchfest 2013 was a great, big grab bag of laughs featuring a variety of memorable events and dynamic performances. There's nothing quite like live comedy, and SF Sketchfest definitely does it right.