You can't hurl a radioactive spider on Santa Monica Blvd. without hitting an actor/writer/director/whatever in mid-conversation about what theatre is or should be. After watching the Theatre Unleashed production of The Spidey Project, this journalist has decided once and for all, that above all else, theatre is and should be fun. The Spidey Project succeeds where so many bloated-budget productions fail. Through carefully controlled chaos and moments of pure inspired effort, this superhero musical radiates spirit with astoundingly great power.
The original concept was the brain child of Justin Moran. While another Spider-Man musical was planning on opening with a budget that could clothe and feed several impoverished countries, Moran made a simple YouTube video explaining his idea. "With a budget of $0, having no preconceived notions at all, I'm going to do a Spider-Man musical in New York City that will open before Spider-Man: Turn Off the Dark... So it's 31 days to write, score, cast, rehearse, tech, costume, advertise and open a show." And that is just what he did. "Maybe we can prove that you don't need $65 million to make a good musical." Teaming with composer, Doug Katsaros and aided by the failures of Julie Taymor, Moran proved without any doubt, money does not equal art nor success.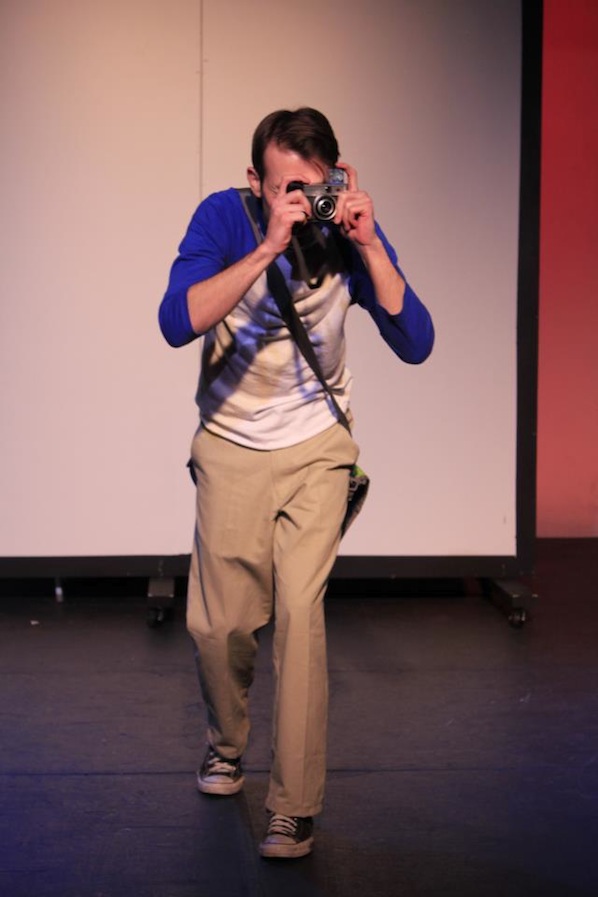 Ryan J. Hill as Peter Parker in The Spidey Project. Photo Credit: Alicia Reyes
With a cast of characters as colorful as any cartoon or comic book, the Los Angeles premiere of the friendly neighborhood musical continues with the same vigor put forth by Moran. Ryan J. Hill explodes from all angles as the death-defying, building-bouncing Spider-Man and his mild-mannered, alter-ego, Peter Parker. Kyle Cooper's unyielding commitment to over-the-top antics is unparalleled as Parker's arch nemesis, Flash Thompson. Darren T. Mangler has a much more subtle approach as Uncle Ben, and he performs a stand out number that hints at a deeper meaning in the themes woven throughout the play.
Though the action is often silly and stylized, and the show never takes itself too seriously, there is something that lies beneath the surprising stunts and witty one-liners. The most prevalent idea in the 74 minute spastic adventure is that of ordinary heroes. In the opening moments Peter Parker laments that nobody knows his name. And in Uncle Ben's solo, he proclaims that he is a hero for paying his bills on time and looking out for his family. This concept of extraordinary within the ordinary is what Spider-Man is all about. The entire foundation on which this play was built ($0 budget) becomes a metaphor for that nerdy, clumsy, nobody that resides inside of all of us. That ordinary hero bursts out and realizes that, "With great power comes great responsibility."

Are there flaws? Yes. But who cares? This is head-spinning amusement at its best. Simultaneously edgy and energetic, the show is a true delight. With so many people constantly trying to put theatre in a box, it is comforting to know, out there among the shadows, defending truth and justice, there is Theatre Unleashed.
For tickets and more information, visit www.theatreunleashed.com