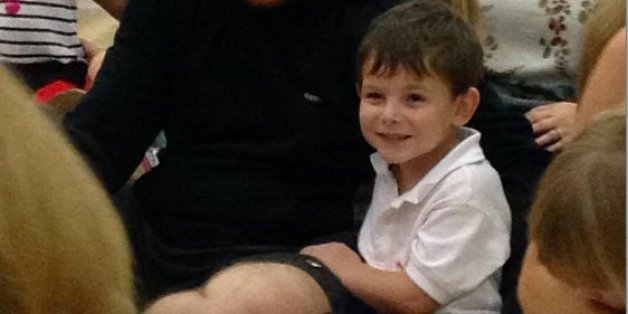 One of the many joys I have in life is taking my son to school. It is a nice half hour of bonding time where we talk and listen to music.
We mostly listen to music. I have a Sirius satellite radio in my car, so we are able to listen to a variety of music. He truly likes all kinds of music, but mainly pop. In fact, I do not really know a song he does not like. I know is favorite at the moment is "Counting Stars" by One Republic. He also likes "Animals". He thinks crocodiles sing the song.
He also remembers every song he has heard and can tell me the name and artist. It is pretty amazing for a 4-year-old, actually. I can barely remember to pack his lunch, yet he knows that Paramore sings "Ain"t It Fun."
The other day, we were listening to a station called "The Blend" and one of my favorite songs came on.
"Livin' On A Prayer" by Bon Jovi started up. I started to hear the "Mmmmmmm... wooowooow!" at the beginning.
I got excited and told my song he is going to love this because it is the best song ever!
My son got mad and said that was not the best song ever. He said that One Direction sang "Best Song Ever".
I guess if my son wanted to take me to court on that subject, he would win. Technically, One Direction does sing the "Best Song Ever."
That bothered me for the moment. Because I wanted my son to appreciate "Livin' On A Prayer."
So, I started to tell my son the love story of Tommy and Gina.
Livin' On A Prayer is a story like no other. It starts out with Tommy, who used to work on the docks. The union has been on strike, so he has been down on is luck. Many would say it is tough for him. So tough.
Gina, who loves Tommy, works in a diner all day. She works for her father and she brings home her money. Do you know why she brings it home? For love. FOR LOVE!
Gina tells Tommy that they have to hold on to what they have got. If you look at it from their perspective, it does not make a difference if they make it or not. See, Gina and Tommy have each other and that is a lot. For love, they are going to give it a shot...
My son told me he wanted to listen to the radio and not listen to my story. I told him I could not stop the story. I was halfway there.
"Halfway to school?" my son asked.
"No son. I am talking about Gina and Tommy living on a prayer. They took each other's hands. They will make it I swear!" I said.
"You should not swear!" my son added.
"Okay, let me finish the story, please." I said.
"No! I want to hear the song. I like it." My son said.
I did not go on with the story of Tommy and Gina. Instead, I told my son that One Direction does not sing the best song ever. Bon Jovi does. And anything else is untrue.
My son is 4 and honestly, that is a cool age for a dad. He thinks I am smart and funny. He things I am an amazing athlete because I can throw the ball in the air. He wants to do things like me and we like the same music.
I know that will change soon. I will not be the cool dad. My son will want me to drop him off far away from his friends. He will not want to spend time with me. A lot of kids are like that and I am prepared for it. Which is why I enjoy the time with him now.
I love that we can bond about music now. He will not like the same music as I do in a few years. He will listen to some music that I think it noise and he will tell me that the music I like is not cool. It happens to every generation.
But yesterday, when my son and I were at the store I looked at him and asked him a simple question...
"Who sings the best song ever?"
He told me Bon Jovi.
And for a brief moment, I felt like I taught him a great music lesson.