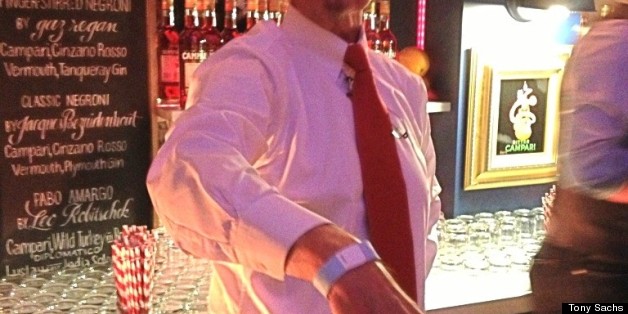 This was, according to a lot of naysayers, the year the Manhattan Cocktail Classic was going to crash and burn. A mere four years after its inception, it had gotten too big, too corporate, too expensive, too... uncool. A few high-profile bars decided not to participate. A whole lot of industry folk decided not to hit the opening night Gala -- either because they'd been turned down for free passes or they'd been turned off by the previous ones. Worse yet, the upstart festival Googa Mooga was scheduled for the same weekend in the cocktailian hipster mecca of Brooklyn.
Well, surprise surprise. In many ways, this turned out to be the best MCC yet. And judging from ticket sales -- most of the dozens of events during the four-day Classic sold out almost instantly -- it was the most successful as well.
I only have one liver, and I lack the particle generator which allows me to be in multiple places at one time, so a comprehensive first-person recap of the entire MCC is impossible. And of course the copious cocktails I swilled throughout the proceedings makes total recall a little challenging. But based on my foggy memory and barely-legible notes, here is one humble booze writer's recap of a most incredible cocktail-soaked weekend.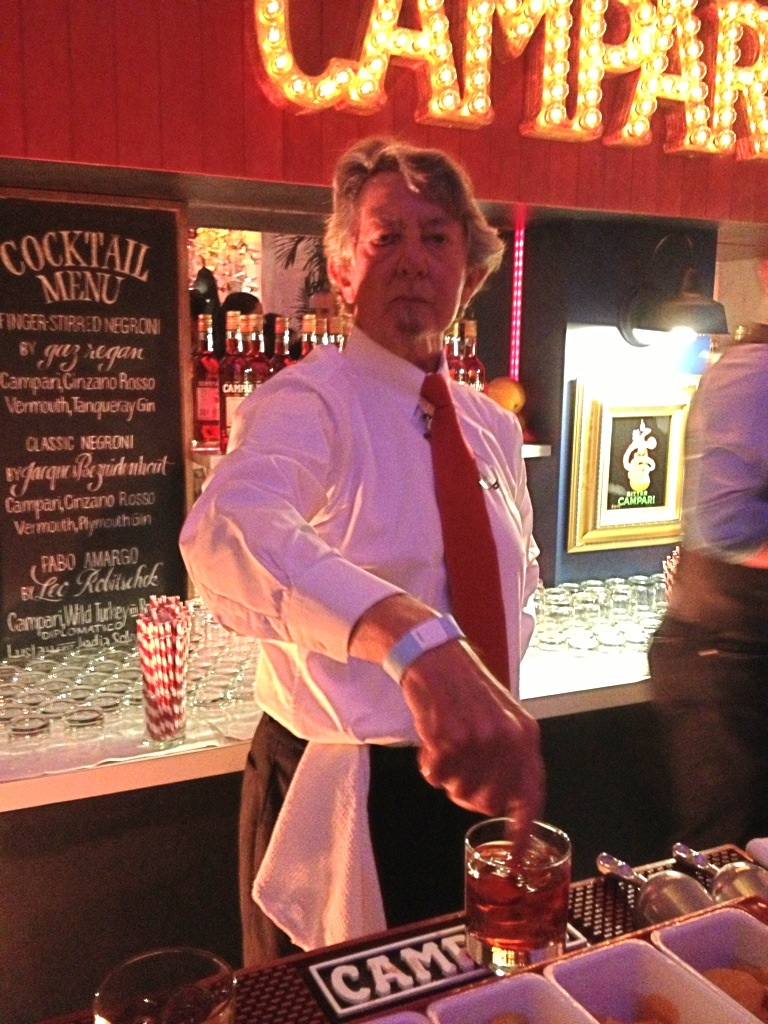 FRIDAY NIGHT:
The Gala, a "salty black-tie" affair, kicked off the festivities. The MCC Gala is known to people in the industry as the cocktail equivalent of New Year's Eve -- in other words, Amateur Night. Those of us who didn't choose to skip it showed up at the Library with some trepidation, expecting long lines to get in, sweltering temperatures once we were actually inside, not enough food or water, huge crushes and interminable waits at the various cocktail stations... all problems that had plagued earlier Galas. And at $195 plus tax for a ticket -- $295 if you wanted to get in an hour earlier and be a VIP lush -- the inconveniences weren't going to come cheap.
But there were no lines. There was plenty of (delicious) food and (oh-so-satisfying) water. The crowds were manageable. The temperatures were not sweat-inducing. And the cocktails... well, the cocktails were spectacular. I started off with a finger-stirred Negroni at the Campari table, which may sound a little disgusting, except that the digit in question belonged to the legendary Gaz Regan, a man who has ingested so much alcohol over the years that germs cannot survive anywhere on his body. It is always a pleasure and an honor to be in Mr. Regan's presence, even if he was situated directly below a speaker blasting music at levels requiring us to communicate in sign language.
With four floors of great music (most notably Michael Arenella's Dreamland Orchestra playing Gatsby-era jazz), tremendous food (sesame noodles and tea sandwiches in direct proximity? Have I died and gone to heaven?), and of course amazing cocktails (kudos to The Liquid Chef's Smokey Tamarindo, my favorite of the night), this was an amazing Gala.
But what lifted it into the annals of legend was the New York Spirits Room, devoted entirely to made-in-New York spirits. Apparently Governor Andrew Cuomo himself had a hand in making the New York Spirits Room happen. But to whomever was responsible for it, I tip my hat. Two dozen of New York's finest distilleries, ranging from brands I've loved for years like Tuthilltown Spirits to newbies like Industry City, got a chance to strut their stuff. And strut they did -- between the cocktails and the straight-up-in-a-plastic cup samples, I tasted nary a bad one in the bunch. The fact that it was one of the only air-conditioned rooms in the place made it one of the coolest spots at the Gala literally as well as figuratively.
I finally tore myself away from the festivities around 12:30, though not before inhaling some pulled chicken sliders and guzzling a few last cocktails from the likes of Geijer Glogg and Gosling's Rum. Which probably wasn't a good idea, because the next three days posed an endurance test from which only the hardiest of mortals could emerge unscathed. And the heartburn which kept me up most of the night proved I was no hardy mortal.
COCKTAILS CONSUMED (partially, of course -- if I'd finished all of them I'd be writing this from my hospital bed): 25, give or take.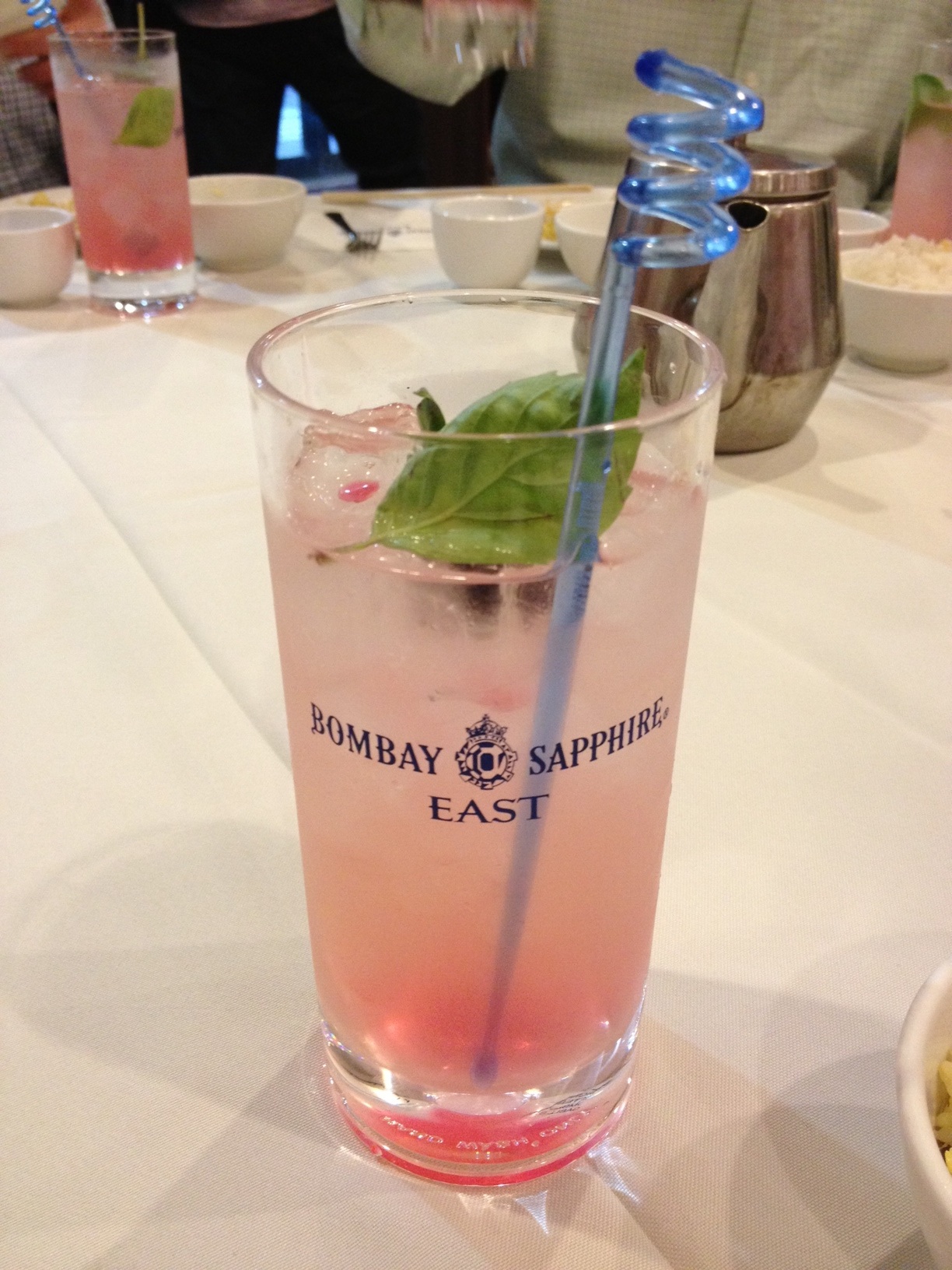 DAY 1: SATURDAY
I showed up at 11:00 Saturday morning at the fabulous Hotel Andaz for the beginning of the real Cocktail Classic, a four-day orgy of cocktail-centric events spread liberally throughout Manhattan and Brooklyn. For journalists, bloggers, distillers and others involved in the booze biz, the Andaz was either the hub of activity for tastings, seminars, conferences and general schmoozing -- or the ghetto to which we'd all been relegated. For the last couple of Cocktail Classics, there's been a wall thrown up separating industry insiders from the public at large. While I understand that the MCC has gotten too big and too popular for all the media folk to have unlimited access to every event, it still kind of sucks. Which is why I'd arranged to weasel my way into a couple of public events rather than sticking around for seminars all day.
Not that the seminars at the MCC Industry Invitational were boring. On the contrary, the ones I've attended in the past have not only been fascinating, enlightening and educational, but they get you tipsy as well. The lone seminar I attended on Saturday -- and the only one I checked out the whole MCC, in fact -- was a winner. The Barrel Around The World, hosted by spirits summa cum laudes Steve Olson, Elayne Duff and Camper English, detailed the history of aging various spirits in wood, the methods of aging, and why different types of wood aging (the solera method, for example) affect the spirit in different ways. They lost me with the tech-speak about two-thirds of the way through, but the drinks (including a stunningly smoky Zacapa Rum aged for a mere week in tiny barrels which had formerly held Lagavulin whisky) made up for it.
Once the seminar was over, it was time to dash down to famed East Village drinkery Death & Co. for the first of two public events of the day. "Tales From Behind The Bar," which dates back to the beginning of the MCC, generally involves going to a famed New York bar and listening to the owners tell stories about it while drinking their cocktails and eating their grub. Not a bad deal, especially at a tavern that has featured legends-in-their time such as Phil Ward and 2013 Speed Rack winner Eryn Reece. Owner David Kaplan regaled the throng of 50 or so with stories of the seven-year-old bar -- most of them involving legal battles that nearly shuttered the place countless times -- while the staff kept the cocktails and bar bites coming. Two hours and five stunning drinks later (my fave was the "Guns N' Rosé," with overproof Old Grand-Dad bourbon, Lillet Rosé, cane sugar and Peychaud bitters), I was hightailing it to Chinatown for public event No. 2.
Truth be told, I was feeling a little punchy by the time I hit Dim Sum Go Go at Chatham Square for An Epicurean Tour Of Chinatown With Bombay Sapphire East. Seven cocktails before 4:00 in the afternoon can do that to a guy. But I got my second (third? fourth) wind when the dumplings and cocktails showed up. Ace mixologist Philip Pepperdine whipped up some nifty drink pairings to go with the grub, including a watermelon-basil gin and tonic that showed off the lemongrass and peppercorn notes of Bombay Sapphire East. I really enjoyed this event; rather than mingling with the usual writers and industry folk who were busy imbibing at the Industry Invitational, I was "adopted" by a group of 10 or so middle-aged folks from the wilds of New Jersey who love to travel, eat and drink together (sorry I couldn't make it to Cape Cod with you this weekend, guys!). The fun they had rubbed off on me, even though by the time we made it to Chinatown's finest craft bar, Apotheke, for a 7 p.m. "nightcap" I had long since eaten and drunk my fill. I took a perfunctory sip and then staggered out to the rain-soaked street, in search of a cab and a boatload of antacid.
DRINKS CONSUMED: 11.
EVENT I WISH I'D CAUGHT: the Mercedes Club Heering Sling Fling: Singapore Slings and a rooftop putting green. My kind of shindig.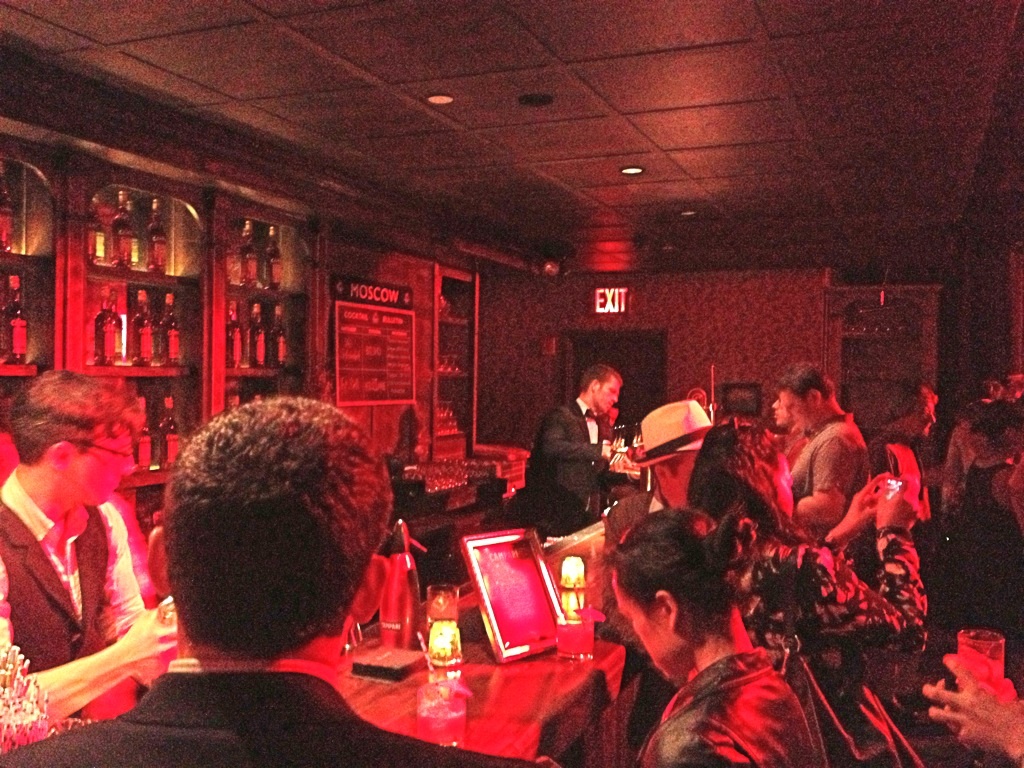 DAY 2: SUNDAY
Unfortunately -- or fortunately, depending on how you look at it -- my day was spent taking care of my two-year-old daughter. True, I missed a lot of fantastic events for both the industry and the public, but my little girl and I did have this priceless exchange:
"Daddy, do you like whiskey?"
"Yes, yes I do."
"When I'm older, I can try whiskey. And I'll say, 'Mmm, delicious!'"
Sounds good to me, as long as she's of legal age before she starts "Mmm, delicious"-ing....
Daytime diaper duty left me in something approaching good shape for the evening's main event, Campari's Fourth Annual Bartender Bash at the lovely Gallow Green in the McKittrick Hotel. It was supposed to be a rooftop affair, but a nasty weekend-long rain (which wound up all but destroying Brooklyn's outdoor Googa Mooga fest) forced us indoors. Nonetheless, a delicious and festive time was had by all. The festivities were capped off by the "wedding" of Davide Campari and opera singer Lina Cavalieri (who have actually been dead since 1936 and 1944, respectively, but who's counting). Ah, love... and Negronis. The event also featured what may have been the best cocktail I had at the entire MCC, The Bolshoi, made by Leo Robitschek of NoMad fame and featuring, among other ingredients, Thai bird chili-infused Campari and beet juice.
At 11:00 the lights came on, but it seemed that nobody wanted to leave; a large number of us, intoxicated to varying degrees, wound up staying and drinking whatever cocktails were left to us until well after midnight. For once, I had my wits about me and did more chatting than drinking.
DRINKS CONSUMED: 4 (or was it 5?)
EVENT I WISH I'D CAUGHT: To Have And Have Another - A Hemingway Cocktail Seminar. A biography in booze, presented by the erudite Philip Greene, author of the book of the same name, and sponsored by Papa's Pilar Rum and Laird's Applejack, both of which I love.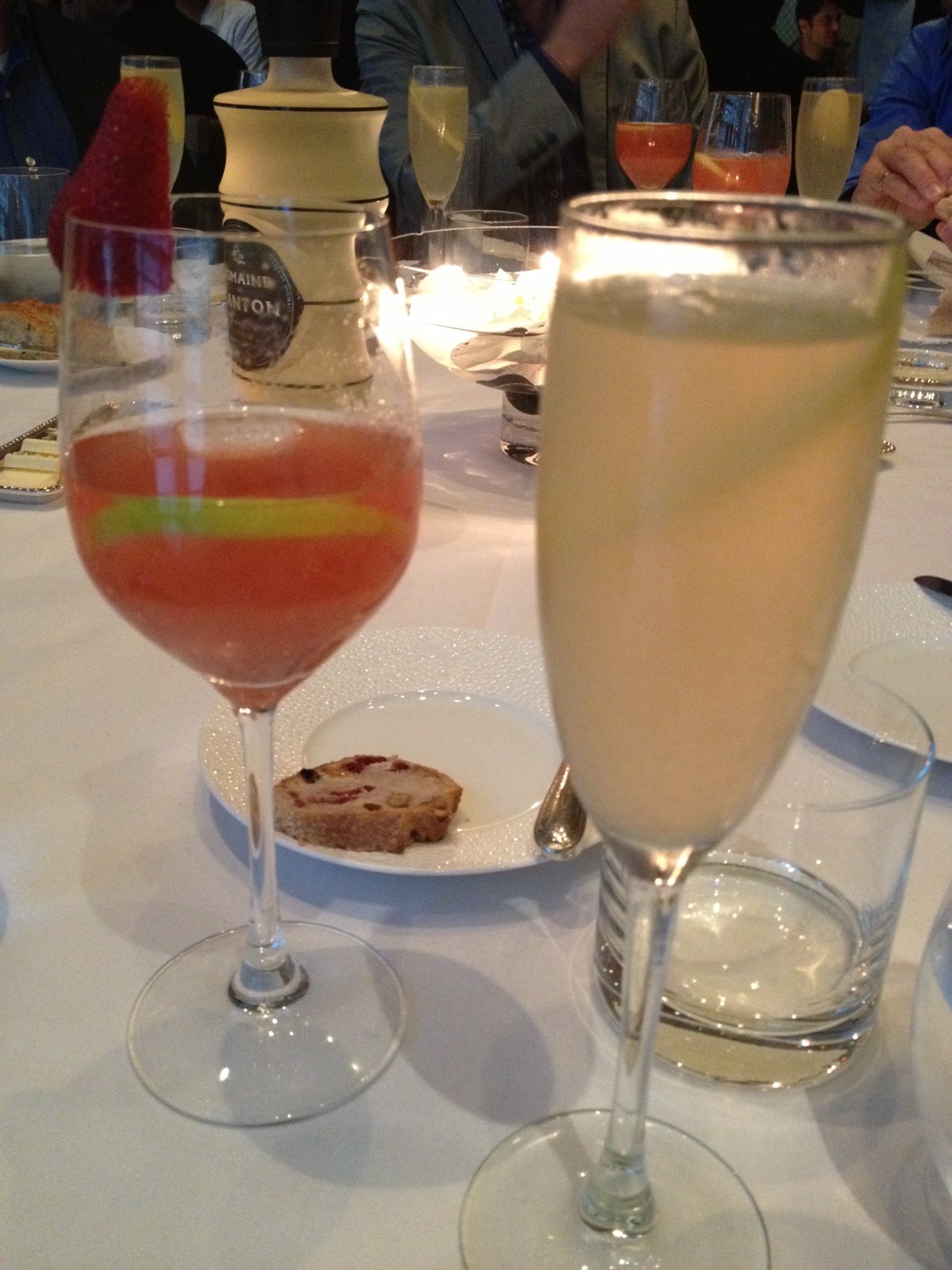 DAY 3: MONDAY
Monday was my Waterloo, my Bull Run, my Dunkirk, my day for using inappropriate military metaphors to describe just how wrung-out and utterly defeated I felt by the time my throbbing head finally hit the pillow that night. It all started innocently enough, with a visit to the Industry Invitational to check out all the day-long tastings and other fun activities I'd thus far missed. The key to doing one of these walk-arounds is to not try anything you've ever tried before, no matter how charming the brand reps are and how delicious their products may be. My resolve lasted about 10 minutes before I ran into Jack From Brooklyn, creator of the delicious Sorel Liqueur. A couple of cocktails down the hatch (among them the stunningly delicious Ronin, which included mezcal, Cointreau, grapefruit juice and a sparkling sake float) and all bets were off.
Along with visits to old friends like Utah's High West Distillery (makers of a superb new bottled Boulevardier cocktail) and Anchor Distilling (they're now importing Nikka Japanese whiskies), I made some new friends as well. The friendliest one (at least to my taste buds) is Sacred Gin, a gorgeous, perfectly balanced London Dry. They also make gins and distillates that emphasize different botanicals used in gin -- my favorite was the Cardamom. Equal parts fascinating and delicious.
I drank more in three hours than I normally imbibe in three weeks, and I'm not going to say I didn't feel it. At some point I found myself standing with MCC Founder/Executive Director Lesley Townsend Duval -- from what I can remember, most of the "conversation" involved me saying things like, "I thought this year was gonna SUCK! But it's fuggin' GREAT!" Thankfully, I'm sure she's accustomed to dealing with drunk writers by now, and handled the situation with appropriate grace.
I still had a night of dining and boozing to look forward to -- or, in my case, to dread. I made it home for a quick nap, shower and change of clothes before dashing off to Le Bernardin, one of New York's finest restaurants, for a dinner/cocktail pairing sponsored by Domaine de Canton ginger liqueur. My hangover was already a-brewing when I traipsed in, perspiring heavily, with my collar popping up and my jacket sporting three perfectly symmetrical oil spots (I still don't know where they came from).
The five course dinner, prepared by Chef Eric Ripert, was stunning. The six Domaine de Canton cocktails, created and mixed by Simon Ford of The 86 Co. fame, were excellent (my favorite, simply called "Jackie," employed grilled pineapple, Caña Brava rum, Banyuls vinegar and soda). My dining companions, all non-industry folk who simply loved great food and drink, were lovely. Had my head not been pounding and my stomach churning throughout the festivities, it would have been the unquestioned highlight of my year. As it was, it was still pretty incredible. But if you see me skip out on Le Bernardin petit-fours, you know I am not a well man. And on this night, I gave the petit-fours the slip as I went off in search of cold water and Excedrin to ease my pain.
DRINKS CONSUMED: 17 (yes, I kept count).
EVENT I WISH I'D CAUGHT: Palomapalooza!, presented by Camper English. Camper is a true spirits scholar and a fine gent, and I'm bummed I couldn't geek out with him over a bunch of Paloma variations (if you don't know, a Paloma is tequila, grapefruit soda, lime and a little salt).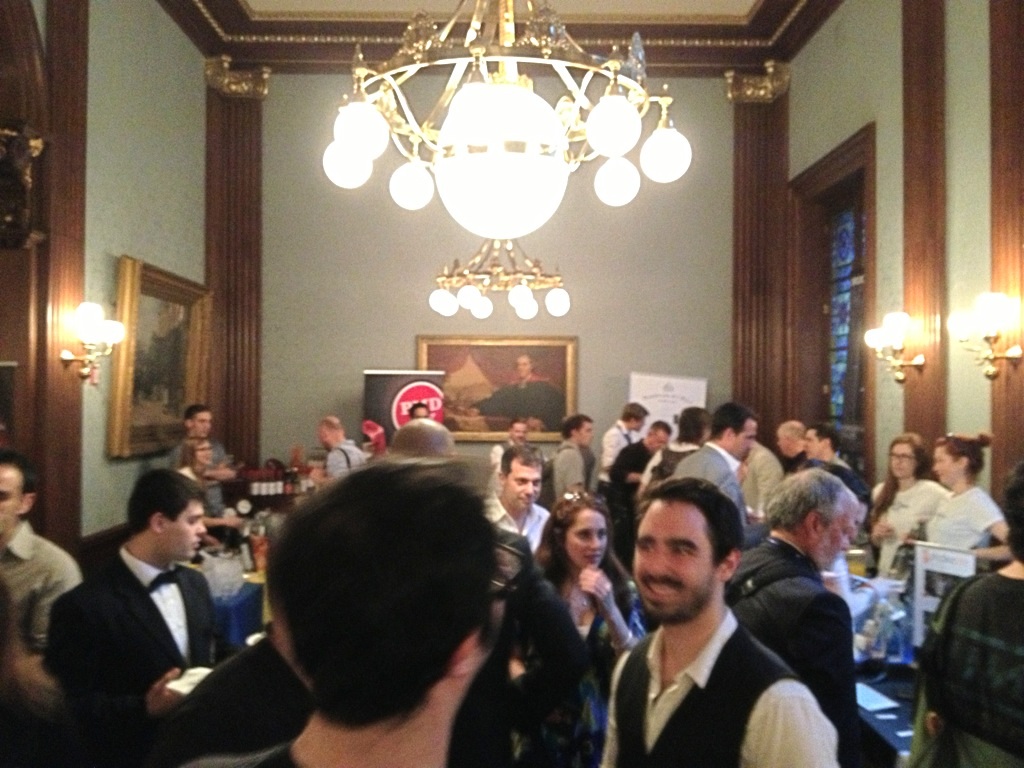 DAY 4: TUESDAY
For the public, the MCC ended on Monday. But for the rest of us, there was still one more event to go, and it was a biggie: the Indie Spirits Expo, where a bunch of small distilleries and their eager brand reps gather in a couple of rooms and the lucky invitees walk around drinking their wares. Could there be anything more awesome? If you're me, the answer is No. Although some air conditioning at the swanky Penn Club, where this year's Expo was being held, would have been nice. Tuesday was warm and humid and I'd hustled over from a subway which had no a/c to find myself in a slightly stifling environment that produced a sweating jag worthy of Albert Brooks in Broadcast News.
Once I'd finally dried off and rehydrated, I had a ridiculously good time, and tried more amazing, relatively little-known spirits than you can shake a stick at, depending on your stick-shaking abilities. Corsair, best known for their American malt whiskies, knocked me out with their Quinoa Whiskey. New Holland Artisan Spirits make a brilliant bourbon finished in beer barrels, as well as a malt whisky steeped in hops which is unlike anything I've ever tried. The French distillery Merlet makes mind-blowing liqueurs and first-rate cognac. 300 Joules makes lemon and ginger liqueurs that would convert almost anyone who normally hates the sweet stuff. Pierde Almas mezcal is smoky, spicy, funky, and may make you forget all about tequila. And so on.
For once, the booze didn't get the best of me. I don't think. My memories of the rest of the day are a little hazy. But if I did anything embarrassing, my wife isn't telling me.

DRINKS CONSUMED: 21 (granted, they were tiny sample-sized cups).

EVENT I WISH I'D CAUGHT: Social Mixology: Unchained, at the Hotel Chantelle. I actually have no idea whether this was really part of the MCC or not, but based on what I've heard, there were some crazy drinks being made.
I used to think that the MCC was all about education -- teaching people to drink by having experts guide them through fun events, with the result being fewer people who go through life drinking boring old vodka-tonics or margaritas made with bottled mixes. But having mingled with people whose lives are not centered around spirits and cocktails, I realize that's not the case. Sure, if you want to really learn about alcoholic beverages, the MCC is a great place to do it. But the people I met just wanted to have a good time in New York, and have a few good cocktails along the way. It was all about having fun. Which I -- and I can think I can speak for most of us who attended this year as well -- certainly did.