I started this piece out by writing about two new tequilas for Cinco de Mayo. Then I realized that it's also Kentucky Derby weekend, and hey, there are some good new bourbons out there as well. And then I tried a few really excellent new rums, a great Japanese whisky, some Chinese baiju, and... what was conceived as a little tequila blog became a global booze extravaganza. So sue me. There's more to life than tequila and bourbon, even on Cinco de Derby weekend. And on May 6, when you're margarita'd and mint julep'd out and are looking for a change of pace, you'll thank me.
All these spirits should be generally available, some more so than others (not every Liquor Barn will be carrying a $1,200 rum, for instance). But they're all worth tracking down.
BOURBON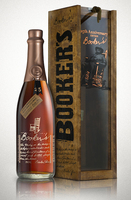 BOOKER'S 25TH ANNIVERSARY BOURBON (65.4% alcohol by volume, aged 9-11 years, suggested retail price $100). The Booker behind Booker's was Booker Noe, the grandson of Jim Beam and the man who's more responsible than anyone in the industry for changing how bourbon is perceived. A quarter century ago, when he first gave bottles of this small-batch, uncut and unfiltered whiskey to friends and family for Christmas, bourbon was considered bottom-shelf booze. Today, the good stuff is as revered as the best Scotch single malts. And this is indeed the good stuff. Booker Noe died in 2004; his son, Fred Noe (who's followed in his father's footsteps and is doing his legacy proud) is commemorating the 25th anniversary of those first bottles by bottling the last barrels that were laid down by Booker himself. They're 10-11 years old now, older by a few years than standard Booker's. As with any Booker's you'll try, this is a big whiskey. And by big I mean huge, colossal, gargantuan. It explodes with flavor -- caramel, cinnamon, a little cherry, a bit of clove -- and coming in at almost two-thirds alcohol, it packs quite a spicy wallop as well. But since this is some really well-made hooch, it doesn't burn going down, and despite the extra age, it isn't over-oaked. Wherever Booker Noe is now, I hope he's got a bottle of this stuff and a glass.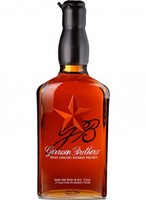 GARRISON BROTHERS TEXAS STRAIGHT BOURBON (47% ABV, aged 2 years, $85). All bourbon must come from Kentucky, right? Wrong! There are several legal requirements for how bourbon has to be made, but location isn't one of them. So let's give a Texas-sized welcome to the first ever bourbon made in the Lone Star State. As with many craft or microdistilleries, Garrison Brothers doesn't age its product for very long, but speeds up the aging process by putting the whiskey in smaller barrels; standard size is 53 gallons, while this stuff mostly rests in 15 gallon barrels. This way, more of the whiskey comes in contact with the wood, and things move a little faster than they normally would. Personally, I wouldn't mind a little more quality time 'twixt the liquid and the oak, but this is far better than a lot of underaged white dog-once-removed swill out there. You can really taste the corn from which it's distilled, but you there's also caramel, cinnamon and brown sugar coming from the barrel. And while it's spicy and tingly, it doesn't burn the way a poorly aged two-year-old can. At $85 a bottle it's on the pricey side, but if you're in an iconoclastic mood on Derby Day, it's worth a shot.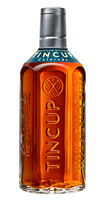 TINCUP AMERICAN WHISKEY (42% ABV, aged 4-5 years, $28). The excitement of trying a new American whiskey is always offset by a little bit of trepidation. Is it a well-made product made by experienced distillers or insufficiently aged booze made by a cash-poor former accountant in a loft in Hipsterville? Of course, some fine whiskeys have come out of hipster lofts, and some duds have come from well-regarded distilleries, but you get my drift. Tincup has a reputable pedigree, as it's made by Jess Graber, the same fellow who makes Stranahan's whiskey. A high-rye bourbon, it's distilled in Indiana, aged there for 4-5 years, and then shipped to Colorado, where it's cut with local, mineral-rich water and bottled at the Stranahan's plant. 4-5 years isn't a whole lot of aging, but to my taste buds it doesn't seem like it needs much more. It's sweet and rich with caramel and vanilla to start with. At mid-palate the rye kicks in with a nice cinnamon spiciness. The finish is comparatively dry, with grain and a hint of wood. A big whiskey that never stops evolving on the palate, and one of my faves of the year so far.
TEQUILA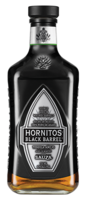 HORNITOS BLACK BARREL TEQUILA (40% ABV, aged 18 months, $30). Tequila has lost a lot of hip cachet in the last couple of years, eclipsed by its badass agave-based cousin, mezcal. And while a good añejo tequila makes for a very fine sipping spirit, it's never really been considered in the same league with whiskey. So it sort of makes sense that the good folks at Hornitos would try to make a tequila that tastes like whiskey. Sort of. How exactly did they do it? After traditional aging in toasted oak barrels for 12 months, it's moved to deeply charred barrels for four months, and then back to toasted oak barrels for a final two months. And sure enough, it's drier, with a more notes of wood and charcoal, than your standard tequila. Of course, there's no mistaking it for Maker's Mark, either -- the ever-present vanilla and agave flavors make sure of that. So while I wouldn't drink Black Barrel when you're in the mood for a bourbon or rye, it's quite good when you're looking for an aged tequila to quaff. And it does make for a nice change of pace in traditional whiskey cocktails -- try it in a tequila Old Fashioned for starters.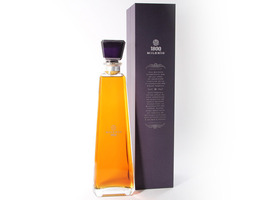 1800 MILENIO EXTRA ANEJO TEQUILA (40% ABV, aged 5 years, $125). Here's another experiment with tequila and whiskey, this time from the higher end of the market. Milenio which is a 5-year-old extra añejo (ridiculously old for a tequila) finished for four months in barrels formerly used to age cognac, is so named because it was first released in a very limited run in 2000. Now it's back for all of us who missed it the first time around. Tequila drinkers who go for the spirit's earthy agave notes may be a disappointed, since the time spent in wood has smoothed out the rough edges and tempered the agave somewhat. That said, whether or not it's a delicious tequila, it's a delicious spirit, full of vanilla and oak and fruity brandy notes. A great way to add a touch of class to your Cinco de Mayo celebration.
RUM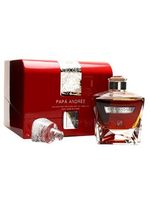 BRUGAL PAPA ANDRES RUM (40% ABV, no age statement, $1,200). When you get down to brass tacks, most consumers still think of rum as the stuff you put in your mojito, rather than a sophisticated sipping spirit. Which is actually great, because it means amazing sipping rums can be had for a fraction of the cost of a comparable single malt. There are a few pricey exceptions, however, the latest of which is this beauty from Brugal, the distinguished Dominican rum producer. Named after the founder of the company, Papa Andres comes from what used to be the family's private reserves. It's a blend of rums from three different kinds of barrels -- ex-sherry, ex-Pedro Ximenez, and first-fill American oak -- and is limited to 500 bottles annually, 70 of which will be sold in the States. Some of the price comes from the fancy-shmancy packaging (stunning crystal decanter in a very handsome box), but this is a high-end rum in the best sense of the word. It's very delicate, taking a couple of sips to really build up a head of steam. Once it gets to cruising speed, you can sense tropical fruits like pineapple, dark fruits (the sherry influence), caramel, and a hint of wood, though less than you'd expect from a rum presented with this much pomp. Is it worth a grand and change? I'm not sure about that, but it's a subtle, immensely pleasurable rum that does the Brugal name proud.

DENIZEN MERCHANT'S RESERVE RUM (40% ABV, aged 8 years, $29). Denizen made its bones with a ridiculously cheap and very decent white rum a few years back, but Merchant's Reserve is a horse of a whole 'nuther color. It's a blend of various aged Jamaican pot still rums and Rhum Grande Arome, a molasses-based rum from Martinique which is only made by one distillery (most rum from Martinique is made using cane juice, which is known as rhum agricole). Supposedly, this combo was used by Trader Vic himself for his mai tais -- a most worthy cat to emulate. Indeed, I made what could possibly be the best mai tais of my life with Merchant's Reserve. And I make a pretty mean mai tai. Merchant's Reserve is big, viscous, and sweet with an earthy, funky edge, all of which work great in a mai tai. The rich vanilla and tropical fruit notes temper the tang of the citrus, while the earthiness keeps the sweetness of the orgeat in check. It's full-bodied enough to keep all the other ingredients in line but doesn't overwhelm any of them. And if sipping rums are your bag, it goes nice in a snifter, too. Having a nip of it neat while whipping up a batch of mai tais is highly recommended.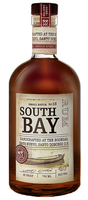 SOUTH BAY RUM (40% ABV, no age statement, $28). If you can't swing the price tag for Papa Andres, or even if you can but don't want to crack open the decanter, here's another sensational Dominican rum for, oh, $1,170 less. Blended using the solera method and aged in barrels which formerly held bourbon, sherry, port or single malt Scotch, you can taste elements of all four spirits -- dark fruits from the sherry and port, a whiff of smoke from the Scotch, vanilla and caramel from the bourbon -- all harmonizing as beautifully as a street corner doo-wop group. It's rich and buttery, but dry and woody enough so you know this isn't kid's stuff. If anyone still needs convincing that rum is a sipping spirit as glorious and refined as whisky or cognac, a glass of South Bay (or the Papa Andres, if you're feeling generous) will convert the unconverted.
OTHER STUFF

BYEJOE RED BAIJU (40% alcohol by volume, not aged, $30). Not familiar with baiju? Then you're obviously not from China, which is responsible for most of the billion-plus cases of the stuff sold each year. Almost none of those sales were in the US, a situation which Byejoe seeks to replicate. Baiju is a clear, sorghum-based spirit which tastes like... well, I'm sure it tastes somewhat different than Byejoe. It purports to be authentic Chinese baiju which, once it reaches Western shores, is further distilled and diluted from 100-120 proof to 80 proof. But even though this is a dumbed-down version of the real thing, it's still pretty interesting. It's closest in flavor to white rum, though the sorghum adds a funkiness familiar to anyone who's had pancakes with sorghum syrup instead of maple syrup or molasses. It's oddly appealing neat, more so on the rocks, and I'll bet it would make a nifty alternative to light white rums like Bacardi in rum cocktails. I can't wait to do an A-B taste test with Byejoe and authentic Chinese baiju... once I can find the real thing.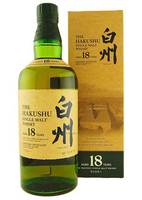 HAKUSHU 18 YEAR OLD SINGLE MALT JAPANESE WHISKY (48% ABV, aged 18 years, $200). Every time I try a good Japanese whisky, I think to myself, "Self, why don't you drink Japanese whisky more often?" The answer is simple and slightly pathetic. There's so damn much great whisky (and whiskey) being made all over the world that possessing a working knowledge of even one region of one country is a pretty big deal. So for me at least, Japan and its whisky is a Pandora's box that I'm a little bit intimidated to open. That said, Hakushu 18, made by the folks at Suntory and making its American debut after being on the Japanese market for several years, is tremendous. Compare it to Hakushu's 12 year old bottling (maybe my favorite Japanese whisky) to see what a difference six extra years in wood makes. The 12 is luscious, sweet and fruity, while the 18 mutes those flavors somewhat and adds oak, spice and smoke to the mix. The 12 is vibrant, the 18 refined and mellow, and they're both worth your time and money.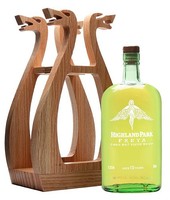 HIGHLAND PARK FREYA SINGLE MALT SCOTCH WHISKY (51.2% ABV, aged 15 years, $275). I used to think that the Valhalla collection -- a series of four whiskies created to honor the Norse gods that were once worshipped on the Orkney islands where Highland Park's distillery is located -- was rather silly and far-fetched. But Thor and Loki, the first two in the series, are no joke, even if their bottles are housed in what looks like a Viking funerary ark. The third up is Freya, the goddess of fertility and motherhood as well as the goddess of the Norse version of the afterlife. You'd expect a whisky made with her in mind to be multi-dimensional, and that's exactly what Freya is. It comes on surprisingly sweet, all honey and apples and pears and apricots, but peppery spice and oaky notes quickly come to the fore. The finish is short, dry and intense. Whether or not you care about the mythology associated with Freya, this is a truly astonishing whisky -- the best of the Valhalla Collection so far and some of the best booze I've tried this year, period. Hoarders take note, this is a limited edition. It costs a pretty penny, but it's well worth it.