Scotch whisky has been around for an awfully long time -- more than 500 years, in fact. By now you'd think that every visionary distiller and novelty-minded charlatan would have explored and exploited every possible wrinkle in the whisky-making process. But every now and then a whisky comes along that's produced in a genuinely new way. In fact, Nomad Outland Whisky is so different that it can't even be called Scotch.
So what's the big deal? Nomad is a blended whisky that's been matured in sherry casks -- ho-hum, been there, done that, bought the kilt. But in fact, Nomad Outland Whisky actually is a big deal. You've never heard of "Outland" whisky before, and that's because the folks at Gonzalez Byass (the Spanish company that's new to spirits but famed for its Tio Pepe sherries) are trying to create a whole new whisky category. Yes, it's made from Scottish malt and grain whiskies, 25 single malts and six grains, to be precise, and yes, it's distilled and aged in Scotland.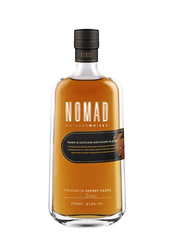 But here's the twist. Normally, when whiskies are sherry cask-matured, the liquid is moved into barrels that have formerly held sherry -- barrels which have been brought to Scotland from Spain. The big difference with Nomad is that the whisky is brought to Spain from Scotland. That means the sherry casks are still "fresh," not having had the opportunity to dry out in transit, and the whisky ages in the warm, humid climes of Jerez, rather than cold, clammy Scotland. The result is an intensely rich dram that takes sherried whisky to a whole 'nuther level. Each sip brings to the fore toffee, raisins, marzipan, caramel, almonds and walnuts, dried apricot... a veritable fruitcake in a glass.
Nomad is blended by the legendary Richard Paterson, master blender for Whyte & Mackay and the master distiller of The Dalmore's stunning line of single malts, in conjunction with Gonzalez Byass' master blender of sherries, Antonio Flores. The whiskies, mostly from Speyside and aged 5-8 years, are blended and aged in sherry butts in Scotland. They're then shipped off to Jerez, where they're aged for at least another 12 months in used Pedro Ximinez casks in the cellars of Gonzalez Byass, whose Tio Pepe sherries are among the best known in the world. The final product is bottled at 41.3% alcohol by volume (82.6 proof). Paterson says that proof gives it a robust flavor, but it's smooth enough so it doesn't need water or, heaven forbid, ice (Paterson is a notorious foe of ice in whisky, prone to throwing cubes across a room when rankled).
To add another stamp to Nomad's passport, it was launched in Taiwan, Asia's most influential whisky market and the sixth largest single malt market in the world, despite having a population less than 1/10th the size of the U.S. Taiwanese love sherried whiskies --ᅡᅠMacallan, famous for its sherry cask-matured expressions, is the most popular brand there -- so the flavor profile caters to the national taste buds. However, Taiwan is one of the only places on earth where single malts are more popular than blends; in the rest of the world, more 90% of the Scotch whisky consumed is blended. And ironically, Nomad's very reasonable $35 price tag may work against it to an extent in Asia, where whisky is seen as a luxury item and a status symbol.
So far, however, the response in Taipei has been positive, especially among bartenders, who have been encouraged to play around with it in cocktails, despite Richard Paterson's emphasis on trying it unadulterated. And the price tag reinforces that Nomad is a whisky that's meant to be drunk, not stuck on a shelf and admired. Whisky drinkers in the rest of the world will get to do both when it's released this fall. Will "Outland whisky" become a thing? I get the sense this is only the beginning of whisky cross-breeding (Jura's new Brooklyn expression has the idea down, even if the whisky wasn't aged in Williamsburg). But even if there's never another one, Nomad proves the experiment was a success.