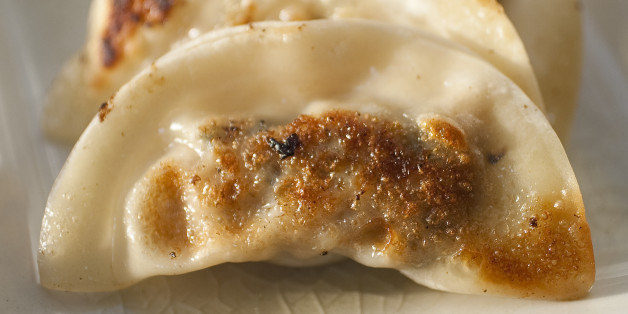 I got the blues. And not just any blues. I got the mean, lowdown, soul-sucking, mothertrucking B-L-U-E-S blues. Now, there are lots of ways to combat what Cole Porter called "the old ennui." Drinking too much, drugs, writing pathetic songs... all tried and true blues battlers. But when I drink too much, the next morning I wake up with the blues and a hangover to boot. Drugs? Most of 'em are illegal, and having the blues in prison is a serious bummer. Prescription drugs are OK, I suppose, but they're so cliched. And speaking of cliched, if you'd ever seen the songs I write when I had the blues, you'd know why I don't write songs anymore.
No, the best way to chase those blues away is to fill the empty hole in your soul with as much Asian food as possible. It is a proven scientific fact that a sentient human being cannot have the blues while eating a dumpling. So if you're anywhere near New York City, it only makes sense to get your blues-infested self (whether or not you have the aforementioned blues) to Mimi Cheng's, the Taiwanese house of dumplings and joy which opened on 2nd Ave. over the summer. Named after the mother of the two owners, who took Mom's dumpling recipes as well, Mimi Cheng's offers a pretty simple menu -- dumplings, dumplings, and more dumplings. Oh, and a side veggie, which I've never gotten because it would take up valuable dumpling space in my belly. They serve chicken, pork, and veggie dumplings, all made with organic, free-range, pasture-raised ingredients.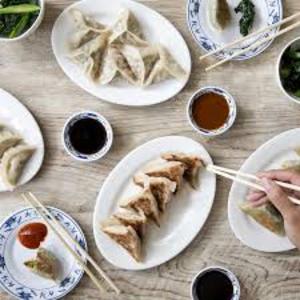 The fillings stray from the tried and true; the chicken dumplings, for instance, contain zucchini, as do the veggie dumplings -- along with kale, egg and mushroom. The dipping sauce (ingredients a top secret!) is to die for, and to top it all off there's an insanely decadent, banana stuffed dessert dumpling with chocolate sauce.
Another guaranteed blues-chaser is Thai food. The lemongrass, the peanuts, the sweet-spicy combo duking it out on your tongue... so delicious. But if you're looking for something a little off the beaten path, try the Isan cuisine of northeastern (as opposed to central) Thailand as whipped up by Somtum Der on Avenue A. Isan cuisine turns down the sweet and turns up the heat, and it also employs a unique, fairly powerful fish sauce called plaara. As a result, the peanuty dishes taste less like peanut butter and more like peanuts; the papaya salad is more mouth-tingling and fishy (in the best possible way); the dipping sauces pack a real wallop. A nice way to experience it all is with their new specialty sharing platter, called Tum Dong Der. You get smallish portions of a dozen or so different dishes, from salted hard boiled eggs to noodles to gorgeous cold tofu (at least I think it was tofu; whatever it was, it was delicious) to immaculately fried shrimp. Speaking of fried, their fried chicken thighs are a brilliant change of pace from the Korean fried wings that are becoming ubiquitous in NYC. Somtum Der's are crisp, moist and incredibly flavorful, and come with a spicy dipping sauce that doesn't wind up all over your mouth and fingers... unless you really want it to.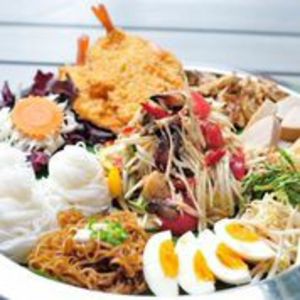 Having been warned about how spicy Isan cuisine can be -- and how authentically spicy Somtum Der is supposed to be -- I ordered my dishes medium spicy. But I didn't just want to chase my blues away, I wanted to nuke them out of existence. So for the last dish, I told the waiter to choose a dish he liked and go all out with the hot stuff. He brought me Larb Ped, a spicy minced duck salad over vermicelli noodles. The burn was subtle at first, but it grew steadily and hit a pretty intense peak. But it was also flavorful and delicious, not just heat for heat's sake. My taste buds emerged slightly singed but otherwise none the worse for wear.
If, after all that deliciousness, the blues still haven't vacated the premises, you need to slurp them into submission. And what better way to do that than with ramen? Namely, the Luckyrice Festival Ramen Slurpfest, taking place Thursday night at the Astor Center. The four seatings are on the pricey side -- it'll take a cool $100 for you to get in -- but once you're in, you'll be in ramen heaven, with four different kinds of ramen prepared by four all-star chefs, including Tsujita LA's Kenta Ikehata and Ivan Ramen's own Ivan Orkin.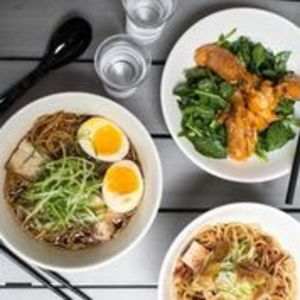 In addition, there will be four different cocktails prepared by Bombay Sapphire East, the official spirit of the festival, each of which are intended for a sip-and-slurp pairing with the ramen. Cocktails aside, the make-your-own gin & tonic station is probably the best way to taste the unusual additions of Vietnamese black peppercorn and Thai lemongrass which complement Sapphire's standard array of botanicals. The catch -- you've got 13 minutes to slurp down each serving of ramen, which is supposedly how long it takes native Japanese to down a bowlful. The plus side -- you'll leave full and quite possibly drunk. And if that's not the perfect antidote to the blues, I don't know what is.