'Twas the week before Christmas, the middle of Hanukkah
And last-minute shoppers had serious agita.
"What do I do? What the hell should I buy?
I still need a gift for my great uncle Sy!
Not to mention my cousin, the one in Mamaroneck
And the guy in my office who looks just like Shrek.
I'm totally screwed -- oh man, I am toast."
But then, to the rescue, the Huffington Post!
My poetry sucks, my rhymes they don't scan
But if you want single malts, then I'm your man.
I've got recommendations for Scotchy delights
That will warm up your loved ones on wintry nights.
All kinds of whiskies at all kinds of prices
To satisfy one of the all-time great vices.
And so I'll get to it before you stop reading
Happy last-minute shopping, and hey, Season's Greetings!
LESS THAN $100

ARDBEG CORRYVRECKAN (Islay; 57.1% alcohol by volume, no age statement, suggested retail price $85). Ardbeg isn't as well known as its Islay siblings Lagavulin and Laphroaig, but it's got a hardcore cult following that diligently snaps up its annual limited edition bottlings faster than you can say "Robert Burns." Corryvreckan (its name comes from a famous whirlpool situated north of Islay) is, thankfully, part of Ardbeg's permanent line, so no shortages are forthcoming. This is a monster of a whisky, not for the faint of heart or the weak of tongue. It's intensely peaty and earthy and salty and smoky and mineral-y (is that a word?), but there's also a lot of sweet dark fruit and citrus in there, too. And surprisingly, for a whisky that's 114-and-change proof, there's not a lot of alcoholic bite, just tons and tons of flavor, although a splash of water does tone down the more intense flavors a bit if it's all too overwhelming. I wouldn't recommend this for beginners, but once you've gotten your feet wet -- or your liver, perhaps -- you've gotta try this one. THE PERFECT GIFT FOR: Brave, adventurous and hearty souls.

BOWMORE SMALL BATCH BOURBON CASK MATURED (Islay; 40% ABV, no age statement, $40). A single malt -- from Islay, no less -- that costs less than a lot of blended whiskies, and tastes good besides? Sign me up. The latest from Islay's oldest distillery is one of those accursed no-age-statement jobs that are sweeping the industry of late, but I won't hold it against Bowmore because it's good and it's inexpensive. As you might have guessed from the name, this is aged entirely in ex-bourbon barrels, so you get lots of sweet and sumptuous vanilla notes, peppery spice from the oak, and of course the peat and smoke that make Islay malts so renowned (and in some cases reviled), though Bowmore is no Lagavulin or Laphroaig; a peat bomb this ain't. It also isn't particularly complex, but it's a good, solid, straightforward whisky that's easy to drink every day. And it's so affordable that more adventurous types can use it as a mixer. THE PERFECT GIFT FOR: People you want to impress by making them think you spent a lot on their gift, without actually having done so.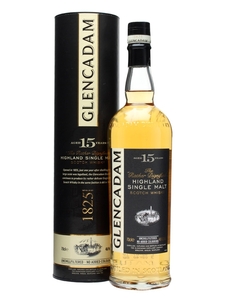 GLENCADAM 15 YEAR OLD (Highland; 46% ABV, aged 15 years, $85). Glencadam isn't one of the better known distilleries in Scotland -- until I tried it a couple of months ago I knew nothing about it apart from the fact of its existence -- but it's not the fault of the stuff in the bottle. The 15's pale golden color belies the time spent in oak and its rich, full flavor. It's equal parts coquette and bruiser, with lovely, rich notes of cherry and milk chocolate balanced out by a big spiciness and an almost salty edge. It's fun to go from sip to sip tasting one extreme, then the other, then back again, until your glass is miraculously empty. THE PERFECT GIFT FOR: Intellectual types who like to sit and contemplate their dram.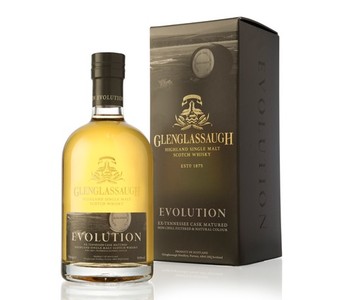 GLENGLASSAUGH EVOLUTION (Highland; 50% ABV, no age statement, $80). Glenglassaugh has had a checkered past. The distillery has been around since 1875, and its whisky was used in big-name blends like Famous Grouse, but the place was shuttered for more than 20 years until it was reopened in 2008. Several Glenglassaughs have come out recently, some of them pricey vintage whiskies from before the distillery closed, and three reasonably priced no-age-statement bottlings. As far as NAS goes, Evolution is one of the best I've had. Its pale straw color gives away its youth, but this baby's got a lot of zing. Aged entirely in ex-Tennessee whiskey barrels, interestingly enough, it's big and sweet -- it reminds me a little of apple pie, or maybe a fruit tart with melons and citrus -- but it's also got a heady, creamy finish with a fair amount of spice and surprisingly little alcoholic heat. It's not quite dessert in a glass, but it's almost as satisfying. If only more no-age-statement whiskies were this fully realized. THE PERFECT GIFT FOR: Anyone who needs to be convinced that age ain't nothin' but a number -- at least when it comes to single malts.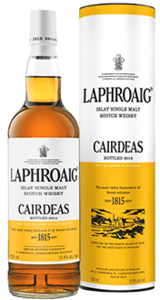 LAPHROAIG CAIRDEAS 2014 (Islay; 57.1% ABV, aged 8 years, $75). I feel like I write about Laphroaig all the time, and there are two reasons for it. First, there are new expressions of this quintessential Islay malt coming out almost as fast as I can drink them; distiller Jim Campbell loves to experiment with aging his nectar in different types of wood, for different lengths of time. And second, I never get sick of waxing rhapsodic about this big peaty smoky wonder of nature.
I've never had a bad Laphroaig, but some are better than others. Last year's limited edition Cairdeas bottling, for example, which was finished in port pipes, was an absolute knockout that created a sensation among whisky lovers. This year's edition is aged in ex-bourbon casks along with Amontillado sherry casks which impart a drier, saltier flavor than the Oloroso casks in which sherried whiskies are usually aged. The finished product is a mere 8 years old, but it doesn't taste green at all. It starts out surprisingly sweet and full and even fruity before getting balanced out by those beautiful smoky, peaty, ashy, mineral, iodine, slightly medicinal notes revered (or reviled) by whisky lovers the world over. The finish is expectedly long, dry and smoky. This isn't quite as mind-blowing as the 2013 Cairdeas, but it comes reasonably close. And at $75, it's still a great buy. But it's a limited edition, so get it while you can. THE PERFECT GIFT FOR: Friends. After all, Cairdeas is Gaelic for "friendship." But make sure it's friends who love a good whisky.
$100 AND (WAY) UP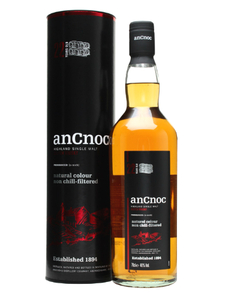 AN CNOC 22 YEAR OLD (Highland; 46% alcohol by volume, aged 22 years, suggested retail price $150). In case you're wondering, it's pronounced "Ah-knock." And in case you're wondering how An Cnoc tastes, it's pretty damn good. Aged in ex-bourbon casks and finished in Oloroso sherry casks for two years, this tastes like fruitcake would taste if fruitcake actually tasted good. Perhaps it's those smooth chocolate notes floating around in there -- come to think of it, dipping a fruitcake in chocolate may not be such a bad idea. But close to a quarter century in oak has also imparted a fair amount of spice and a long, beautifully dry finish. It's a sophisticated whisky, but with a sweet, winsome core. THE PERFECT GIFT FOR: Lighthearted folks who love to smile and laugh and have fun... especially while drinking.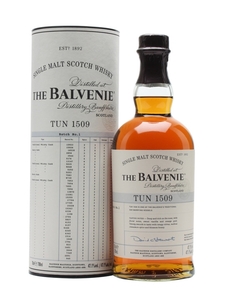 THE BALVENIE TUN 1509 BATCH 1 (Speyside; 47.5% ABV, no age statement, $350). For those not in the know, a tun is also known as a marrying tun, where whiskies of various ages commingle after being blended for a certain amount of time -- usually weeks or months -- before being bottled. Balvenie's Tun 1401 (the number of the actual tun, if you're wondering) series produced nine fairly amazing, pricey and rare whiskies, and now 1509 is ready to continue the run. 1509 holds four times as much liquid as 1401 did, thank goodness, which should result in more of the finished product and less running around looking for a bottle.
The packaging takes whisky geekness to an extreme, listing each whisky selected for the Tun and what kind of barrel it was aged in, ex-sherry or ex-bourbon. But don't let all the information distract you while you're drinking the stuff, because this is a whisky that deserves 100% of your attention. It's a marriage of 42 individual casks; about a third of the whisky has been aged in ex-sherry butts, the rest in ex-bourbon barrels. It's perfect for winter, with notes of cloves, nutmeg, dried figs and dates, butterscotch, and a bit of citrus -- and not a whole lot of oak.. It's about as big as a Balvenie gets, and while the brand's distinctive vanilla and honey notes are in the mix as well, they get shunted to the background a bit. Which is fine when you've got this much deliciousness going on. THE PERFECT GIFT FOR: Whisky connoisseurs who know the name David A. Stewart (he's the Balvenie's longtime Malt Master).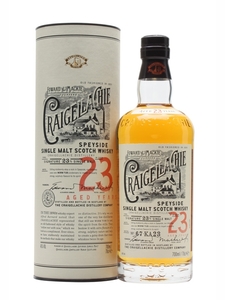 CRAIGELLACHIE 23 YEAR OLD (Speyside; 46% ABV, aged 23 years, $320). Craigellachie whisky has been made since the 1890s, but it's flown under the radar, having been used almost exclusively in blends, most notably Dewar's. It's been bottled as a single malt only rarely... until now. Dewar's has unveiled it, along with four other single malts it uses in its blended whisky, as part of the "Last Great Malts" series, which is slowly rolling out for the next year. I don't know about the "Last" part, but this is certainly a great whisky. It's a Speyside malt, but not like any other brand I've tasted from the region. You see, Craigellachie is the only brand whose barley is malted (roasted) using an oil-based fire. The result is a funky, sulphuric flavor which is probably pretty nasty coming off the still, but years spent in oak mellows it out to a nice, funky tang. This is a substantial whisky, with rich and buttery dark fruit flavors offsetting the funk, and a long, spicy, slightly oily finish. There are three other Craigellachies available; I've only tried the 13 year old, which it's excellent as well. Not as mind-blowing as the 23, but it costs about a quarter as much. THE PERFECT GIFT FOR: Jaded whisky experts who think they've already tried all there is to try.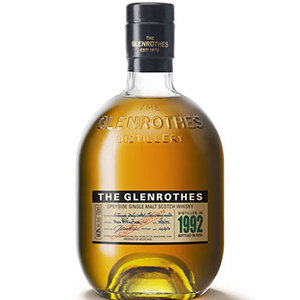 GLENROTHES 1992 VINTAGE 2ND EDITION (Speyside; 44.3% ABV, aged 22 years, $250). This one's got an interesting story. The Glenrothes originally released a 1992 vintage back in 2004, but left some of their stocks to age. A decade later, here's the new and improved (or is it old and improved?) Mark II. I never tried the original 'Rothes '92, which sold out years ago, but it'd be hard-pressed to top this. Aged in both bourbon and sherry casks, it shows off the bourbon influence straight off -- the front of the palate gets luscious notes of vanilla, pineapple, melon... dessert in the tropics. But then it starts shapeshifting all over the place, revealing a bit of dark fruit, then suddenly wood, shifting straight into spice, with a long, dry and slightly bitter finish. It's surprising but not jarring, and it's a rollercoaster ride of taste that's a lot of fun to take a second time. THE PERFECT GIFT FOR: Loved ones who aren't getting older, they're getting better.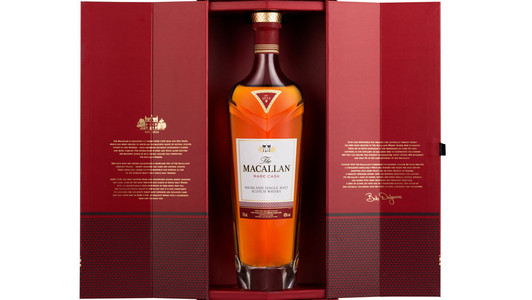 MACALLAN RARE CASK (Highland; 43% ABV, no age statement, $300). It takes balls to release a no-age-statement whisky for $300. And the Macallan's got a set of brass ones. As one of the world's leading single malts both commercially and critically for heaven knows how long, they have the right to be cocky. And this is a good whisky no matter how old it is. Aged entirely in Oloroso sherry casks specially selected for this limited edition bottling, it's got a deep reddish amber color and a big, rich, dark fruity flavor that's classic Macallan. Orange peel, raisins, apricots, a hint of chocolate... Rare Cask is sumptuous and satisfying. Is it worth $300? If you're buying it for yourself, possibly not. But any whisky lover will be thrilled to receive one this holiday season. 'Tis the season, right? THE PERFECT GIFT FOR: Loved ones who don't judge a book by the cover -- or rather, by the lack of an age statement on the cover.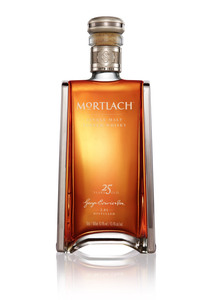 MORTLACH 25 YEAR OLD (Speyside; 43.4% ABV, aged 25 years, $1,000). Mortlach has long been an underground favorite of the whisky-swilling connoisseurs, beloved by those who know it but not known by very many. Diageo, the booze behemoth which owns the brand, decided to change things and is in the process of plowing a bunch of money into the distillery so it can produce more high-quality hooch. In the meantime, it's using current stocks to reposition Mortlach as a super-duper-premium brand, as you can probably tell from the four-figure retail price here. Is it worth a grand? Well, if you're the kind of person who plunks down ten Benjamins for a bottle of whisky without blinking, this is one to try. Mortlachs are known for their big, brawny sherry flavors; they've been toned down a bit here, but not much. The sherry notes are so intense that there's almost a meaty vibe to them -- and I mean that in a good way. But there's also other dimensions to explore, like vanilla, milk chocolate, a bit of tropical fruit, a hint of smoke and a fair amount of spice. This is a gift that keeps on giving, in the form of layer after layer of yumminess. THE PERFECT GIFT FOR: Friends from the country club, or perhaps that darling couple you met at the regatta last year.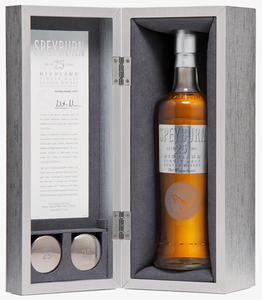 SPEYBURN 25 YEAR OLD (Speyside; 46% ABV, aged 25 years, $300). What a difference a decade and a half makes. Speyburn's 10 year old expression is a decent journeyman malt, something to down after a day's work without having to think too much about it. But let the wood (in the form of Fino sherry casks and ex-bourbon casks) have its way with the whisky and it's transformed into an all-star. Big and delicious, it's a classic Speysider with lots of sweet vanilla, honey, a bit of lemon zest... but that time in wood has imparted big cereal and oaky notes, too. It's a lovely blend of sweet and dry that's easy to drink but doesn't lull you into complacency, either. A straightforward whisky with strength and elegance -- think Daniel Craig in a James Bond tux. THE PERFECT GIFT FOR: No-nonsense types... and/or the 007 of your heart.