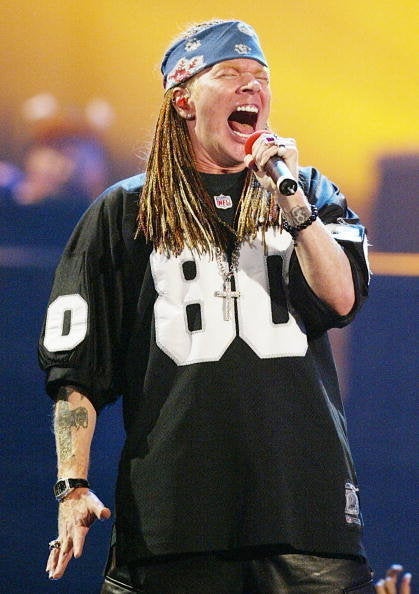 In a business where, for the last decade or so, every move made by a major record label or established artist is almost guaranteed to be a dumb one, it's hard to pick a mere five as the créme de la créme of stupidity. Anyone who disagrees with my choices, please write in and add your own! But here, for dumb or dumber, were my five shining moments of pure idiocy:
5. TRAMPS LIKE BRUCE. Did Bruce Springsteen invest his record royalties with Bernie Madoff? Did he forget that his kids are rapidly approaching college age? Because I can't think of any other reason why The Boss would sell a new greatest hits CD exclusively through Wal-Mart, which hasn't exactly been the champion of employees' rights over the last few decades. Not only that, Bruce is basically telling the few remaining brick-and-mortar record stores just what he thinks of them. This move is so un-Springsteen-like that I'm almost tempted to believe that nobody's told him about it yet.
4. BEST BUY, WORST SELL. Guns N' Roses decided to release their (his?) centuries-in-the-making magnum opus Chinese Democracy exclusively through non-record store Best Buy. The only problem is that Best Buy forgot to actually, you know, promote the album. So despite oodles of press coverage about the album's release, not to mention the fact that G n' R are still incredibly popular, Chinese Democracy failed to hit #1 on the charts and nosedived out of the Top 30 faster than you could say "Buckethead."
3. GOOD TIMES FOR LAWYERS, BAD TIMES FOR BEATLES FANS. The entire Beatles catalog was remastered two years or so ago. Want to hear it? Then you'd better get a job with EMI and somehow get access to the vault where the tapes are stored. Endless horn-locking by both the Beatles and their record label means that we won't get sonic upgrades on the 20-year-old CDs currently on the market anytime soon. They can't even figure out how to agree to get their albums on iTunes, for crying out loud. By the time the upgrades are finally released, it'll be time for another upgrade. In the meantime, the CD buying audience continues to shrink and the original Fab Fans get another year older. Oh well, there's always the brilliant "deluxe edition" bootlegs mentioned in the New York Times last week. And hey, they're free! It's a nice way to give the figurative finger to the powers that be at EMI and in the Beatles camp, and hear some great music besides.
2. YOU DON'T NEED A WEATHERMAN TO KNOW YOU'RE GETTING RIPPED OFF. One of my favorite albums of the year was Bob Dylan's latest from-the-vaults compendium, Tell Tale Signs: Rare & Unreleased 1989-2006. The standard version contains 2 CDs with 27 tracks and a nicely annotated booklet, with a list price of $22.99. The deluxe version contains an extra CD with 12 more previously unreleased tracks, plus a book featuring photos of all his 7-inch single picture sleeves (apparently from a fan's personal collection). And it retails for ... $169.99?! Listen, Dylan's earned the right to do whatever he wants, but for an extra $147 he'd better be personally delivering that puppy to my door, along with a 2 liter bottle of Diet Coke. I burned a copy of disc 3 from someone who was dumb enough to buy it. The picture sleeves, I can live without.
AND THE MOST BONEHEADED MUSIC INDUSTRY MOVE OF 2008....
1. In 1983, the list price of most vinyl LPs was $8.98. Along came compact discs, which cost nearly twice that. The technology needed to make CDs, we were told, is very expensive, but the sound is so much better than vinyl that you'll agree it's worth the extra bucks.
25 years later, as CD sales continue to tank and the dollars from digital downloads fail to take up the slack, LP sales suddenly make a dramatic comeback, posting their highest numbers in nearly two decades. It's still a tiny fraction of overall music sales. But the fact that it's the only physical music format showing an uptick, and the fact that the LP buying audience is skewing younger, still encourages retailers, especially indie music stores.
As usual, the record labels, quick to do nothing in the face of possible success, keep their prices astronomically high -- a typical LP now costs about $20-25. Not out of line for the audiophiles who were vinyl's primary demographic in the '90s. But ridiculously high for the kids who want to get a vinyl copy of the new Radiohead or a classic Led Zep album. The technology needed to press LPs, we're told, is very expensive, but the sound of a 180 gram virgin vinyl LP is so much better than a CD or MP3 that you'll agree it's worth the extra bucks.