You've gotta take the good with the bad, a wise man (I think it was the Isley Brothers) once said. As a hater of autumn, they're words I try to live by during this time of year. I may despise football and earlier sunsets and bare trees and campaign commercials, but one hallmark of the season I can get behind is whiskey. Not to mention whisky. (Both spellings are correct, depending on where it's made; American and Irish have the "e" while Scotch and Canadian lose it.) Not that you can't enjoy a Rob Roy or a snifter of rye in the thick of summer. Heaven knows I do it enough. But there's something about the falling leaves, the sweaters and jackets, the cool, crisp evenings that call for a taste of the amber ambrosia in a glass -- whether it's a smooth bourbon, a spicy rye, a peaty single malt, what have you.
With that in mind, here are eight new whiskeys, all released in the last few months or about to hit liquor store shelves. All of them will appeal to some of you, and some of them will appeal to anyone who likes whiskey (or whisky), be you novice, know-it-all, or somewhere in between. Frustratingly, most of them are also limited editions, which means the time to snap them up is now -- assuming the opportunity hasn't already passed. Happy hunting, and happier drinking.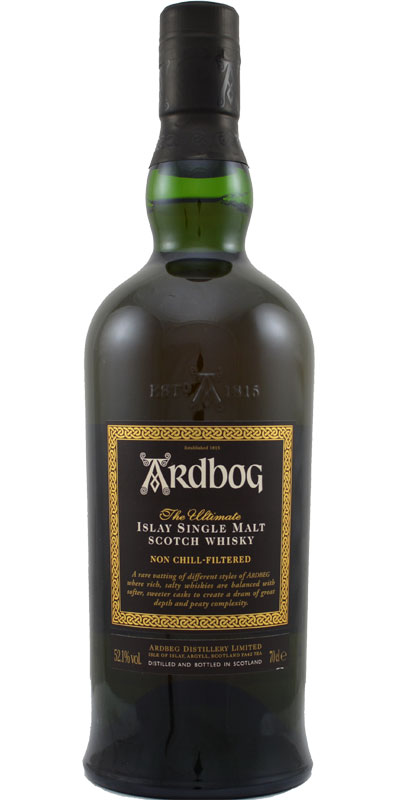 ARDBEG ARDBOG SINGLE MALT WHISKY (aged 10 years, 52.1% alcohol by volume, suggested retail price $120). Ardbeg isn't the best known single-malt from Islay, the super-remote Scottish isle that produces more famous peaty, smoky whiskies like Laphroaig and Lagavulin. But people who like Ardbeg really like it -- they've got an officially registered fan base called the "Ardbeg Committee" which numbers about 85,000 worldwide. Committee members get first dibs on rare and limited editions such as this one, which has been matured in ex-bourbon barrels as well as sherry butts used to age Manzanilla sherry. The result is a strange, salty, even fishy whisky that's also got a lot of sweeter raisin and clove notes. It's an odd combination, to say the least, but it's actually quite delicious. If you're already an Ardbeg fan, you're going to treasure Ardbog (named in honor of the peat bogs which give Islay malts their distinctive flavor). If you're an Ardbeg novice, give their classic 10 Year Old a shot first -- not least because you're going to have a tough time finding Ardbog. Even some Ardbeg Committee members were reportedly shut out. If you find it, I wouldn't say that you should buy one to drink and one to save, but... well, as a hoarder of some renown, that's exactly what I'd say.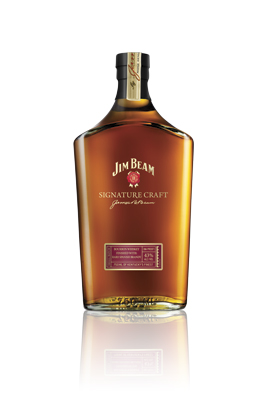 JIM BEAM SIGNATURE CRAFT RARE SPANISH BRANDY BOURBON (age not stated, 43% ABV, $40). OK, we know how whiskeys finished in barrels previously used to age other spirits acquire some of the flavors of those spirits from the barrels, right? Well, with this baby, the folks at Jim Beam decided to cut out the middleman. Rather than finishing their new bourbon in used brandy casks, they just dumped some brandy into the bourbon. I mean, obviously it's a little more scientific than that, but you get my drift. Anyway, there's certainly nothing wrong with mixing brandy and bourbon, and there's nothing wrong with Signature Craft Rare Spanish Brandy. However, I do feel like the flavors could have been better integrated. As it is, it tastes like... well, like someone poured brandy into my bourbon. The raisin, cinnamon and gingery notes of the brandy are stiff competition for the softer vanilla and caramel notes of the bourbon. I'll bet a mixologist more talented than I could make some amazing cocktails with this one, but personally I'll stick with Beam's superb new 12 Year Old Signature Craft bourbon, sans brandy.

JOHNNIE WALKER PLATINUM LABEL BLENDED SCOTCH WHISKY (aged 18 years, 40% ABV, $110). I still haven't forgiven Johnnie Walker for discontinuing their excellent Green Label brand last year, but the latest addition to the line helps to make amends. Johnnie Walker is like the Coca-Cola of blended whisky -- it's really popular, but it's also really good. Platinum is situated halfway between the 12-year-old Black Label and the über-swanky Blue Label in price, though it's marketed as a premium, special-occasion "Private Blend" of 20-25 select malt whiskies (many blended whiskies contain up to 30-40 different single malts). It's advertised as a mix of "sweet yet elegant Speyside style and subtle Islay smokiness," though for me the rich honey and vanilla notes characteristic of Speyside malts are largely absent. Platinum is quite dry, with lots of wood amidst the caramel and orange peel notes, and there are definitely hints of smoke and peat at the end, though not enough to convince you that you're drinking an Islay malt. A couple of drops of water really do wonders opening up both the sweet and dry flavors. A very elegant whisky, and while I still prefer the late lamented Green Label, I actually think this is more impressive than Blue Label. And at half the price, it's definitely worth the investment.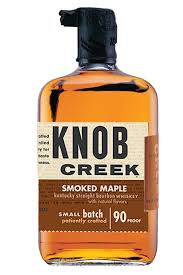 KNOB CREEK SMOKED MAPLE BOURBON (age not stated, 45% ABV, $32). I am a huge fan of Knob Creek, but I'm not a fan of flavored whiskeys at all. So finding out that distiller Fred Noe's latest creation under the Knob Creek Banner is flavored was a bit of a bummer. I tried my best to taste it without preconceptions, and... if you like a whiskey that tastes like bacon and waffles, then you'll love Knob Creek Smoked Maple. Although it's not quite that cut-and-dried. There's a LOT of flavor floating around in there, from cinnamon to nutmeg to a bit of Madeira. It's a little sweet to drink neat or on the rocks for my tastes, but it's got that classic big and bold Knob Creek flavor lurking beneath the maple top notes, and it goes great in cocktails. Try it in a Bloody Mary instead of vodka and prepare to have your mind blown. Talk about breakfast in a glass!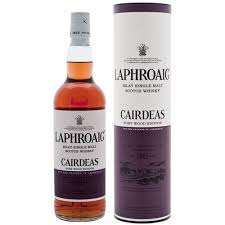 LAPHROAIG CAIRDEAS PORT WOOD SINGLE MALT WHISKY (aged 9 years, 51.3% ABV, $75). A pink Laphroaig? Yes indeed! The color comes from the port pipes in which this limited edition Islay malt is finished. If you're expecting anything approaching the classic smoky-n'-peaty Laphroaig, think again. This is a fruit bomb of a whisky, full of jammy plum and strawberry and raspberry notes, with the smoke present but lurking in the background. If you don't mind having your preconceptions shattered, Cairdeas is an unusual and amazing whisky. At more than 100 proof, it's deceptively smooth -- water is absolutely not necessary. But just as the flavor will floor you, drinking too much too quickly will floor you too, in an entirely different way. Released in July, it apparently sold out in a matter of hours. It should still be available from various online sources, but be prepared to spend more than the suggested retail price.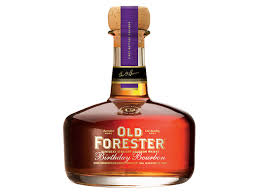 OLD FORESTER BIRTHDAY BOURBON (2013) (aged 12 years, 49% ABV, $55). For the last dozen years, bourbon lovers have rung in autumn with Old Forester's limited edition bourbons, released to commemorate the birthday of George G. Brown, who founded Brown-Forman, which distributes Old Forester Bourbon. (You still with me?) Birthday Bourbons are the fruit of a single day's production, aged under the watchful eye of distiller par excellence Chris Morris (who also works with Woodford Reserve, among others). I came late to the party and have only tried the last two years' bottlings; 2011 was over-oaked to the point where it was all but undrinkable, while 2012 was rich and sweet and chewy and probably the best bourbon I tried all year. 2013, thank goodness, is along the lines of 2012, with a big, stunning nose and tons of sweet vanilla, banana, honey and toffee notes tempered with cinnamon spice. The time spent in wood keeps it from getting too sweet and balances all the flavors out beautifully. You can't ask for more in a bourbon -- except that it stick around for a while. And since this is a limited edition, and a reasonably priced one at that, it's not gonna be here for long.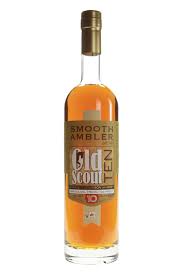 SMOOTH AMBLER OLD SCOUT TEN BOURBON (aged at least 10 years, 50% ABV, $70). This young distillery out of West Virginia has been making nifty bourbons and ryes (not to mention gin and vodka) for a few years now. Their newest expression isn't an in-house product, obviously, since the company isn't yet ten years old. But wherever they sourced this hooch from, they really got the goods. Featuring a high rye content (36%, along with 60% corn and 4% malted barley), Old Scout 10 is big and robust for a bourbon, loaded with spice on the back end, but still with those bourbon-y vanilla and toffee notes up front and a little bit of stone fruit mixed in. You can tell this baby has spent a decade in wood; the flavors are unified, full and well-rounded. You might even call this a Reubenesque whiskey. Or you can just call it delicious.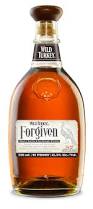 WILD TURKEY FORGIVEN (aged 4-6 years, 45.5% ABV, $50). Call me a cynic, but I've gotta wonder if Wild Turkey's bourbon and rye barrels were really, as distiller Eddie Russell says, "accidentally" mixed to create this hybrid, which checks in at 78% 6-year-old bourbon and 22% 4-year-old rye. After all, Utah distillery High West has been making their superb "Bourye" and "Son Of Bourye" whiskeys -- on purpose, mind you -- for a few years now. But in the end, who cares whether or not it's a marketing gimmick? This blend is the best of both Wild Turkey worlds, with the creamy vanilla notes of the bourbon gently yielding to the feisty, spicy finish of the rye, enhanced by the bone-dry woody notes of their deeply charred barrels. A splash of water tones down the char and brings both the bourbon and rye flavors further forward. If Forgiven really was an accident, the Wild Turkey employees who goofed should be encouraged to do so more often.