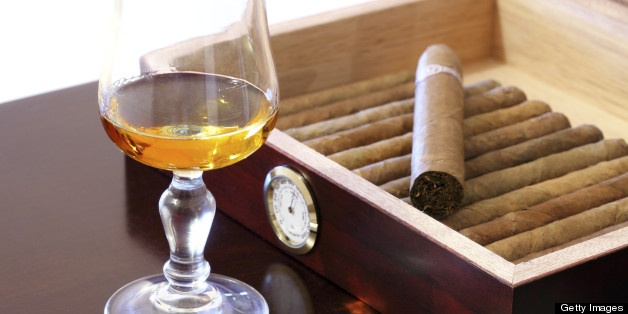 What is it about rare whisky that makes it so enticing, so desirable, so irresistible? Is it the packaging? The care and expertise that's gone into making the spirit? The time it's taken to age it? Well, yes yes and yes, to a certain extent. But it's something more than that. It's what I like to call "The Nyah-Nyah Factor." As in, "Nyah nyah, I own this whisky and you don't!" In theory, the Nyah-Nyah factor operates somewhat independently of quality. Take a bottle of bottom-shelf rotgut, put it in a nice package and announce that it's the only bottle of this particular rotgut for sale in the world. Odds are you'll get a bidding war on your hands. Sure, it's swill, but it's swill that nobody else has.
Thankfully, distillers generally don't bottle the lousy stuff in limited editions. Rare whiskies certainly vary in quality, but the vast majority have earned their reputations based on what's inside the bottle, and the craft it took to make it, rather than the packaging or the number of zeroes in the price. The five whiskies (four Scotches and a bourbon) featured here have wildly varying price tags, but they all have one thing in common -- you won't be likely to find any of them at your local Booze Barn. These babies will take some serious tracking down, or a lot of money, or both. And are they worth the time, effort and cash? It's all in the taste buds of the beholder. But if you're serious about your whisky, the answer should be, "Are you kidding? Of course!"
It almost seems irrelevant to include tasting notes for bottles which are as much collectibles or investments as mere spirits. But they're here nonetheless, whether you want to use them as a buyer's guide or just want to get an idea of what you're missing.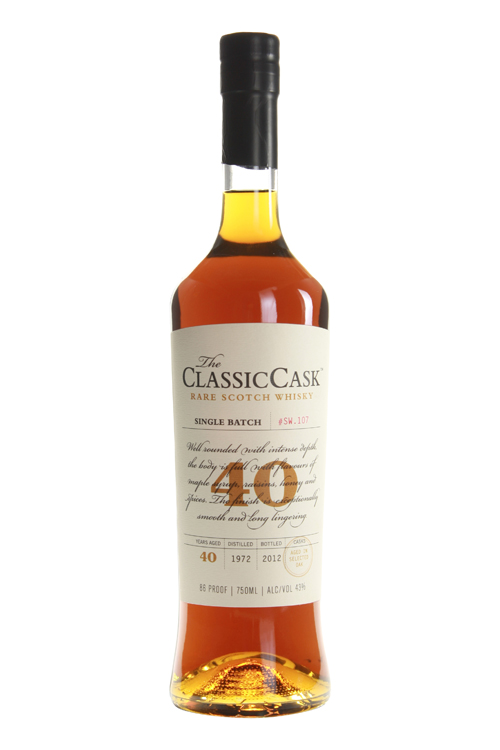 THE CLASSIC CASK 40 YEAR OLD RARE SCOTCH WHISKY (43 percent ABV, aged 40 years, $350). When it comes to snob appeal, blended Scotch -- a combination of single malts from different distilleries along with light, almost vodka-like grain whisky -- takes a backseat to single malts. Real whisky aficionados know that blending is as much an art as distilling, if not more so, and great blends can stack up against just about any single malt. And real snobs know that the older a whisky, the rarer it is and the greater bragging rights it can afford. This four decade old beauty, distilled in 1972, has a very high 80-20 malt whisky-to-grain whisky ratio (more affordable blends are mostly grain whisky). Given the amount of time it's spent in oak, it's less woody than you'd expect, with lots of rich dried fruit, honey and toffee flavors offsetting the oak's dry spice. If you know your Scotch, this one really deserves the "Classic Cask" moniker. It also makes a great 40th birthday/anniversary present for snobs who don't know their whisky -- and be sure to mention that only 1,800 bottles are available worldwide (as opposed to, say, Johnnie Walker Blue Label, which produces about 8,000 cases every year).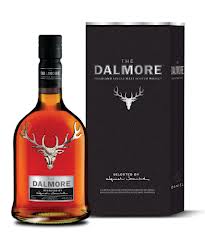 THE DALMORE SELECTED BY DANIEL BOULUD SCOTCH WHISKY (44 percenr ABV, age not stated). As spirits and cocktails gain greater acceptance paired with food at the dining table, it seems inevitable that chefs would start making their own spirits. Of course, Daniel Boulud isn't just any chef, and the Dalmore isn't just any spirit. Boulud teamed up with Master Distiller Richard Paterson to create his very own single malt, a unique blend of whiskies aged in casks that previously held Muscatel, port and Madeira. As you can imagine, the Boulud Dalmore is packed with rich dark fruit and winey notes, but it's also recognizably Dalmore, very smooth with its characteristic flavors of cocoa and citrus.
It's well worth a try, but of course there's a catch -- right now it's only available at one of the six Boulud restaurants in New York, and it's only available by the glass. Rumor has it that the Boulud Dalmore will be available by the bottle as a limited edition at retail before year's end, but to secure your bragging rights while enjoying a great meal, the time is now.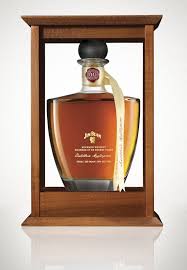 JIM BEAM DISTILLER'S MASTERPIECE BOURBON (50 percent ABV, age not stated, $200). Single malt Scotches have long set the benchmark for collectability among whiskies, with their prices and desirability far outstripping their American counterparts. But rare bourbons and ryes are developing a larger and more rabid fan base with every passing year. The most sought after American whiskeys are Pappy Van Winkle bourbons and ryes, which are released in limited quantities each year and rarely even make it to store shelves before they're snapped up by speculators and connoisseurs. This special offering from Jim Beam, personally overseen by legendary Master Distiller Fred Noe, seems sure to meet with similar fervor.
There's no age statement on the Distiller's Masterpiece bottle, but it's referred to as "extra-aged," which probably means more than 10 years. It's finished in PX sherry casks, which is highly unusual for a bourbon. Bottled at 100 proof, it's a big, bold whiskey with lots of rich caramel, wood and more dark fruit notes than you'd usually find in a bourbon, thanks to the sherry cask aging. The bottle and the wooden case it's housed in are as stunning as the whiskey itself.
At a mere $200, Distiller's Masterpiece is a relative bargain compared to its Scottish brethren. But unless you live in Kentucky, you'll have to add travel and lodging to the price, as it's only available at the Jim Beam distillery in Clermont. Depending on how big a bourbon fan you are, you might want to consider booking a flight and a hotel room about now.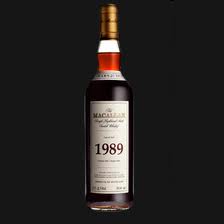 THE MACALLAN FINE & RARE 1989 SINGLE MALT SCOTCH WHISKY (55.2 percent ABV, aged 21 years, $3,500). "Macallan" is whisky-speak for quality, which is why it's the most popular single malt among the label-conscious, status-seeking set. Like Ferrari or Brooks Brothers, the Macallan is a legendary name attached to a great product. The Fine & Rare Collection is the uppermost of the Macallan's upscale bottlings. Each one comes from a single cask of unusual quality (which is why they weren't blended with other casks) laid down... well, let's just say a long time ago. The 1989 is the most recent; the oldest dates back to 1926.
Aged for 21 years and coming in at more than 110 proof, 1989 Cask No. 3247 certainly doesn't taste like a newbie; it's big and robust, full of wood and spice. I don't normally add water to my whisky, but a few drops here really does the trick, parting the alcoholic curtain to reveal gorgeous honeyed and toffee notes. Older editions have gone for sums well into the five figures (a bottle of the '26 sold at auction for $75,000 a few years back), which makes this one a comparative bargain. But good luck finding it at any price -- a mere five bottles are being released in the U.S. That's approximately one for every 62 million people in the country.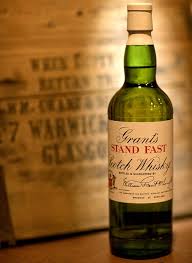 GRANT'S STAND FAST BLENDED SCOTCH WHISKY (40 percent ABV, age not stated). This one has a doozy of a backstory. Paul Kendall, archivist for William Grant & Sons (the company behind Glenfiddich and the Balvenie, among others) discovered a long-lost blending book from 1912 which contained the exact recipe for Grant's Stand Fast, the first blended whisky sold by WGS (today it's simply known as Grant's, and is still the third best-selling blended Scotch worldwide). It was impossible to recreate precisely the 1912 blend. For one thing, some of the whiskies used back then were a mere two years old; today, three years is the minimum age required by law. And two of the distilleries whose whiskies were used in the blend have been closed for decades. But the original blueprint, combined with a lot of whisky know-how and a little guesswork by Master Blender Brian Kinsman, resulted in a fascinating and delicious final product, which looks significantly lighter and tastes drier and smokier than today's Grant's.
100 bottles of the replica Stand Fast were produced, and a grand total of zero are being made commercially available. Now that's exclusive. Most of the bottles are being stored in the Grant archives, though a few were given to select writers and whisky mavens (I wasn't one of them, alas, though I did get to taste a dram). The only other way I know to score a bottle is to make a time machine and go back to 1912; no originals are known to survive today.