As the Christmas shopping days dwindle down to a precious few, you may find yourself confronted by the age-old dilemma: lots of gifts still to be purchased but not a lot of loot to spend. Let's say, hypothetically of course, that your friends like whisky, Scotch in particular. (Crazy, I know, but work with me here.) You could spend a pittance on some bottom-shelf swill, but these are your friends! Your relatives! Possibly even your loved ones! Why would you want to do that? But don't the best whiskies cost an arm and a leg, if you can even find them? Don't worry, troubled gift buyer! Here are a dozen truly excellent whiskies, none of which are the obvious choices (sorry, Johnnie Walker Blue Label and Macallan 18 Year Old) and all of which cost $150 or less -- in many cases, significantly less. OK, so it's eleven whiskies for $150 or less -- I had to include a high-priced ringer in case you're feeling flush and/or generous.
And now, as St. Nick himself is reputed to have said, "Holy crap, it's colder'n a witch's teat out there. Whaddaya got to drink?"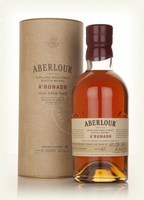 ABERLOUR A'BUNADH (Batch 45) (Highlands; 60.2 percent alcohol by volume, no age statement, suggested retail price $75). Give this surprisingly low-priced beauty as a gift and folks will think you spent twice as much. The package, with a thick red wax seal over the cap, is very handsome, and the liquid inside is plain old stunning. A'bunadh is matured in Oloroso sherry casks and bottled at cask strength, a whopping 120.4 proof. Sweet honey notes and rich fig, raisin and orange flavors collide with dry oaky notes and alcoholic heat -- this is a big, immensely flavorful dram. But at the same time it's gentle, like being caressed by Andre the Giant. You can add water to tamp down the heat a little, but it's not necessary. Why let anything, even a few drops of H20, get in between you and whisky this good?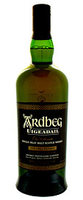 ARDBEG UIGEADAIL (Islay; 54.2 percent ABV, no age statement, $75). The first time I tried Uigeadail, I was standing by the lake -- sorry, Loch -- which shares its name and which is the water source for Ardbeg's whiskies. I nosed the whisky, breathed in deeply, and suddenly understood the connection between the land and the water and the stuff in my glass. I didn't quite see God or anything, but it was a pretty intense experience.
Sipping Uigeadail at home is not quite as profound a joy, but it is a joy nonetheless. Ardbeg is renowned for being, in technical terms, the peatiest whisky made in Islay, the peated whisky capital of the world. And of course you'll taste a world of peat, as well as smoke and grass, from Uigeadail. But there's also a lot of rich dark fruits from the sherry casks in which it's been finished. Smoky, peaty fruit? It may sound a little weird, but it works well enough that this whisky was voted "World Whisky Of The Year" in Jim Murray's Whisky Bible a few years back. A little water tones down the peat and smoke a little bit and turns up the sweet notes, if that's what you're going for. A great gift for serious whisky fans.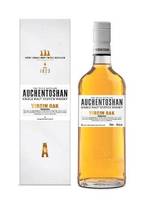 AUCHENTOSHAN VIRGIN OAK (Lowlands; 46 percent ABV, no age statement, $130). If you've ever wondered why Scotch whisky is aged in American oak barrels that have previously been used to age bourbon, well, it's not because the Scots are big on recycling. And it's not that they're too cheap to buy new barrels. New or "virgin" oak is pretty powerful stuff, and it imparts a lot of flavors and tannins and other chemicals into whatever's sitting in the barrel. Virgin oak works perfectly for aging bourbon, but with Scotch, which is lighter and more subtle flavor-wise, it can be overwhelming. But hey, in this day and age distillers and blenders are throwing caution to the wind. Accepted orthodoxy? Pshaw! Which is how this delicate, thrice-distilled Lowland malt (the vast majority of Scotch whiskies are distilled only twice) was aged in wild, untamed virgin oak... and lived to tell the tale.
One of the dominant flavors imparted to whisky by the oak is vanilla. So virgin oak gives an extra helping, though the vanilla is joined by apple and banana and pineapple flavors as well. It's light, it's vibrant, it's fruity, it's a little spicy from the virgin oak and the relatively high proof (92), it's... delicious. Whether or not you're an Auchentoshan/Lowlands fan, this is worth trying. Not to mention gifting.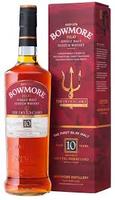 BOWMORE DEVIL'S CASK (Islay; 56.9 percent ABV, aged 10 years, $90). The devil went down to Scotland, he was lookin' for a dram to drink... and he could definitely do worse than this massive sherry cask-matured behemoth. Rich peat and succulent dark fruit flavors collide like the unstoppable force meeting the immovable object, but the only thing that'll give is your taste buds' resistance to this astounding whisky. With an alcohol content as big as its taste, it does run a little hot when taken neat. It's nothing that a few drops of water can't cure, though it does bring out the sherry notes at the expense of the peat. Still, it's so damn delicious that adding anything to it seems like... not necessarily painting a mustache on the Mona Lisa, but perhaps hanging it at a slightly crooked angle. Released a couple of months ago, Devil's Cask is a fantastic addition to the already swell Bowmore portfolio. The perfect gift for a true whisky aficionado.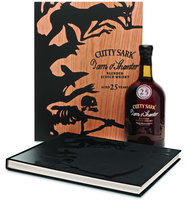 CUTTY SARK TAM O'SHANTER (blend; 46.5 percent ABV, aged 25 years, $350). As a youth, I was fascinating by the Cutty Sark bottle in my parents' liquor cabinet -- the name seemed so mysterious, so evocative, so... grownup. As a young adult, I was steadfastly unimpressed with Cutty Sark's light, blended-whisky-for-people-who-can't-handle-real-Scotch flavor. And now, as a certified middle-aged geezer, I'm finally being won over, at least to this ultra-super-duper-high end bottling that's to standard Cutty Sark as the Heat are to the Knicks. Housed in a stunning wooden box with an illustrated book of the Robert Burns poem for which it's named, Tam O'Shanter is a big, sweet, rich, slightly nutty, over-the-top whisky. It's very full-bodied but is easy going down, with a relatively short, clean finish considering all that's going on in there. The book and box are yours to keep once you're done with the whisky, which will probably be very quickly considering how eminently quaffable it is. Looking to splurge a little on the whisky lover in your life? This is the one to go for.

GLENDRONACH ALLARDICE (Highlands; 46 percent ABV, aged 18 years, $110). A single malt matured in Oloroso sherry casks... yawn. There's so much sherry cask-aged whisky out there that it's bigger news when something hasn't got any sherry influence. But a really well-made sherry cask-matured whisky is always worth talking about, and this is an excellent one. Of course you've got that rich, deep, dark fruit flavor, but instead of the usual strong raisin notes there's chocolate fudge, cherries, candied orange peel, caramel... so luscious I almost want to top off my glass with whipped cream. Glendronach isn't too well known among single malt laymen, so if you're tired of giving the same old whiskies every year, Allardice makes a great change of pace.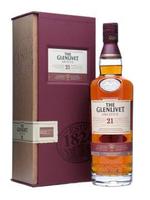 GLENLIVET ARCHIVE 21 YEAR OLD (Speyside; 43% ABV, aged 21 years, $149). Glenlivet's standard-bearing 12 year old bottling is as gentle a single malt as you'll find, caressing the palate with vanilla, honey, heather, puppy dogs, flowers, little hearts... all sweet and lovely things. Let it sit in wood for a while longer, though, and it becomes a slightly different animal. Not a roughneck with tattoos and a stained tank top, mind you, but not quite the cherubic angel that is Glenlivet 12. The sweet notes are still there (think a fruitcake you'd actually want to eat), but they're more full-bodied, and naturally there's more oak and even a hint of spice, too. If you like Glenlivet 12, you'll love the 21. And if you prefer your whisky bigger and bolder... well, you'll still probably dig this. And it comes in a spiffy wooden box for classy gifting.

GLENMORANGIE NECTAR D'OR (Speyside; 46 percent ABV, aged 12 years, $80). If you love the vanilla and honey notes of a good Speyside malt, and if you love the sweet, succulent grapiness of a Sauternes dessert wine, you're really going to love this whisky. And if you don't love either of them... what are you, crazy? Anyway, Nectar D'Or is aged in ex-bourbon casks and then finished in ex-Sauternes casks. In a word, yum. Bold pineapple and lemon notes mix with the vanilla and honey notes of the whisky, with just enough wood coming through to keep all the other flavors in line. It's very smooth, with just a little bit of a bite mid-palate, and a long, slightly bitter finish that keeps the whole affair from getting too cloyingly sweet. Glenmorangie makes a bunch of delicious whiskies (also well worth trying is the Quinta Ruban, which is finished in port pipes), but this is my favorite. And as such, it makes a great gift for some of your favorite people. (If you're in a splurging mood, a bottle of Glenmorangie 1963 -- the oldest, though not the first, whisky to be sherry cask-finished -- will run you a mere $2,700.)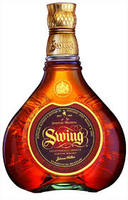 JOHNNIE WALKER SWING (blend; 40 percent ABV, no age statement, $65). Johnnie Walker Huh? If you haven't heard of JW Swing, you're not alone, probably because you won't find it much outside of duty-free shops. Why is this? No idea. Swing was first developed in 1932 by JW's own Sir Alexander Walker. No disrespect to the whisky itself, but the bottle is my favorite thing about it; the convex bottom was designed to rock and, well, swing during ocean travel when rocking boats could jeopardize stocks of booze onboard. It's like an adult version of Weebles, which "wobble but they don't fall down." As for the liquid... I think Johnnie Walker makes some of the best blends around, and Swing compares well to the rest of the catalog. A blend of 35 different whiskies from Speyside, the Highands and Islay, Swing starts out with a honeyed, sherry sweetness before getting a little drier and spicier around mid-palate, with just a hint of smoke, and a long, lingering finish. It's easy enough for whisky novices to drink but it's got enough character so single malt snobs won't be bored. As for me... I could drink it until I'm as wobbly as the bottle.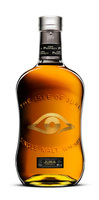 JURA PROPHECY (Islands; 46% ABV, aged up to 23 years, $75). Jura whiskies are strange ducks. Their four core brands are all stylistically different, with names that sound more like perfumes than single malts. Prophecy, the fanciest of the bunch, is aged the longest and heavily peated. Now, when most folks think peat they think the Islay region of Scotland, but whiskies from anywhere can be peated -- malt your barley over a peat-fueled fire and New Jersey malt whisky can be peated. And sure, on the surface Prophecy bears some resemblance to Islay malts, but it's not quite the same. Underneath the peat is a lighter, cleaner dram with notes of cinnamon, lime and dry grain, and without as much of the salty and iodine flavors Islay fans treasure. It's not as macho as Lagavulin or Laphroaig, but it's still pretty nifty.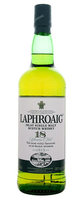 LAPHROAIG 18 YEAR OLD (Islay; 48% ABV, aged 18 years, $85). Laphroaig appeals to the rugged seaman in all of us -- you know, the one belting sea chanteys at the top of his lungs, getting pelted with sea spray while he tries to navigate his ship through treacherous waters. The peat! The smoke! The iodine! The salt! That enormous Islay flavor is enough to grow hair on your chest (whether you're male or female) and make you go "Arrrrghhh!" But if your inner rugged seaman is in the mood to put on a dinner jacket and croon a little Cole Porter, try Laphroaig 18. It's still recognizably Laphroaig, but it's more sophisticated, well-heeled... dapper, even. The famous peat and smoke are enveloped in swanky duds -- rich, velvety notes of honey and toffee tamp down the more aggressive flavors. This is a real pleasure to drink. And whether you're buying it for a tux-clad dandy or a wayward seafarer, it's sure to be enjoyed.
TALISKER STORM (Isle of Skye; 45.8 percent ABV, no age statement, $75). You may have noticed that a lot of this year's batch o' drams lack an age statement. Now, age statements play to the lowest common denominator -- the older the whisky, the more impressive it seems, even if the actual liquid makes you feel like you're licking a piece of oak because it was aged for too long. There are two schools of thought about the newer, no-age-statement whiskies. One maintains that due to the exploding popularity of single malts, distilleries are running out of aged stocks and are forced to blend older and younger whiskies. The other claims that malt masters and blenders are freeing themselves from the tyranny of the age statement, and by not focusing on age alone they can make better booze. And both camps are at least partially right.
With that in mind, Talisker Storm holds up well next to its 10 Year Old sibling. It's briny and peppery with a little peat, a good deal of smoke and tingly heat atop an underlying sweetness -- a little smoother and better unified than the 10, perhaps. I keep going back and forth on which one I prefer, but rest assured if you dig Talisker, this is a welcome addition.