New England Conservatory's Entrepreneurial Musicianship department is dedicated to equipping students with the skills they will need to create gratifying musical (and non-musical) lives for themselves in the professional world. Students have the opportunity to create and execute new projects through the EM Grant program--a funding pool for entrepreneurial ideas--and Quartetutopia, an incubator program for young quartets. I've been following several of the project leaders and have been dazzled by their creativity and successful achievement. Here are four of them. --TW

Quartetutopia -- Petrucci Quartet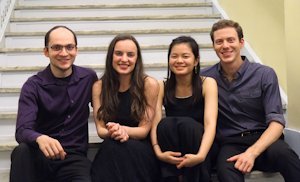 Nick Kitchen has found his way into this blog before. He is leader of the Borromeo String Quartet and an extraordinary musician/violinist/scholar whose curiosity is infinite. I believe the Borromeos are still the only quartet in the world that plays from the original full scores gleaned from various libraries around the world and displayed on lap top computer screens.
Nick is so passionate about the power of chamber music and its repertoire that he, Chamber Music chair Lucy Chapman, and the EM Department came up with a brand new program this year called Quartetutopia. It has been designed to provide professional development opportunities for young quartets interested in exploring a career in chamber music. In this first year, there were two quartets selected, one of whose focus was the performance-directed study of composers' manuscript scores, the other was community engagement.

The first of these is the Petrucci String Quartet (Robert Anemone, Li-Mei Liang, violins; Shira Majoni, Viola; Joseph Gotoff, cello), an ensemble which had been part of the Borromeos' Beethoven Seminar last year. (Given the quartet's assignment, "Petrucci" was an ideal name because it conjures up the inventor of the first musical printing press). During that earlier seminar, the quartet had started to work on the manuscript score of Beethoven's String Quartet Op. 74, and this semester they continued consulting the manuscripts of Op. 130 (and Op. 133), which together constitute a piece that is one of the most remarkable musical achievements of any age. What I didn't know is that the movements of the original manuscript are scattered all over the world, from Berlin to Krakow, Paris and the Library of Congress in Washington D.C. The Petruccis were fortunate in having Nick Kitchen to advise them as he has collected pdfs of manuscripts from these amazing libraries.
This young quartet of truly dedicated musicians has been gradually trying to create a performing edition, incorporating stimulating information clear in the manuscript that has never been published. The types of changes they found related to multilayered dynamics (see illustration below), closed and open hairpins (see illustration below), revealing transformations of slurs, and graduated staccato markings. They are incorporating this new information into their own digital edition. The quartet has already completed performing versions of two movements, with hopefully more to come.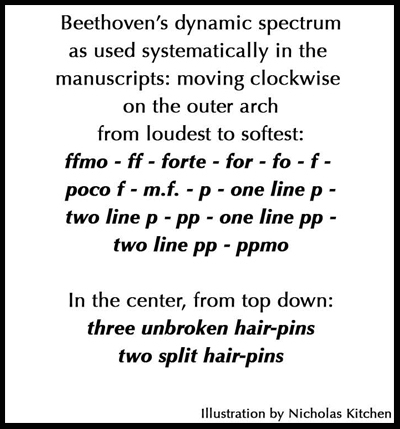 I spoke to them of their experience to date and was taken by their passion, energy and seriousness. They have been on a road of discovery and they were clearly transformed by the music, the process of musical preparation, and sharing their lives with Beethoven and Op. 130. I asked them about the last movement of the quartet, the so-called "Grosse Fuge" which I confess I have always found one of the most difficult pieces of music ever. The Petruccis had clearly come to terms with its strangeness and monumental architecture. They described it as a struggle, chaotic, with violent outbursts, synthesizing out-and-out dissonance with consonance, and joy. But what most surprised me about their discovery was their statement that they found a strong connection between what they felt instinctively about the musical work and how this was supported by what they found in the original score. Their instincts were supported by what they saw, creating the most astonishing connection between the performer and the composer.
For a sampling of their performance, click here.
Clearly others, including the critic of the Boston Musical-Intelligencer were astonished as well. You can read the review of the Petrucci's recent performance here.
Quartetutopia -- Mercury Quartet
The second of the Quartetutopia ensembles is the Mercury Quartet (Michael Rau, MuChen Hsieh, Violins; Sergio Munoz, Viola; Seth Russell, Cello). Like the Petrucci, the Mercury is appropriately named for a quartet on a mission--in this case, after the winged messenger. These young players were attracted to the program because there is nothing in existence to really prepare one for the reality of going out in the world. Although they realize that this is a prototype, they also see it as a laboratory for experience and development, directed in this instance to the community.
The Mercury Quartet is in residence at an El Sistema-inspired program in east Somerville, where they help with music lessons, teach chamber music electives, coach a student quartet, and play with the young musicians in the orchestra. For the quartet, it feels like a huge responsibility and although they are not planning to continue as an ensemble, they believe they are learning major life skills that will shape their future careers as musicians.
The program has allowed them not only to grow as a musical ensemble engaging with a rich wonderful repertoire, but has also presented them with the challenges of partnerships, planning, marketing, proposal writing, teaching, logistics, and management. They feel that they have experienced even more than just playing.

Their interaction with the kids in the Somerville program (third through fifth grade) has brought them joy but also tested them. An ongoing quandary is how to get youngsters to love music. How do you help them enjoy playing the cello (or the violin or the viola) when a beginning string player's sound is so bad for so long? So they play for the kids. They demonstrate their love and commitment and the beauty of sound that can be achieved, and the excitement of hearing and touching music.(For an example, click here.) The reward though is the relationship that is established. After an initial period of nervousness, a bond is created, linking the young musicians to an even younger generation. The Mercuries are winged messengers indeed.

Dan Gabel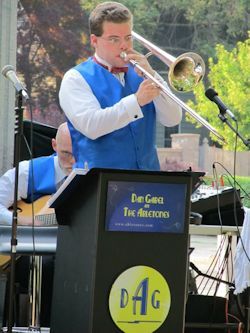 The first time I met trombonist Dan Gabel, he was about to make a proposal for an EM grant. I was part of the decision-making panel and a couple of my fellow panelists turned to me and said, "Just you wait!" Clearly, I was in for something, but what?
The "what" I discovered was Dan's larger than life personality, the bow tie, the sharp jacket, the stentorian bass baritone speaking voice, and the most amazing energy and sense of purpose, all directed toward one end--the American Big Band and the music of Tommy Dorsey and many others from that era. He arrived at this particular presentation not with his trombone but with a gramophone and a Big Band black vinyl disc to demonstrate exactly what this was all about and why we absolutely had to invest in his project, which I'm delighted to say we did.
Dan discovered the sound of the big band from the movie Strike up the Band, with Mickey Rooney and Judy Garland (made in 1940) when he was 10, and he has never looked back. Before coming to NEC, he took time out to spend a year on the road with the Glenn Miller Orchestra, which took him to 46 states and Japan with around 310 dates. His eyes positively glow when he recounts the impact of this time traveling and playing. In 2010, he created his own band, the Abletones, an 18-piece ensemble, and he now leads, plays, writes, and arranges (the band boasts a repertory of over 2000 arrangements). (He also leads smaller versions of the ensemble: the High Society Orchestra and the Hot Jazz Combo.) To learn more, check out the band here.
His hero is Vaughn Monroe and he is deeply into writing the biography of the singer, trumpeter and bandleader who attended NEC and started his first band in Boston. The Abletones operate as a repertoire band, as a dance band, and as an educational ensemble. He and the band have steady work and he credits his positive experiences with the EM team and NEC's Community Performances and Partnerships for helping him become more businesslike by focusing on his goals, developing his personal style and sharpening his organizational savvy.
The outside real world is just over the horizon and Dan feels all the pressures of loans, debt, health care, the cost of running a car and buying equipment. Nevertheless, his passion for big band is the driving force of his life and he is determined to keep it alive and spread the word. To that end, he is now President and CEO of the American Big Band Preservation Society, which is dedicated to teaching young performers, arrangers, listeners and educators about Big Band music in order to preserve the music of America as a living art form. Dan envisions the organization promoting big band education in schools, in particular for the underprivileged. And given the potent energy I have seen Dan demonstrate both on and off the stage, we should expect great things from him.
AcousticaElectronica
I made a point of going to see the very first performance of AcousticaElectronica, back in 2011 at the Center for Arts at the Armory in Somerville, MA.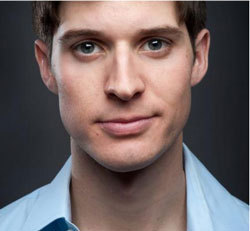 The driving force behind this brand new performance concept was Colin Thurmond, a young classical guitarist at the beginning of his DMA studies, who had conceived of a new sound and new musical experience. Using a blend of classical music and electronics mixed by NEC classmate DJ Rich Chwastiak (THE WIG), and incorporating dancers, live musicians, and a visual artist who designed the backdrop to the set, AcousticaElectronica didn't so much arrive in Somerville as invade.
The music had been produced by the very talented composer Athena Adamopoulis for the first iteration of AE, and it was clearly exciting and galvanizing. And from this very venture which had brought so many young musicians and artists together to achieve a common goal of a new take on the classics, Colin learned a huge amount.

The experience led him to reconsider the whole project and when I next saw AC, this time at Club Oberon in Cambridge (which is operated by American Repertory Theatre), the whole show had evolved into something far more subtlety conceived, staying with the original vision of classical music reconceived but making it a driving dramatic show incorporating music, dance and acrobatics. It was to be a musical form that in many ways shared the same world as Cirque de Soleil and Blue Man Group. The whole idea was about to take off with a further residency at Oberon in the summer of 2012, which took AE to New York's Le Poisson Rouge in the fall of that year. Now the show had firmly established its credentials as a highly produced, thrilling evening of choreographed music, drama, dance, and...storytelling. Today it is a living, breathing, new entertainment force with engagements on the calendar up to 2015.
Colin has been the main creative force throughout this development and he considers the last three years as one of the most exciting and challenging times of his life. During this time, he has learned how to develop, execute and refine an artistic concept. He has learned about marketing, PR, social networking, and the organizational leadership needed to galvanize crew and artists numbering as many as 25. And perhaps the most challenging aspect has been the need to collaborate across multi-disciplines and to learn the different languages and nuances of each art form in order to communicate effectively.

This is Entrepreneurial Musicianship at its best.