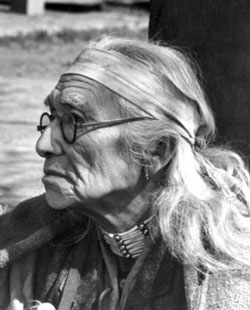 Photo: Chief Dan George
Public Domain via Wikimedia Commons
Have you ever seen the 1970's movie with Dustin Hoffman called Little Big Man? It's a rather improbable story of the only person to survive Custer's Last Stand and is told in flashback from the vantage point of a 100-year-old man played by Hoffman. Now you may think that given this story line the movie was a riotous comedy and. indeed, there are many scenes of great humor -- I can immediately think of the Jeff Corey cameo of Wild Bill Hickok and the bath scene with Fay Dunaway -- but the movie also carried a darker message. The massacres of Native Americans served as a metaphor for Vietnam and the great massacre at My Lai.
The movie's spotlight, for me at least, was stolen by the acting of a Native American, Chief Dan George, who was in real life, a real Chief. He was proud, dignified, otherworldly, with an amazing face that suggested the work of a great sculptor. Whenever something went profoundly well with his tribe, the Chief surveyed the scene and declared "My heart soars like a hawk." I have always cherished this line and I found myself invoking it many times recently in connection to events following the Boston Marathon bombing. In every case, I found myself moved by the responses of our students and faculty to the bombing, how these musicians sought for themselves and offered to others the solace of music.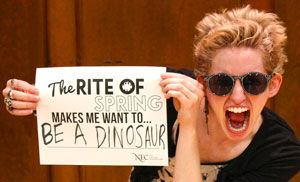 Photo: Kate Lemmon for NEC
The first of these events was the final concert of the academic year given by our Philharmonia Orchestra conducted by Hugh Wolff. The context in which the program was prepared and performed was fraught. To begin with, rehearsals took place during the week of the bombing when focus and attention were shattered but eventually coalesced, even more powerfully, around the music. This concert was also the last for many graduating students, which always adds a whole new layer of emotion and energy. And ... it was the centennial performance (minus one month) of Stravinsky's Rite of Spring, a work which still stirs up the adrenalin in musicians and public alike. We had invited the musicians to come up with their own ideas for a marketing campaign and what they produced was some of the finest , most creative, and humorous thinking I have seen, since the creation of NEC's website! (You may have read my blog 21st Century Musicians: New Pathways, talking about the astonishing talents of musicians ... well I rest my case).
Video: By New England Conservatory
Then there was the concert. Taking part in the ritual of performing great masterworks was clearly a way to reassert the best of human civilization. Or to quote a popular new catchphrase, it was a demonstration of "Boston Strong." The playing just took off and my heart went soaring like a hawk, times a million. Professional orchestra musicians probably couldn't approach such incandescent playing given the routine of their careers. For our young artists, there literally was no tomorrow. There was just this unique moment in their lives when they could celebrate music with their musical friends, take full advantage of all the careful preparation that Hugh Wolff had given them, and then let it rip. The applause continued forever and there were many tears of joy and pride.
A few days later, I attended a special concert given, planned and promoted by our students (with help from Dean of Students Tom Handel) called Music Heals - NEC plays for Boston. Our musicians had already given a special concert, Beethoven's Eroica conducted by Charles Peltz on Boston Common and many had already visited hospitals to play for the bombing victims. So this was a culmination of our musicians' profound need to provide comfort and consolation. The concert took place at the Church of the Covenant on Newbury Street just a few blocks away from the Finish Line. The program was simple, relatively brief, deeply felt and deeply moving.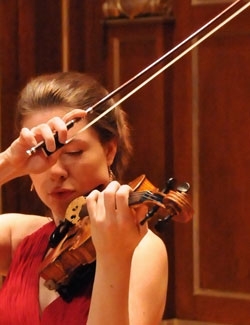 Photo:Tessa Lark by Andrew Hurlbut for NEC
Bach of course. The last two movements of the Sonata in C Major played by violinist Tessa Lark whose musical imagination found the voice of the church and let it sing.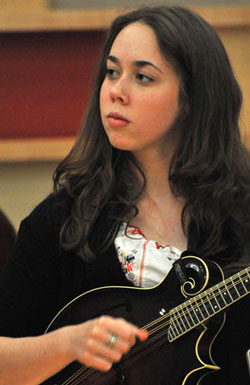 Photo: Sarah Jarosz by Andrew Hurlbut for NEC
Then there was solo classical guitar with Colin Thurmond (a great force behind the event), and Bob Dylan's Ring the Bell played and sung by Sarah Jarosz, who also performed a new piece she had written for solo mandolin, Peace.
The NEC Preparatory School's Youth Chorale glowed in the music of Paulus, Stanford and Ticheli.
Nima Mohammadi, playing the Persian setar with Vessela Stoyanova on tupan, improvised and then played and sang a song that the former had composed on a Rumi poem. The loud booming bass of the tupan sounded like bells or distant thunder.
There were dark brooding songs by de Falla for guitar (Colin Thurmond again) and soprano Jennifer Caraluzzi. And then came perhaps the most extraordinary part of the program. Two works: an improvisation by jazz and classical pianist Evan Allen setting our ears ringing with the gentle harmony that was to morph into Messiaen's Louange à l'Éternité de Jésus from his Quartet for the End of Time. This was played - no, seamlessly sung - by cellist Natasha Brofsky whose long breaths over even longer phrases made time be still and our lives become a reflection of a distant beauty.
Interweaving the music were poems written and performed by NEC faculty member Ruth Lepson, and students Kody Glazer and Michael Prantky: strong, gentle words and images rising above and beyond, heard in the space for which the first notes of Bach had prepared the way.
Sirens will never sound the same
by Kody Glazer '14 Contemporary Improvisation student
I sit in one of the rooms
in a building near Mass Ave.
the windows facing North
open, just a tad
A week has gone by
routine back to the norm
feeling fading of the
surreal brought by the storm.

Through the open window
a fire truck passes by
bringing me back into
the first time I stepped outside
Into that air so dense
it put a geyser in my gut
pushing my ribs into my heart
ejecting steam up through my throat
filling my nostrils with hot

Sirens will never sound the same.
Passing empty faces,
the heat spread to my eyes
clouding vision, halting sight,
walking blindly I somehow made it
back inside, rushed to a computer
to see the words:
"Two dead, 22 injured"
"Two dead, 22 injured"
"Two dead, 22 injured"
Half a mile away.
Half. A mile. Away.
Half a mile. Away.
Thoughts churned.
Must call mom and dad.
Phone lines jammed.
Must email mom and dad.
Strike keys.
I'm okay mom and dad.
I'm okay.
I'm okay.
I'm okay.
I promise I'll work harder.
I'll smile more at strangers.
I'll walk slower and look up.
I'll call you more often.
I won't love and go.
I won't put on faces.
I won't. I won't.
I will. I will.
I will won't.
I won't will.
What do I will to want?

What will I want to will?
How can I keep studying
music when something like
this can happen?
What do I want?
Will the sidewalks still
have concrete on them tomorrow?
How could I keep judging
you by my own insecurities when
something like this could happen?
Must find a pen.
Write all down.
Love one another or die.

All illusions of self came tumbling down and we were here.