On Monday April 15, the Boston Marathon Bombings -- just a few blocks away from NEC -- irrupted into our school's activities. There were the terrible events of the day itself: ambulances screaming up and down Huntington Avenue all afternoon; uncertainty and worry about the wellbeing of our Conservatory family pervading the atmosphere; horrific images displayed on television news; classes, lessons, rehearsals, performances brought to a halt; large portions of our neighborhood and transit shut down. Then, the ongoing shock as statistics on injuries and deaths were announced; and the sense of innocence and security brutally violated. Finally the lockdown on Friday as the search intensified for the suspects.

But our musicians were powerfully -- and instantly -- motivated to help. And they turned to that which comes most naturally to them. They grabbed their instruments and went out to play -- for everyone who needed comfort and solace.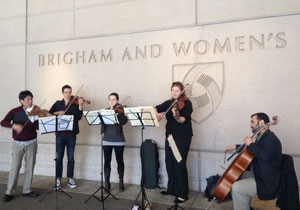 Photo courtesy of Emileigh Vandiver
Cellist Emileigh Vandiver and several musical friends set up "camp" outside Brigham and Women's Hospital the very next day and played Mozart quartets for patients, medical personnel, families, police, and hospital staff. Wind Ensemble Director Charles Peltz put together an ensemble to play the Funeral March from Beethoven's Eroica Symphony on Boston Common just after the citywide moment of silence on April 22. And, on April 28, NEC students performed a diverse and moving concert, called "Music Heals," at the Church of the Covenant.

In every case, these musicians offered their music as a gift.

And these gestures of giving have brought me back -- in an unexpectedly dramatic way -- to the conversations I have been having for some months about new pathways for 21st century musicians.

Readers of this Blog may recall that I wrote about the escalating challenges that young artists face as they embark on careers today. It is no longer enough that they be brilliant executants; they must also be equipped with the skills and mental flexibility to build the foundations and structure of a gratifying life in music. In meetings, parking lot moments, discussion groups, and written reflections, I've invited colleagues to tell me of their own experiences or discoveries as musicians, teachers, students, and entrepreneurs that shed light on the new pathways.

And what I've discovered from them is that "music is a gift." The blessings of the gift are multitudinous and multi-directional. And they are an optimistic harbinger of the future.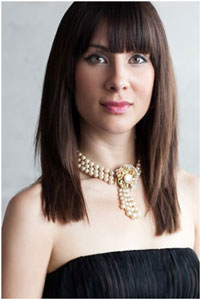 Photo courtesy of Melissa Snoza
Melissa Snoza, a flutist who is Executive Director of the innovative ensemble Fifth-House, crystallized this idea: "As we consider what it means to be a classical musician in a changing world, and the skills necessary to re-imagine the traditional model of professional success, I would argue that one of the most essential lessons that today's artists must learn is the most simple, yet the most contrary to the process that gets us here. In short, lose your Self...Music is a gift. I don't mean a gift as in talent, I mean a gift -- the kind you give to someone else with both palms open."

As Melissa suggests, becoming an artist is very much an internal, inward-facing process and necessarily so. The training requires, as Lyle Davidson's sophomore class of solfege students discussed, "vision, passion, inspiration and motivation." It demands a work ethic that knows no compromise and a willingness to bare oneself to criticism, which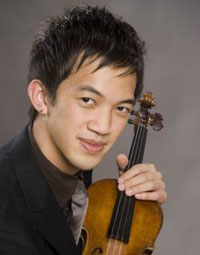 Photo courtesy of Kristopher Tong
Kristopher Tong, second violinist of the Borromeo String Quartet, has evoked vividly in a memoir about his high school violin teacher, Lenny (Braus). "What a year it had been; my technique had been rebuilt from the ground up, from open strings and long tones to scales and Kreutzer etudes with various bowing exercises. I had played the violin my whole life, really, but it was not until I met Lenny that I knew what was really possible, how hard it was, what a responsibility it was to play well."

A life-long pursuit, becoming a good musician requires self-challenge, self-criticism, a desire to go further, deeper, into a musical work, exploring what a composer meant or how best to realize one's own expressive ideas in an original composition.

At the same time, becoming an artist can often become inextricably linked with ego, with personal ambition, with a developing sense of entitlement. Melissa describes this brilliantly: "The process of improving as a musician can start to become an achievement-based, strategic trajectory composed of chair placements, auditions, summer festivals, competitions, conservatories and generally playing higher/faster/louder than the next guy. There's a system, a path in place for training the next solo or orchestral superstar, and we run up those steps as fast as we can in the hope of achieving our goals...In high school and college, I was completely consumed with the desire to excel on my instrument through achievement. This week, I'm going to challenge my way up to first chair. This semester, I'm going to audition my way into the top group. Next year, I'm going to get into the conservatory of my dreams. In four years, I'm beating everyone else out for that orchestra job. Me. Mine. Gimme.!"

Quite understandably, some of this entitlement mentality went into the movement by orchestral musicians -- beginning in the 1960s -- to improve their pay and working conditions, which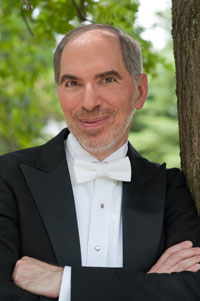 Photo of David Loebel by Stephanie Berger
David Loebel, our Associate Director of Orchestras, recalls from his father's days playing in the Cleveland Orchestra. "As I began my conducting career," he says, "the efforts of my father, his colleagues across the country, and the boards and staffs of their orchestras had begun to bear fruit. Seasons and audiences grew, musicians' salaries increased, and orchestras in smaller cities improved exponentially in professionalism and quality."

Over time, this growth put serious strain on orchestral budgets and periodic crises resulted. But the often heralded "imminent death of the American symphony orchestras" was usually averted, David added, "and the orchestras "somehow always got back on track."

However, as David and many others have observed, other negative trends began to impact performing institutions, making it increasingly difficult to recover from the financial crises: "new forms of entertainment and new means of delivering them, changing lifestyles, philanthropists uninterested in classical music, and the decades-long devaluation of arts education in our schools."

As a result, we are today looking at a professional musical landscape in the midst of creative disruption. And there will be no quick fix for the problems. Indeed, major institutions are not good at adapting rapidly to change and some have suffered bankruptcies, canceled seasons, strikes and lockouts, and dissolution.

David and members of the Memphis Symphony Orchestra (for which he served as music director for 12 years) were among the rare ensembles that made haste to face the new realities. "We recognized that our survival depended on connecting with our community in new ways and that our musicians would be the most critical factor in achieving that goal."

Extrapolating from this experience, he says, "It is clear that the job description of most orchestra musicians will surely change...merely sitting on the stage in a magnificent concert hall playing highly polished performances of great masterpieces will no longer be enough. Musicians will need to add value to their orchestras in myriad ways: working with young people and underserved communities, playing in small ensembles...composing, arranging, and much more. Those who are multi-lingual or are comfortable with jazz, world music and other non-classical genres will likely have a leg up."

Identifying which musicians auditioning for an orchestral job would be the best candidate given the new demands will be a challenge, David asserts. But he and I believe that students like those we are educating at NEC will be up to the challenge. They not only play and sing brilliantly, but are fleet of foot. They already understand and embrace their newly defined roles.

How do I know this? Well, consider the manifesto that grew out of a recent roundtable discussion with some of our young artists.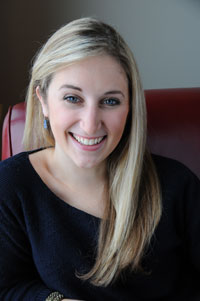 NEC Photo of Caroline Scharr
While acknowledging the "scary" precarious situation of some professional structures, the students recognized the new opportunities opening up and their own adaptability and willingness to seize those opportunities. "We are nimble, and we have the space, time, and creativity to build new structures for music and musicians to be in the world."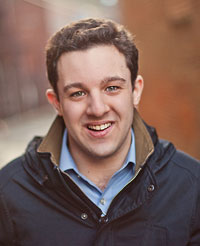 "
NEC Photo of Robert Cinnante
Uncertainty," they said, "as troublesome as it is, must be taken as an opportunity to look beyond what exists, to see what could exist. Our task as artists is to find a balance between risking it all and playing it safe." "With curiosity, pluck, Google, and a friend who has done it before, we can become the versatile change agents that our field is working for."

To them, a professional skill like marketing is less about consumerism and Madison Ave and more about "telling your own story to the people who love or will love what you do."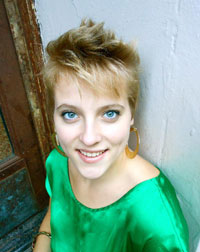 NEC Photo of Julia Partyka
Audiences, they insist, "connect most to music when they connect to the people making it...and we must strive to reach and welcome people where they are -- in parks, coffee shops, online spaces, living rooms and local schools."

And, of course, what they have to offer is powerful. "Music can be a tool for addressing the deepest social needs: education, hunger, communal solidarity, joy, solace."

Which takes us back to the idea of music as a gift and Melissa Snoza's counsel on losing the Self: "While these activities (educational programs) might be done in service of others, the benefits to me are immeasurable. Whereas before I was afraid, now I am fulfilled.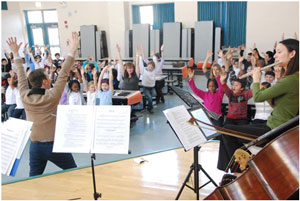 Photo courtesy of Melissa Snoza
I am inspired by the children we see each week... and I haven't gone hungry a single day in the last 10 years of my professional life. What does it take to build a career in music? Do what you love, in service of others. The greatest success can be found in the intersection between what fulfills you the most as an artist and what serves the needs of those who experience your art. Reach inside yourself to find the former, take the time to listen to discover the latter."