If you're in New York over the Fourth of July weekend and you're a fan of Dancing With the Stars or So You Think You Can Dance or any of the other programs that showcase Ballroom and Latin dance, you should check out the Manhattan Dancesport Championships, where the greatest Latin and Ballroom dancers in the country will go neck to neck for the trophy. If you've never seen a live ballroom competition before, I can assure you you're in for a mad crazy fun treat. These comps can get very wild, and are actually more like sporting events than concert dance, like, say aballet performance at the Met (at least today; I'm told things were more raucous in those theaters in Baryshnikov's day), with fans yelling, screaming, cheering for their favorites.
Though there are many Dancesport competitions throughout the country (and world) throughout the year, this is one of the most prestigious in the U.S., and, so attracts the best dancers. The couples who win this one often go on to place first in the U.S. National Championships in September in Florida, and then go on to do well in the Worlds.
The U.S. now has two of the top world couples who are expected to compete here -- one in Latin, one in Standard Ballroom. We recently placed second in both categories in this year's Blackpool Dance Festival, the largest, most prestigious championship in the world, held every May in Blackpool, England. Thanks to the fabulous new partnership of Riccardo Cocchi and Yulia Zagoruychenko, the U.S. nearly won Latin. In the slower dances, like Rhumba, Zagoruychenko, one of dancesport's most sophisticated artists, makes tantalizing shapes with her body, and in the faster dances -- Cha Cha, Samba, Jive, Paso Doble -- this couple just whizzes around that dance floor gyrating like mad, with their unique interpretations of the rhythm, dazzlingly fast but never sacrificing precision and clarity for speed.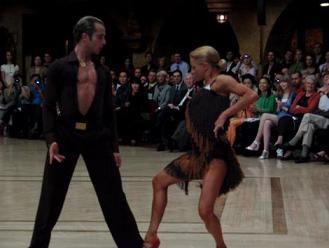 Riccardo Cocchi and Yulia Zagoruychenko. All photos by Tonya Plank.
And we nearly placed first at Blackpool in the Standard Ballroom event, with another new partnership, the gorgeously, radiantly polished Arunas Bizokas and Katusha Demidova. When these two glide around that floor as one, their bodies like a perfect martini-glass, opening up into a cup at top, from waist down their legs a stem moving in perfect unison, it's almost as if their feet are not touching ground, like they're skating just above it. When they do continuous Waltz pivots it's like a spinning top. Mr. Bizokas is young and, though obviously extremely talented, still has a way to go in learning to let loose a bit more and let his natural charm shine through. When he does, he seriously has the potential to be a Fred Astaire.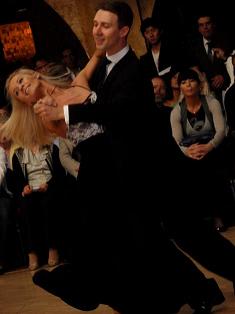 Arunas Bizokas and Katusha Demidova.
If you go, also be on the lookout for the tall, handsomely virile Vaidotas Skimelis and his lovely long-limbed partner Jurga Pupelyte in Latin, and in Standard the charming Victor Fung and Anna Mikhed (who have appeared on Dancing With the Stars a few times).
And that's only the International categories. This being an American competition, there are two additional championships: the American Smooth (our version of Tango, Foxtrot, and Waltz in which the partners can separate from each other, from the close martini-glass frame, and move more freely and creatively); and the American Rhythm (Mambo, Swing, Cha Cha, Rhumba, and Bolero). The rhythmically captivating, not to mention sexy, Jose DeCamps and Joanna Zacharewicz have rightly dominated the Rhythm event for the past couple of years, and the jazzy, sassy Tomas Mielnicki and J.T. Thomas the Smooth.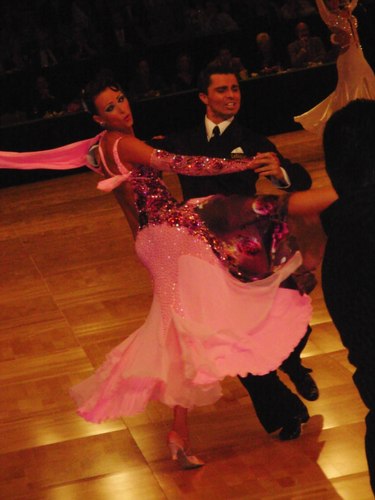 J.T. Thomas and Tomas Mielnicki.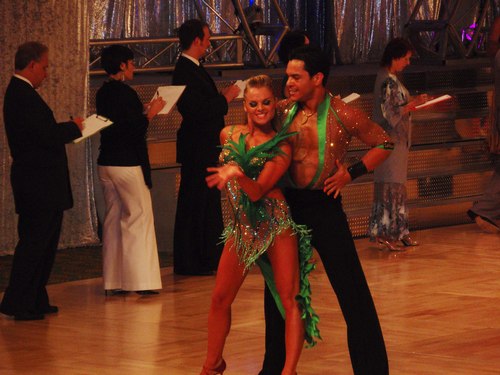 Jose DeCamps and Joanna Zacharewicz.
Often the winners of these championships can be decided on rather political grounds, and I bitched and moaned, whined and complained multiple times at Blackpool this year about some of my favorites ending up way too far down on that winners' platform. But I had to keep reminding myself of that old "it's not who wins but how you play" saying. The point of these events is to watch some of the greatest dancers in the world do their thing, to celebrate the athleticism and artistry of dance and just have a rollicking good time in the process.
The Manhattan Dancesport Championship is held (despite its name) at the Marriott Hotel at the Brooklyn Bridge (Borough Hall subway) and lasts for several nights, each night a different championship (Friday night the 4th, Smooth; Saturday night July 5th Latin; and Sunday night Rhythm and Standard). Each night costs $50 and the event runs from about 7:30 p.m. until midnight or 1:00, and includes other smaller championships (such as Amateur, Rising Star Professional, and Cabaret divisions) in addition to the main ones. Go here for a full schedule and further details. And if you're not in New York, you can still see many of the same couples dance in the America"s Ballroom Challenge special which usually airs on PBS in February.