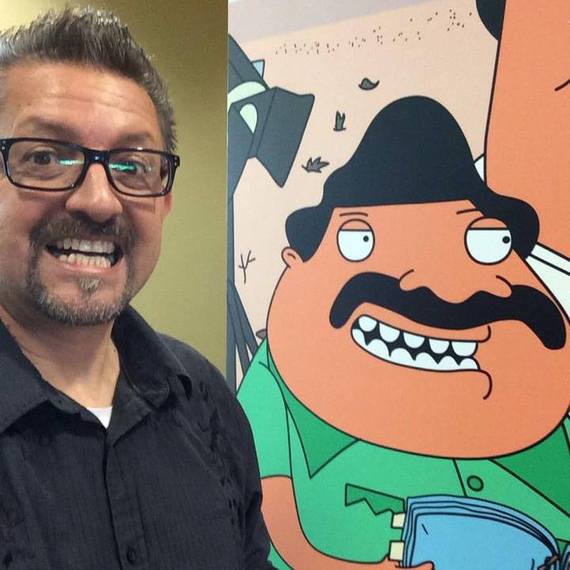 Lalo Alcaraz is bringing BORDERTOWN to the border state for the Border Convo Tour.
___________________________________________________________
When bridge-blogging is the height of discussion about the border, but only because of its elevation over a highway-then discourse has hit a new low.
That's the position America is in right now.
Most folks prefer to yell at the border than have a deep discussion about it.
Celebrities voice their xenophobia about Ebola and the border and that gets more attention than science or statistics. Politicians tell Americans that ninja warriors will sneak across the border, or that Isis might sneak through one side or Shazam through the other.
We're seeing White Flight from intelligent conversation.
That means now we can move in, so we will.
We're kicking off the Border Convo Tour by bringing BORDERTOWN to the border state. Translation: cartoonist Lalo Alcaraz is coming to Texas!
Alcaraz descends on Houston September 9th before heading to San Antonio and other stops in the Lone Star state. His insights are timely and once his new cartoon series BORDERTOWN is released on Fox TV, he'll be broadening the American Imagination across many topics, as he was born to do.
"I grew up very poor on the U.S.-Mexico Border, on both sides," he said during a TEDx SoCal talk. "I watched my Mexican immigrant parents struggle on this side of the fence, mainly."
But Lalo just plain wants to visit us, too. At least that's what he told us, "I want to tour Texas because I feel I have underserved the Raza de Houston since they yanked my comic there, but I'M NOT BITTER. Also, I hear Rick Perry is a huge fan of my comics, pero pobrecito can only look at the pictures. Tejaztlan is great and the Raza is boisterous and love to argue about barbecue, but I still love it there." He also just created a cover for HUIZACHE, the magazine of Latino literature, published in Texas, edited by writer Dagoberto Gilb-a Texan who is banned in Arizona. Guilt by Tejano association.
For the Border Convo Tour, Texas colleges, community groups, nonprofits, and businesses will team up to host some of the leading thinkers of our time to discuss the nuances of the border issue, the complexities, and solutions.
Of course, this issue is nothing new. You only have to look at the names of streets in any major city like Houston to see that we have had wave, after wave, after wave of immigration, and Texas has benefited from it.
In fact, in order for the economic and intellectual prosperity of Texas to continue, we must not get swept up by Arizona Governor Jan Brewer-style anti-immigrant hysteria.
We know Texas can make immigration work.
Every event will also feature information on educational opportunities, voter registration, and community organizations.
Along those lines, Lalo Alcaraz will be joining the Librotraficantes, Nuestra Palabra: Latino Writers Having Their Say, Voto Latino, the Palo Alto College Center for Mexican American Studies, Mi Familia Vota among other as part of his barn burning, eye opening, thought provoking one man Border Convoy for the Border Convo.
Juan Tejeda, Director of the Palo Alto College Center for Mexican American Studies said, "Lalo Alcaraz is a renaissance man. An award-winning visual and media artist, syndicated political cartoonist of "La Cucaracha", author, radio talk-show host of L.A.'s Pocho Hour of Power, university professor, and Consulting Producer and Writer for the upcoming Fox Television animated series, Bordertown. Lalo is one of the preeminent voices, social and cultural commentators, and political satirists, on all things Chicano/Latino. Palo Alto College students and the San Antonio community will benefit greatly by being able to sit with him and pick his brain."
Houston in particular, wants to make up for lost time, and he'll be doing 6 events.
He'll be working with student groups such as LASO (The Latin American Student Oraganization) at Lone Star College-North Harris, and groups at the University of Houston Center for Mexican American Studies, and the Houston Community College Mexican American/Latino Studies Program.
This culminates in a fundraiser/meet and greet for the nonprofit Nuestra Palabra: Latino Writers Having Their Say (NP) Tuesday, September 9. NP is the parent group of the Librotraficantes.
"We're going to work him hard in Houston, as if he's a recent college graduate," said Librotraficante La Laura-Laura Acosta, Director of Pedagogy for NP, "because we know that once his cartoon BORDERTOWN is released on Fox TV-he will never return our calls again. Besides, we love him. We remember him fondly for his readings at our Latino Book and Family Festival. We've interviewed him on the Nuestra Palabra Radio Show, and he was a huge supporter of the Librotraficante Caravan of Banned Books. He's a great guy, he's funny, and his work is very bannable. We're thrilled to have him back in Houston."
We are planning more visits, more speakers, and more ways to raise the level of conversation about the border. Expect ideas as big as Texas as part of the Border Convo Tour.
As Tejanos like to say, we didn't cross the border, we moved it.